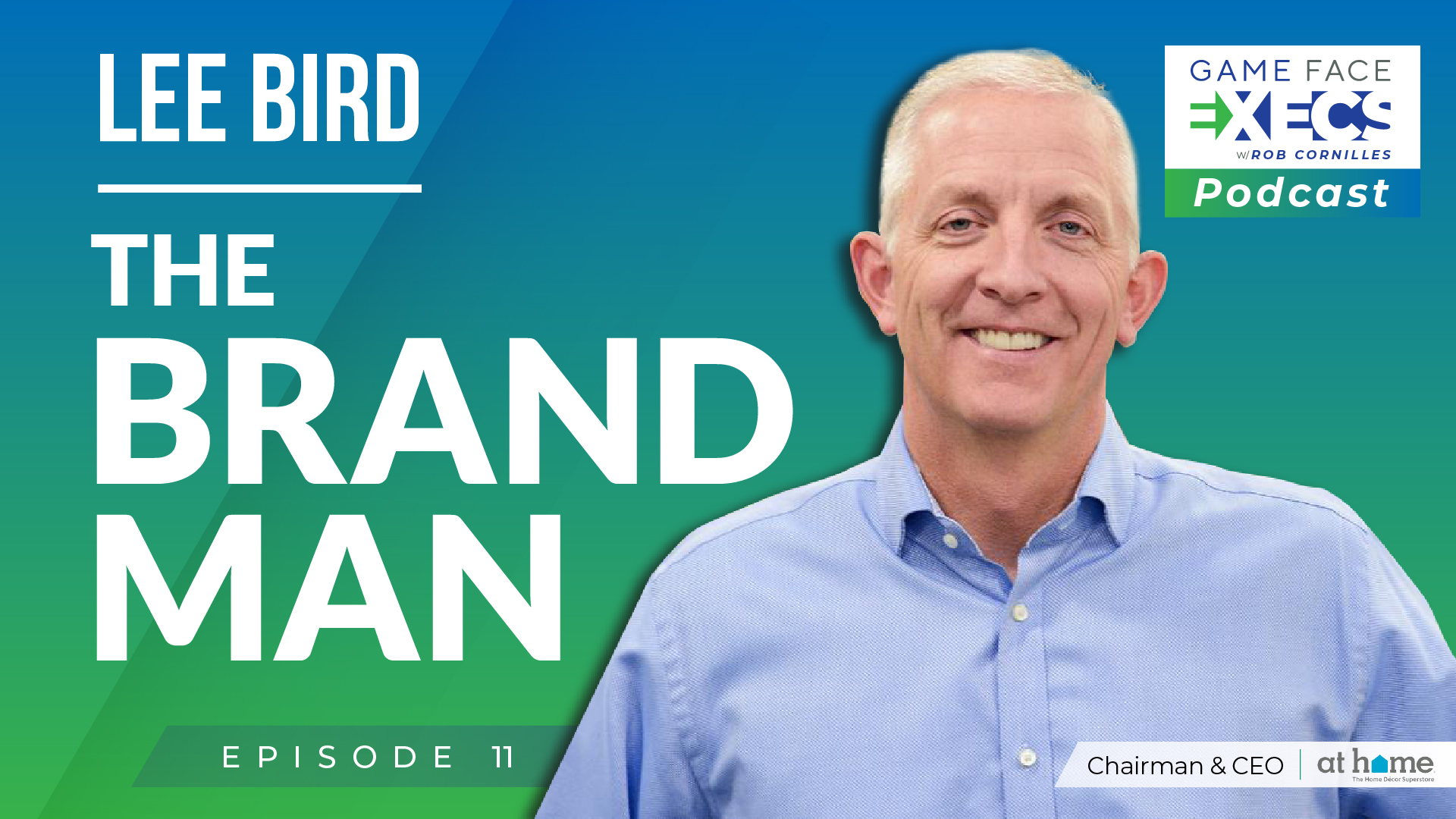 Can a retail company in 40 states close more than 200 mega-stores during the height of the COVID-19 pandemic, then watch their stock skyrocket to a record high that same quarter? Yes, the Brand Man can. Can a chairman/CEO of a sleepy firm seeking to go public successfully inspire an all-star cast of directors to join his board? Yes, the Brand Man can. Can a retail company in a competitive category sell value without going cheap? Yes, the Brand Man can. Lee Bird, Chairman and CEO of Dallas-based At Home, is this week's game face exec.
—
Watch the episode here:
—
Lee Bird | The Brand Man
How loyal are your customers? What will they do? What obstacles will they get around to get to your product? Until you build a cult-like following, it's not a following. It's a fad. Lee Bird, Chairman and CEO of the home decor giant, At Home, is building a cult-like following among his loyal customers in ways that any brand, nonprofit or for-profit, could learn from. Let's hear from the Brand Man himself, Lee Bird.
—
Lee Bird is the Chairman and CEO of At Home based in Plano, Texas. Let's start out right away, Lee, with some phenomenal news about At Home. In the second quarter of 2020, which we all know, that was the height of the pandemic your company had an unbelievable performance, a 770% rise in your stock. It was a record-setting quarter for the company, which to me is the opposite of what anyone would expect when everyone is staying home and they're not shopping. They're not going out to retail stores. What happened?
We did two things. We played defense and offense at the same time. As Q1 settled in and COVID went across our country, we knew we were going to have to close our stores. We had to prepare ourselves for store closures, but also pivot and go on the offense and accelerate our plans on eCommerce so that people felt more comfortable shopping from home. Buying for curbside pickup and having product delivered, both of those services specifically weren't available to our customers before this. We did both. When stores reopened, they opened with a flurry.
It was extraordinary and we had the best company performance ever for us financially. When you have 50% revenue growth, 42% same-store sales growth, and that's in a quarter where some of the stores were still closed. On a store-by-store basis, that's a 62% increase in same-store sales. Over $200 million improvements in liquidity during that time and reducing our leverage ratios down 4 turns over 5 times, 1.5 times debt to EBITDA that we got ourselves in a beautiful position thankfully. It's because our customers wanted to come to our store and felt like we had great value.
As you're describing that, I'm wondering how much of it is due to the strategic shifts and pivots that you made in real-time? How much of it is due to the pent-up appetite of the consumer to get out of their home to get into an At Home store?
Certainly, we're blessed to be in a great category. People are all at home and we're all working from home. We normally would be in our own offices at this point and we're not. People are spending more time at home. The category is growing like we were growing. We have a nice tailwind for us. We did a lot of things and we had a tough year in 2019, honestly. It was a time where we had some step back and same short sales performance for the first time in six years. We took a hard look at ourselves.
"What do we need to do to fix our performance and what's on us to go fix?" We did those things last fall and early this spring. When we reopened, we already had our pricing sharper than ever. We had a go-to-market approach called EDLP plus, which is campaign management to highlight our low prices. That was reinforced with people being at home and could see our campaigns in our emails. We enhanced our loyalty program, for example.
We improved our product assortment and did what we needed to do to make sure we had a great assortment. When people are ready to engage in the category, we were the person that they would engage with. We had a 100% increase in our online views on our website. We had a 50% increase in our email open rates. That allowed us to be more relevant than ever. We did our part to enable our customer who is now engaging in the category more than ever to consider our store than any other place.
One could say in the nick of time, you've made these fantastic improvements. You've been in your position as CEO of the company, chairman of the board. You mentioned the improvements that were made in the fall of 2019. What was happening up until that time when you took on a company that some would have said was a little sleepy at that time. Now, seeing these record sales, record revenues, you're $1.5 billion in sales, what was happening in that ramp up? Can you share with us a little bit under the covers what we would have seen?
It was a private equity-backed company and just been acquired. It was a business that I was interested in acquiring myself with another private equity firm that we couldn't get the deal done. I loved the business. It was called Garden Ridge based in Houston, Texas, at the time. It's a little over $300 million in revenue. I was blessed with the opportunity to become the CEO. They invited me to come in to deliver a growth plan. Create the plan, deliver it, build an executive team, scale the company, take it nationally, and take it public as the liquidity event. Now, it's the objective of the private equity firm and those are my objectives as well, so we did that.
[bctt tweet="The power of bricks and clicks is the way to go forward." username=""]
I would say what we focused on is making sure you had the right product value assortment right from the beginning. We had to make some assortment corrections. We also had a brand that didn't resonate well with customers. The company had a history where in fact, it had been bankrupt and had not been a great place to work. When I did the research, it was clear that while it was a great business, it wasn't going to scale with that background and that history. We had to leave that history behind, at least the name. Go to a new name and get a fresh start within the world of eCommerce. You have all that history.
Yelp reviews for customer experiences that weren't great. You have Glassdoor that tells you your employee experience wasn't great. You have the internet that says the company has been bankrupt. You have to shed all that. We had the strategic requirement to change the name of the company. I also moved the headquarters to Dallas because that's where our top retail talent lived. I didn't live there either but I moved my family there so that we could scale the business. We needed a team of people. We needed 400 people at the headquarters building to scale this thing.
We did that. I put a great executive team together. First and foremost, it starts with a team and with the right people in place. They hired great people. We moved the headquarters and revised the business and the product assortment. What essentially it is democratized home decor. It's low price home decor in all styles, so it's a one-stop-shop. It's a big box concept, the size of a Walmart or Target, those big 100,000-square-foot stores, but it's only home decor. It's only our product, private label, private brand, which allows us to sell it at prices below everybody else's sales price.
That's what we did. We made those adjustments. We've changed the name. We then went loud and proud of it from the marketing standpoint. Same-store sales started taking off. We had five straight years of same-store sales growth. We were growing units and opening up units. We had a 20% unit growth for five straight years as well. We took the company from $350 million to over $1.4 billion in 2019 in just 6.5 to 7 years. It's highly profitable. It's been a great opportunity to do something that I never thought was possible before to create a national brand.
We took it public in 2016 on the New York Stock Exchange, which was a unique opportunity for our team to experience that. What it allowed us to do most importantly was give everybody in the company an opportunity to be an owner in the company. I wanted everybody to have the same blessing of ownership that I enjoyed and our private equity owners enjoyed. Going public allows you to share the shares with everybody. We did that and that's the situation we find ourselves in where we have essentially every store manager and owner in the company get shares of stock every year and our employees get shares as well. We all win together, which is the most important thing.
There are 219 or so stores around the country in 40 states. You went from primarily a local business to what you described. You're doing it in a time when it seems like a lot of people are told or taught that retail is becoming passé. Retail is your grandfather's or your grandmother's model. That's not true. You're proving that it's not true. If you're standing in front of a college business class, what are you telling them? What do you teach them about the power of retail? How can one be successful? Especially in a pandemic, when many retail stores, smaller ones, mind you, but nevertheless, many of them seem to be going out of business. It seems like you're doing the opposite. What are we missing?
A personal connection with the consumer is what you need. I would tell you a face-to-face in-person connection allows for that to be even more intimate and personal. Having a physical presence so that customers can see, touch, and feel. Certainly in our category where we're talking about decor, items around primary furniture pieces, think about rugs, lamps, wall art, tabletop decor, and patio furniture, you want to see it. You want to make sure it matches the paint chip that you have or the throw pillow that you want everything to go after.
You have to realize also that everybody pre-shops on the internet, so they decide where they're going to shop. Do they want to buy online? Yes, you could do that. What we've done is we've become a full omnichannel retailer in 2020. It allows people to pre-shop online. They could buy it, picked up in the store, delivered it to your home, or curbside pickup. Also, by having physical stores, when you don't end up with what you wanted or you brought two because you wanted to see which color works best at home and you want to return it. Having a physical store is easier than packing it up, re-sending it back, and having all the returns. Having that relationship back with the store again and again.
What we did differently than most people do too, is all of our eCommerce and all of our business is centered after the store. We have one place of inventory. Every store is a warehouse. That's where we fulfill all of our sales. That team owns that relationship in the community regardless of how it's sold. If it's bought online, picked up in the store, curbside pickup, delivered, returned, it's back to that store in that store director who runs the business. We feel like the power of bricks and clicks is the way to go forward. What we also did is we related doctors to that, but we made sure we rolled out eCommerce profitably. Every single one of our eCommerce transactions makes money.
I know there are a lot of eCommerce businesses out there that are hot and cool but they don't make money. I've learned over time in my 30-plus years in businesses, if you don't make money and throw off free cashflow, you're not sustainable over time. Consumers want sustainable companies, and sustainability is delivered by profitability. We do both, but at the same time, offering lower prices than even eCommerce guys do, enabled by a low-cost structure and some other things we've done. That's how we've done it. We feel like physical stores enable that to have that intimate relationship. That's why we're continuing to open more stores in the future.
Do you see any vulnerabilities in retail in the future? Have you already identified those? Are you taking mitigating steps to counter those?
It's interesting in retail, in the consumer business, those that are on the luxury side and those that are on the value side do well. If you're stuck in the middle, your customer value proposition is not going to last and it's going to be challenged by the people below who can take those styles, democratize it at lower prices, and make it easier for people to buy at lower prices. What you have to do is either define yourself above and have this great luxury brand with beautiful quality and beautiful stores. The prices are high, but it's a smaller group of people that can access that, or you have to be able to have a broad reach with lower prices and great value on the other end.
What we've done is we've gone there. We've said, "We're working to democratize home decor." We have the largest assortment, the lowest prices, and we allow that to be seen by our customers and our competitors online. I would say that people that do that are going to win. The people that are stuck in the middle and don't have a great customer value proposition, in the end, will struggle. I've been responsible for brands along the way.
I was chairman for the Coke company, which is based in New York and sold all across the world. We sold it to oligarchs and monarchs, who are our best customers, then you've got the value business like Old Navy where I was a chief financial officer and head of store operations as well and now, At Home. Those value players are the ones that are sustaining their business because, in the end, people are careful with their money. During economic cycles, you need to be able to be accessible in terms of price points.
You've talked a lot about value. That message is coming through clearly. Talk a little bit for us about the quality of the product because as you mentioned, you have 50,000 SKUs, 50,000 products. I'm sure you're growing that. How do you identify those channels and manufacturers? You mentioned that they're branded At Home. If you would describe that a little bit more for us and the decision-making that goes into what ends up in your stores.
I use the word value because that's what customers are looking for, the best value. It may not be the lowest price because sometimes the lowest price has poor quality, and then that comes off cheap. You want to be a great value. That's been our journey. I would tell you that is a journey as a value player, as a low price leader, so we are the lowest price. We're going to be the lowest price you'll find out there below other people's sales price, but it can't be cheap. We've spent our time focusing on making sure that we have the lowest price but continue to reinvest our profitability into better quality. We look for better factories and design partners that can help us design products affordably with great value.
Because we're At Home brand, we don't pay the brand premium of another person who designed it. We take the middleman out, which allows us to have that lower price. It's a journey and a continuous effort on our part to improve the quality. Customers' expectations for quality always go up. It doesn't go down, and they expect prices to always go down. When you always have your price, compression is a challenge and expectation quality. That's why I always say it's a journey. You have to keep working on item-by-item and you continue to refresh your items to make sure that you can get to that right balance and still deliver what the customer is looking for.
Lee, if the pandemic had not occurred and people hadn't moved to an at-home environment where we're doing more work from our homes. We're starting to get used to it and many people are now preferring it. Some companies are mandating it. In fact, some companies are even saying it's permanent, that they're not going to require their people to come into an office space. If that had not happened, would we have seen these types of improvements, this rapid growth at At Home? Probably not to the extent we saw it, but it sounds like you were prepared for this. It sounds like this shift that you had a lot of time, a lot of effort, years have gone into this. What does the rest of 2020 look like for your business? What are you anticipating for 2021?
We did prepare. 2019 was the first year we had negative same-store sales in six years. We had twenty straight quarters with the same-store sales growth plus a 20% increase in unit growth and strong profitability every year. 2019 was a step back year. It's still profitable but sales from the same-store sales basis weren't positive and slightly negative. We went back as an executive team and retooled our business. We had issues like weather, which affects your spring business like patio and garden. There were lots of wet weather last spring, which hurt our spring business. We had tariffs due to the trade war we're having with China, the US trade war.
Our product costs were increasing by 25% to 30% in cost in certain categories like furniture, accent furniture, and wall art. We eventually had to raise prices, which meant that our customers weren't getting what they expected from the price-value relationship, so then sales were challenged there. Even though our prices were lower than our competitors, they still were above artificial price barriers. We had to go back and look at that. Honestly, in our fourth quarter, our Christmas assortment was a shortened Christmas selling season. The time between Thanksgiving and Christmas was the shortest time in a number of years.
That squeezes our selling period for Christmas decor and Christmas trees, and we sell a large assortment of that. Our assortment was good, but then all of a sudden, we went on sale much earlier. We then had to go on sale earlier, so it was a tough quarter. All of those events turned into a not perfect year for us, so we retooled and we worked on things. We needed to get back on mojo and start winning again. We did that and we started seeing progress in February. We changed our go-to-market approach to an everyday low price, but we went to a campaign approach. We highlight a particular category for three weeks, show that category pricing, and have that as a campaign called EDLP plus.
[bctt tweet="Hire people smarter than you are and you'll get smarter." username=""]
Those campaigns are starting to drive same-store sales growth for us again for the first time in five quarters, and then COVID hit. I would tell you, we started getting momentum before COVID. What you would have seen now if that had continued, you'd still see the same short sales growth in Q1. You would have seen it in Q2. Would it have been to these extremes? Stores were closed for a long time. There was pent-up demand. There was a stimulus check too that happened for our economy and for people that were struggling. That brought people back faster. What it has done is allowed people to spend more time at home and focus on this category.
We think it's going to be a multi-year benefit to our category like when 9/11 happened. People didn't travel as much. They stayed at home. It felt less comfortable traveling for obvious reasons, and that was a multi-year benefit for this category. We'll see the same thing here. There's no vaccine inside, unfortunately, so people are going to be careful for some time, which means there will be home for some time. I can't say that I'm working any harder than any other people in retail because they're all working super hard. It's that some categories are more important to our consumers than others. Thankfully, we're one of those categories.
Your executive team and you are doing a phenomenal job, but your hard work is paying off. That shows in the numbers. There's another side of your business, so that's interesting to me. Those who are reading will also find this to be a fascinating study. When you took over in late 2012, you were charged with moving the company to become public. That requires the formation of a board and all of the necessary hoops to jump through to become a public business. I also had the experience, not to the extent you're going to explain to us I hope, of working with a company and going public.
It was about the same time that you were working through this at At Home. Eventually, despite our efforts, we decided against it in the end, so we pulled out. We couldn't get the valuation that we were hoping for. You've been successful in getting the valuation but the board is what I find interesting. If anyone looks, they'll see on the At Home board a diverse collection of professionals, people who have vast experience. People who've served as president, CEOs, chief revenue officers, and so forth for Norwegian Cruise Line, Caribou Coffee, Loews, PetSmart, the list goes on. How did you go about forming that board? If I understand correctly, you started from a blank piece of paper, which is a rare opportunity that a CEO has. Walk us through that experience.
When I joined, there were the private equity owners and they had appointed one person to the board. We had to fill the whole board. What I did is I sat down with our private equity owners and we mapped out a plan. There was a study that I had read, a book called Blueprint to a Billion by David Thomson, an ex-McKinsey partner who had studied all the companies that had gone public over the course of the past 35 years in the US or more. He only found less than 400 companies that had gone from going public and made it to $1 billion and they were all industries. He found seven common characteristics to those companies that had made it to $1 billion. This is essentially a blueprint to $1 billion. It was his premise.
One of them was a high-powered board. I knew that in the back of my mind and I knew we had to have that. When we looked at what our board needed to be, we knew we were a high growth retailer and we wanted to be a high growth retailer. The only way you achieve that is you have people around you who help you get there, who's been there and done that. We wanted folks that had been at high performing retailers that it scaled it and that it scaled their business from smaller to larger. Take, for example, Larry Stone, who's our lead director. He started at Lowe's as a store employee. There were only maybe five stores there, and eventually became the president, chief merchandising officer, and chief operating officer for Lowe's for a number of years. He sits on the Dick's Sporting Goods board as well.
There is an example of some people who have scaled it. Phil Francis is another person who was Chairman and CEO of PetSmart. He started when they had less than 200 stores. When he retired as chairman and CEO, and he was the CEO the whole time during this time, it went from 200 to 1,200 stores. He knew what scale meant and what it took to build infrastructure to grow. We needed to go public, so we needed to have somebody who ran the audit committee. Wendy Beck is who we selected and she had taken Norwegian Cruise Line public as the CFO. She had been the CFO of Domino's Pizza before that as a public company after their IPO. We needed somebody who had been through that IPO process.
I'll give you an example. Those three were our first three board members that we hired and we look for people like that at that caliber. For example, John Butcher, one of the board members who came to us from Caribou Coffee where he's the CEO, also runs the bagel businesses that that private equity company owns, which is known as Einstein Bros. Bagels. He has those businesses under his watch as well. Before that, he was a senior merchant at Target. He had been in big box retail, had been involved in our category, and had been a big leader at a great retailer like that. Now, he was the CEO of a great brand. He's somebody who had a cult following.
We think about our brand, we want to be a cult-like brand. That's an example of another skillset. We wanted a merchant but had been in a cult-like brand. We wanted somebody who's been in marketing and had been in multiple brands. Elisabeth Charles had been the Chief Marketing Officer at Athleta, Petco, Victoria's Secret, and brands like that. An example like that is Paula Bennett, who's also on our board, has been the CEO of J. Jill for over a decade. She took it from a small brand to a great brand that we all know. I give you those examples. Joanne, who's also on our board, is the acting CEO of Tapestry, who's the Owner of Coach and Kate Spade. She was the CFO there.
We have skillsets like that, a high power group of people, and a diverse board. We have four women on our board. Our customers are women, so we should have our board reflect the face of our customers. We need them to be high performing because we want high performing. They're my boss, and I need a boss who's going to push me to push our business to reach its full potential. Thankfully, folks like that were interested and willing to be a part of the At Home family.
You said fortunately, they were willing, but at Game Face Execs, we'd like to talk about how the power of persuasion and influence plays a part in everything we do in business and in our personal lives. Lee, don't undersell yourself here. You had to be a persuasive individual.
I corded each of them individually. Joanne, who was at the time the Chief Operating Officer of Abercrombie & Fitch, was a busy person and had a busy job. I said, "I'll fly to Columbus. I'll go to your office. I'll meet with you. Please give me the opportunity to talk about At Home and the At Home board." She did that. Paula Bennett was at an investor conference two years before she joined our board. I said, "Can you meet with me?" She gave me fifteen minutes in the hallway.
I'm courting them because we're a small-time and they were big time, but I wanted them to know what's possible and the fun part about building a great company. Also, if they had that entrepreneurial spirit at all, which they all do, to help build something great. I said, "Why don't you build the next great American retail company with me?" I was grateful they said yes and I'm grateful that they're my boss and my partner and we're better for it.
I won't ask you who but I'm sure others said no to you. Not everyone's going to say yes. That would give a phenomenal close rate, as we say. You were successful in getting the attention of some high power individuals with terrific experience, who already had done what you wanted to do for the most part at At Home. At the same time, you also seem to have the confidence to be able to hire people who might know a little bit more than you in some areas.
That's how it should be. Hire people smarter than you and you'll get smarter.
It's worked out for you and you've been successful. Let's talk about young entrepreneurs and startups who are looking to take this great idea that they hatched in the basement of their garage. They think, "No, I don't want to involve other people who might take advantage of me, who are smarter than me, and might snooker me out of too much share of my business." You don't have that attitude. You've been in private equity and you know how it works. What are some lessons these young entrepreneurs and startups ought to be learning from your example?
You want to have the best team out there. I grew up in New England and they always had this philosophy to draft the best available athlete. You want the best one. Even if that position is already filled, you deal with that problem. You want the best available athlete. Get the best people you can around you and it will make you better. You'll learn a lot from those folks and they'll push you to be better. I'm not uncomfortable with that. I'm comfortable enough in myself to say I'm not going to be smart in certain areas and in other areas, I may be stronger, but either way, shore up the whole team.
There's a book out there called the Team of Rivals, which is about Abraham Lincoln when he became president. He picked for his cabinet three of the people that ran against him as president and some of them were in different parties. He formed this cabinet of people that had more success winning elections, more success in politics, and more international experience than he did. Now he's considered one of the greatest presidents we've ever had. He's certainly one of the most courageous people we have in our history in this country.
Courage is required to have a willingness to hire people smarter than yourself. I would tell you, you're better for it. It makes you a little uncomfortable sometimes because they are smarter than you. Aren't you supposed to be their boss? If the whole enterprise wins, you win because you learn and when you stop learning, life is over. I love being around people that I can learn from. I would tell you, I'm impressed with my team, individually, to a person. I would take our team against any other retail company in the world regardless of the size and say, "I've got the best in those slots and I learn from them every day."
I would like to echo what you're saying to something I haven't shared with my own clients at Game Face, but that is a fact and reality. Back in the early 2000s, I was starting to see some growth that was getting away from me. As you've seen before in other businesses, you can grow too fast and you can scale too quickly. Everyone wants to scale, but then sometimes, it gets away from you. That was happening to me in the early 2000s. I met two people who were smarter than me, who showed an interest in my business.
[bctt tweet="The day you stop learning is the day you stop living." username=""]
At first, I was not only intimidated by them, but I didn't trust them because I thought, "They have some underhanded motive, and eventually, they're going to fool me into taking my business." You talked about courage. The other word that I would throw out there, and this is something that one of our previous guests, Steven MR Covey, is an expert in talking about, and that's trust. I had to develop a sense of trust in those people, not dumb trust. You've got to be wise, do your due diligence, and do your research on people.
When I finally began to trust those two individuals, they did fantastic things for my business and helped me see my blind spots. You've learned that lesson previously in your career. If I may also, let's go to the other side of your business. We've talked about the senior leadership and the board. You also mentioned the managers of your 200-plus stores and the people that work with them. What do you learn from them, Lee? How are they different from other retail workers that I might encounter when I walk into some of your competitor's places?
I always say the most important job in our company is the store director position. Each and every one of them run a big enterprise. Each business does about $7 million in sales, which they only do with 30 people. The store is the size of a Costco or Walmart of 100,000 square feet. On average, they may walk 7 or 8 miles a day in their shift because the store is so big to get across it and so on. Teams are moving freight from the backroom to the front of the store. It's a self-help model. They run a playbook from us. It says, "Here's how we want the store to be merchandised. Here's the product we want to have highlighted in these certain parts of the store. Here are the policies and procedures that we have for you to run effectively."
Knowing that we're trying to help them run it the most efficient way possible. What we found is our team members are incredibly devoted and hardworking. It is a physical job because you're moving a lot of product, and you're an owner-operator. We give them shares of stocks that they do in part of the company, but they're operating it every day and they're the ones seeing our customers every day. I don't see a customer. I don't serve a customer. I'm overhead. I'm store support. They're the ones who see the customer every day. They're the ones who hear every day what the customer was looking for and what they're expecting from the store. They're the ones who have to deliver that customer experience.
Is the store neat, clean, and organized? Always. Are they getting the support that they need from our employees? Can you fill out the roster every day if they have enough people to show up? This is an hourly workforce. Most of them have just a high school degree. I say just, meaning they don't have as many opportunities so they're going to go to where maybe they can get $1 an hour or more. How do you convince people to stay with you when they could get paid more somewhere else and they could do an easier job? I'm grateful for our store directors. They are wonderful people that are loyal. Their commitment level to our company is extraordinary that they exhibit every day. My job is to serve them. How can I help them and make it easier for them?
Your store directors have to be persuasive as well in order to get those associates to agree to that job at whatever wage you may be offering. Can you share with us a little bit more about the characteristics of an effective store director when it comes to the skill of persuasion and the skill of selling? Is that something that you require when you hire them that they have to have a sales background or at least a proclivity to it?
Our stores are self-help, so it's a self-help labor model. Think about Costco. It's a store that people are most familiar with. We're like that. We're a warehouse store. We put it on the shelf. There's no commission salesforce. It's self-help shopping enabled. The customer goes around without getting a lot of help. If they need something off the shelf and brought up to the register or taken out for the car, we'll help them there. What we do is we make sure the store is neat, clean, and organized, and then we run the register. I say that's it, but there's a lot to that.
You still have trailer loads worth of product coming in 3 to 4 times a week, and then you still have all these what I call pesky customers sometimes that isn't always happy. You have to put a great face on every day and support them. We have two teams in our store, a customer service team and an ops team. We hire people for those teams. It's around personality types. If you're a type of personality who gets a lot of energy by hanging out with people and helping people, then you're going to be on the customer service team. You'll be in charge of servicing and conditioning an area and you'll be in charge of running the register and engaging with customers.
If you like getting stuff done and making stuff move, you're going to be on the ops team. You'll be unloading the truck, getting the product to the floor, unloading and packing, and getting it all set. Two separate teams, two separate managers underneath the store director that run those teams. The store director looks for what do you like out of life? What type of work do you like to do? We put people on teams that way. They're the ones that help pick people that are go-getters and have that entrepreneurial spirit. What we do is we make sure that people are rewarded. Everybody in our company is eligible for a bonus based on their store team performance or our company performance, and those metrics are known.
At the store director level, for example, that bonus is uncapped if we want them to feel like an owner-operator. If you have a 5% increase in your sales plan, you have a $20,000 bonus. If you did a 10% increase, then that's double, so your bonus is doubled. If you did a 15% increase, you get a triple, and that bonus is uncapped. We've had people who've made over $100,000 in their bonus and they make $75,000 to $80,000 for a store director. Their bonus is much larger because they had an amazing year and our company had an amazing year because of them. They own stock. We give them stock every year and they earn stock every year, but then they get this bonus.
We show every store employee in the back of the store. There's a chart that Larry Stone, our lead director, instituted at Lowe's. It says, "Here's how much a store associate makes part-time per hour and for the year, and here's your bonus." Let's say you make $10 an hour, 2,000 hours a year. It's $20,000 a year, you get a $1,000 bonus. That's what our team members are eligible for, but your assistant manager makes $40,000 and she gets a $10,000 bonus. Your store director makes $70,000 and gets a $20,000 bonus. Your district manager, the person that shows up once a week or so, makes $110,000 and their bonus is $30,000 or something.
We have that chart in the back of the store that says, "You as an hourly person could someday make $100,000 a year if you want to with our company." Almost all of our store director, district manager, and regional manager positions have been filled internally because we can show people who maybe only have a high school degree. I say only because they weren't given those opportunities or those weren't accessible to them. They can provide beautifully for their family. As you can tell, I have a lot of passion for our team. They do amazing work and I want them to win. I want them to take care of their families and realize all the dreams they ever had because of what they do for our company.
You're sharing a culmination of a rich career that you've had, Lee. All of that experience that you've had over the years at different brands and different roles is culminating what you're describing. It's a wonderful story. I want to go back though, in time a little bit about your career. I appreciate everything you shared with us about At Home. For example, you've had three prominent roles in the retail business. You were the President of Nike Affiliates, Chief Operating Officer of Gap, and Chief Financial Officer of Old Navy.
Any one of those positions is nirvana for a lot of people. They're going to retire with that position. Why would they want to do anything else? Such great brands with such customer affinity. As you have looked back through the years at those types of opportunities, did you move on because of fit? Did you move on because you had achieved the goals that you had set for yourself? Did you move on because it was a better opportunity for you? Was it all of that? Was it none of that? Help us understand the career path that has taken you to all these different and diverse experiences.
I've been blessed. It's been a great career. I've had the opportunity to work with some great brands and amazing people. A lot of the time in those places, I was able to know the founder of that great brand. That was neat to be able to see what they had envisioned to be a part of helping that to be realized. Each career decision has its own set of decision-making criteria. First and foremost, it still comes down to what's best for my family? I've been married to my wife, Linda, for more than 34 years. She's been the greatest thing that ever happened to me in my life. She's a wonderful partner. She's the greatest business consultant in my life and advisor in every decision like you, Rob, in what's right for our family and our children.
Sometimes, we stay where we are because 1 or 2 of my kids wanted to finish high school in that town. We made a decision to do that. This is a good time for them to move because it's a good chapter in their life. Each career decision still involved the family decision that came down to a family council where they would vote and everybody got the same boat. Hopefully, my persuasion would help them want to go where I thought the career was going to be benefiting. I also had to provide for a large family. I have eight children. They get expensive, especially when they're in college. An upwardly mobile career allows us to be able to provide better for our families.
I like learning. Part of my moves is because I had learned while I could. I couldn't learn anymore where I was, so I wanted to learn more, so then I needed to go somewhere else to learn more. Maybe learn a different industry. When I went from Gap and Old Navy, which was apparel, which was new to me before then, that was an amazing experience. I worked with great people and great brands, to then go to Nike. I got to be the President of the Nike Affiliates, so all of those groups and businesses. I was in charge of Cole Haan, Converse, Hurley, Bauer Hockey, and Starter. It was a fantastic opportunity, and then to be on the Nike executive team to learn what the Nike brand did to be what they are now.
It was such an opportunity to learn and soak it in like a sponge as they say. Part of it is learning because I can't stand still and stop learning. Part of it is to not stop in my own development. Some places said, "We can ever see you as a president. We can see you as the chief operating officer but you're not a merchant, so you can't be a president with us." I thought I could be. If that company didn't see that because they decided to put some artificial barriers on my potential and I thought I had more potential.
I didn't listen to the voices, what people said, "You're only a finance guy. You can never be those things." I thought, "No, I can be those things. I'm going to go after that." I had to move on to go after what I thought was my full potential. We're supposed to realize our full potential in this life. My career has been blessed and I've learned so much. I've worked with great people and I've been taught by great mentors who have helped me have those experiences. People took a bet on me and I appreciate that too.
I have to tell you a story that you reminded me of. It's not about you, but it is about one of the brands that you've worked for. It's not a secret story, but it's one that I haven't thought of for a long time. When Game Face was based in the Portland area, I would pay a lot of visits to Nike if you were there at the time, leaving those various brands you shared with us. You were in the inner circle. You were one of the top eight executives at Nike, meeting with Phil Knight, Charlie Denson, and other people that were running the company at the time. I had a chance to get to know Phil Knight in a different way.
One time, Phil and I with one other individual were chatting at Nike near Phil's office. The other individual threw out some crazy notion that maybe there was a position for me at Nike. At the time, I'm running my own business, Game Face. This guy was conjecturing, "Maybe Rob could serve in this way or in this way." Phil looked at me and pulled the sunglasses down, as only you know. He looks at me and says, "You're not the Nike type." The conversation stopped there. It's interesting we were friends. I certainly respect Phil Knight for everything he's done for Nike, for the sports industry, and commerce. I hope there's a little bit of mutual respect for me.
[bctt tweet="We are supposed to realize our full potential in this life." username=""]
Even though you're friends, that doesn't necessarily make you the right fit for a company or for a brand. I'm sure you've had a lot of people who've come to you because you've been in private equity as well where you get to identify people that should serve within a particular enterprise or company that would be a good fit for management. I'm sure people have come to you and they said, "Lee, how about me? Can't I be a candidate?" You probably have had to say, "It's not a right fit." What does that mean in your mind? Is it okay to say to someone, "It's not a good fit?" Is that a DISC? Is that perhaps a message that there's something better for them?
It's not a DISC. It's a reality and in both parts. You could decide this company isn't a good fit for me for the culture. When I interviewed people for a role, I've always said, "We're both figuring this out." In my first interview with a candidate whether it's for the board or my member, the executive team, I spend two hours with them. We get to know each other first and foremost because I want to see, do I like this person? Do I want to spend all this time with them? I have this policy at our company. We have a no jerk ratio policy, so we don't hire jerks. A jerk doesn't mean somebody I can't work with. It means I have a certain style.
I would tell you, I'm not a screamer or swearer, so I'm not going to want that around our business. It doesn't help bring the best out of people but either way, some people do that. That's up to them but that may not work for us. I would tell you, you've got to figure out the culture of the place. Whether you're looking for the role or you're creating that culture, you want to make sure you sustain that from the culture standpoint in your own company, or that you fit that as a candidate. It's not a ding. It's a reality. Culture is as much a part of the business as the performances, and the culture delivers the performance.
At Nike, for example, that culture is strong. It's about winning. It's about being on the offense always. One of their maxims says, "If you're not competitive and you're not willing to go at it and try to help the brand and the business be successful, you're going to be left behind." That's who they are. That's not bad and that's not good. It just is. They're extraordinary and they had a strong culture. Gap had a strong culture. When I started at Gap, I remember walking into a room and people would look me down and up. Was I fashionable enough to be there? I come from technology and I'm wearing not-so-cool clothes.
I want everyone to know you are fashionable.
I'm better than I was back when they started at Old Navy. I would tell you, I learned. I had to make sure I had fashion denim on and embedded in a great jacket or blazer. My belt had to match my shoes and my watch band and all these things. That's part of the culture because they're a fashion business. You have to get a culture. It has to be right for you and you have to make sure they're right for your company. It's not bad, it just is. Don't ever give up on that and don't settle for that either because it will come back to burn you later anyway.
You are a great advisor. You've given us great advice in this episode. I also know that you're an advisor for organizations outside of At Home as you've gathered a board of directors. You served on the board of directors. I'd like to focus a little bit on the industry of sport because you served on the board of Larry H. Miller Group, which is the owner of the Utah Jazz. You served on Tom's Ownership Advisory Group, the owner of the club.
You also have an ownership interest in a double-A franchise in town where you spent some of your formative years. I'd like you to share with our audience a little bit about those collective experiences serving as an advisor in the sports industry. What you do with the Dallas Stars, which is where you live and work in that community, that's particularly of interest to me and it would be to our audience as well.
I'm grateful to be a part of that team. I would tell you what Tom and Jim Lites set up. Tom, the owner, and Jim, the CEO at the time, and now Brad is the CEO. They envisioned early on when Tom bought the team that since Tom lived out of town, the idea was they wanted to see one of the enterprises to be commercially successful. Not just have a great team and win a lot of big games and hopefully, win a Stanley Cup, but also make it commercially successful because Tom's a successful business person. Since he wasn't in town, he wasn't going to be there to help nurture those business relationships that are necessary for the team to be commercially successful.
You need sponsorship and you need people who are going to be supporting the arena and filling the seats. You need to have community involvement to have the entire community want to be a part of the Stars movement as well. They formed this Ownership Advisory Group that I joined right after I moved to Dallas and I was grateful for it. Our job at the Ownership Advisory Group is to help the Dallas Stars on the business side be commercially successful, help them make money, and help them think through how do you get more sponsors involved in the Dallas Stars? How do you get more people to come to games? What does that take? What network do we have that can help them and introduce them to those people, to then have those people be a part of the Dallas Stars family in the business?
That's what I do. I help them, serve them, and I get all the benefits of being an owner. They're kind enough to let us be a part of the ownership group in the sense that we get the owner's box and we can travel with the team, tickets to games, access to all sorts of team experiences and so on. That's great for my family who is new to Dallas. That allows me to connect more with the team. I can then help the team be commercially successful, which then allows the team to stay in town because it's important for a town to have a team.
That's why I'm a part of the Montgomery Biscuits ownership group too because I grew up in Montgomery 1st through 8th grade. I want that town to have a sense of community. We have a team downtown at the Riverfront at this beautiful stadium that the city built. It brings the community together and it brings families together and creates memories for families. Sports create those family memories that nothing else does. If you can make it commercially successful, then those teams stay in town and create more memories for the family.
You've been able to open up the At Home stores. I'm sure you're using great mitigation efforts to be cautious and abide by certain guidelines as to how we should respond to the pandemic. We haven't been able to do that in the sports industry yet. For those who are reading who come from that industry, you would agree with me when I say that our communities need that. They need to have that release to get back into a sporting environment because of all the reasons you said. It's not just for entertainment and relaxation, but it's also because it's a great way and place to do business. I'm sure at Dallas Stars games, you've done business. Hopefully, from your lips, we'll be able to get back to sports soon. To set the record straight here, Lee, are you any relation to Larry Bird?
No, I'm not. After eighth grade, I went back to Boston. I'm a Boston Celtics fan. I'm a fan of him, but no relation or whatsoever. If you saw me play basketball, that wouldn't have been in question.
The jersey doesn't say, "My little bro, Larry."
No, I had to buy it on my own.
Lee, this has been an enlightening conversation. Thanks for letting us come into your store and giving us a tour of what is making At Home successful. We wish you, your company, and your associates continued success. I would encourage all of our readers to get into your store, get online, and see the quality products that you have and the value that you provide. For those who are interested, where would we find you? What's your ticker on the Stock Exchange?
HOME.
How appropriate. Thanks for letting us join you in your home, Lee, in At Home. Have a great rest of 2020 and a terrific 2021.
Thanks, Rob. Thanks for this opportunity. Take care.
Thanks for being a part of this episode of Game Face Execs. If you found any of it useful or helpful, please rate or like and subscribe to our YouTube channel. I always appreciate you referring this to others as well. I'll see you next episode. Until then, persuade, influence, inspire.
Important Links:
https://www.gamefaceinc.com/wp-content/uploads/2020/09/11GFEPEAANCHOR.jpg
600
600
Rob Cornilles
https://www.gamefaceinc.com/wp-content/uploads/2019/03/Game-Face-Logo-Full-Color-300x86.png
Rob Cornilles
2020-09-25 03:00:39
2021-02-04 08:49:01
Episode 11 | Lee Bird | The Brand Man