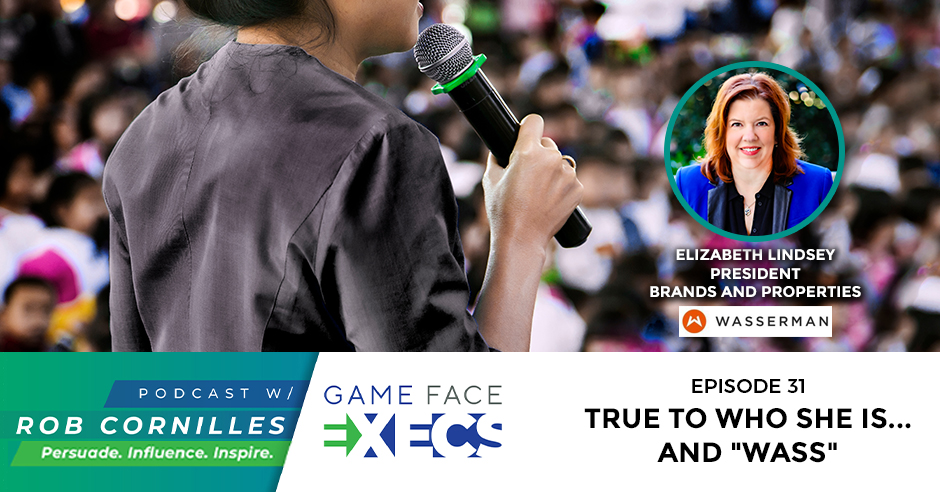 Anyone who has experienced building either a professional or personal brand knows how hard it is to accomplish, given the many factors that must be taken into consideration. This is where brand coaching comes into play. Every business will always benefit from reliable advice and guidance, and that's exactly what Elizabeth Lindsey sets out to do for the athletic scene. She sits down with Rob Cornilles to talk a bit about her work as the President of Brands and Properties at Wasserman. She delves into the right balance that brands must learn between reinvention and innovation, how to create a deep connection with fans, and the best way to navigate branding blind spots. Elizabeth also shares her advocacy in empowering women entrepreneurs and how their transition due to the pandemic impacted experiential marketing.
—
Watch the episode here:
Elizabeth Lindsey | True To Who She Is… And "Wass"
Elizabeth Lindsey loves to make things better. She leads the Brands and Properties Division of Wasserman, one of the world's largest sports marketing and talent management companies. Whether working with such iconic brands as American Express, Microsoft, AT&T or the NFL, brands that are willing to test and learn, as Elizabeth explains in this encompassing episode, are music to her ears. Join me and learn how Elizabeth's team, using the mind of a consultant and the heart of an artist, helps brand partners stay ahead of change while always being true to who they are.
—
Elizabeth, when we talk about Wasserman, it used to be Wasserman Media Group many years ago. For my audience, those who are well-versed in what your firm does, but also for those who aren't familiar with Wasserman, can you give us a quick synopsis of Wasserman space and what you do for the industry?
Specifically with respect to the sports entertainment and culture spaces in which we all operate and are fans of, our job is to sit at the intersection of that and make those very powerful consumer connections between brands and sports, between sports and fans, between athletes and their fans, our athletes and brands. That whole ecosystem around what it takes to bring that content to the community, that's what we like to sit in the middle of and make it happen.
Wasserman represents athletes, brands and properties. The athlete's side of your representation is vast. Many athletes from all sports. On the properties and brand sides, or as the name of your division is Brands and Properties, talk to us specifically about that. Who are your primary clients? Who are you going after to represent?
If you think about our business in its simplest term, it breaks down into two paths. There is the talent side of the business. We're fortunate and lucky to be able to represent close to 2,000 athletes worldwide across every major sport you can think of. It's clearly the biggest sports agency in the world. That's easier for people to dimensionalize and wrap their heads around. Predominantly thank you, Tom Cruise in Jerry Maguire. They get their head wrapped around what that means. If you look at the brands and properties, I think about it in the same way. My job is no different than an athlete's agent. My job is to be an agent for the brand. My job is to represent the brand and the brand's interest with respect to its investments in and leveraging sports and entertainment content. If you think about it in the exact same way, that's what we do on behalf of our brand clients and our property clients.
Some of those brand clients I think of Microsoft, Target, American Express and Nike. Also, on the sports side, you represent all the five major league brands in the United States and Canada.
We've worked with all of them. We do a ton of work with all five of the big team sports. NBA, NFL, NHL, MLB, and MLS, and everything to do with commercialization and go-to-market strategy. How do you take your product to market? How do you commercialize that? How do you measure its effectiveness, and how do you continue to improve the product that you're offering sponsors and fans based on the information that you get from a robust measurement program? Every single one of these guys is in the business of making their product better and keeping their fans happy. We like to think we have something to do with helping them do that.
Those who know you say that you are not someone who gets ruffled easily. I don't want to say you're laid back because I know that you have a great intensity about you and your work, but you're someone who doesn't get ruffled very easily. In this environment, I've got to think a lot of your brains, a lot of your clients are getting ruffled because of the uncertainty and all the different curveballs that are being thrown at them. Would you mind giving us a little bit of a glimpse? If we were to walk into their boardrooms now and hear those internal conversations, I know you can't give away confidences, but what are some of the things that you're hearing and how are you a part of those conversations?
[bctt tweet="Know exactly who you are and do not waver from that." via="no"]
I've been at Wasserman for close to twenty years. Prior to my work on this side of the table, I was at the brand, and I ran a program globally. It gives me a particularly unique insight to look at our clients and understand the challenges that they face and did their jobs. I've sat in those seats. Did I sit in a seat in the middle of a global pandemic? No, but I sit on the brand side in the middle of the internet bubble burst in the late '90s, beginning of 2000. For the tech industry, that was a crisis. I sat there during September 11, 2001, and the subsequent economic challenges we faced after that, also a crisis. I've lived through some on the brand side and many on this side. What I'm struck by always is we're very fortunate to represent some world-class brands who know exactly how to face these challenges.
Were very fortunate to work with American Express, Microsoft, AT&T and Target. These are some incredible brands. We also work with a few more up-and-coming brands and helping them. This may be a different challenge for them than someone who's been around 50 or 100-plus years. The one thing that I always see in successful brands, and I helped try to coach into other brands as they are emerging and building their equity in the space is first know exactly who you are, and do not waiver from that. If you keep that North Star as a guiding light for your decision-making, you rarely make bad decisions. Know who you are, and don't waiver from that.
One of the things that I love about American Express as a brand, and they've been around close to 170 years. Someone said to me once, "Do you know what the stated mission of American Express is?" I'm like, "Credit card brand or travel company." "No, it's world-class service and personal recognition." There's nothing to do with the product. It's who they are, who their ethos is. They know who they are. When you have that ethos, it's been your ethos for 200 years, and you know exactly where to go with it, then you'll succeed. When the decisions are made on quieting the noise around you, put the crisis on pause for a second, take a step back, know who you are and don't waiver from that, you'll make the right decisions.
In that realm however, how many times are brands needing to reinvent? Certainly, personnel changes, conditions change, how do you balance the reinvention and always being innovative and on the cutting edge? What I'm interpreting from what you're saying is there's a bit of traditionalism that you have to respect and honor about your brand. Where's the balance?
I wouldn't say traditionalism. I would say consistency. Take that example that I said. What world-class service meant back in the day of travelers' checks is different than what world-class service meant when they launched plastic credit cards. It's different than what world-class service is going to mean in the future of mobile payments. There's not traditionalism or an inability to change or adapt. It's the consistency as to why. A lot of brands, when you ask them, "What do you do?" They'll always tell you what they do. "Tell me how and tell me why." We even try to think about that in our own brand as we build Wasserman around the world. We service talent and brands, and we provide this set of services, but how do we do that and why?
The 'why' is what drives any brand and the consistency of how hard you hold onto that why matters. For our brand and us, we talk about a concept of the pursuit of better. Everything we do in our brand for our talent, brands and property clients is to make things better, to make their brand better, their business better, our industry better, to push forward the industry on key areas that are important to us, including the work we do with women, and the collective that we spoke about earlier. All of those elements are why we do what we do. What you do can change who you are, how you do it, why you do and shouldn't. That's a consistency thing.
Some of the people at Wasserman know that we at Game Face have always hung our hat on a hook that's called results. We're speaking the same language here. We always try to focus on what are the results our clients are looking for. That is our charge. It's to help them achieve those results. That's the 'why,' isn't it?
Exactly. Our business exists to push your brand and your business forward.
Are there some 1 or 2 examples where a brand was going through this transition, or perhaps they had to be re-awakened to their why? Whether it was through a campaign or an initiative, they either rediscovered it, or they were able to rebroadcast it to the world and make it very clear to the world, "This is why we exist." Is there an experience that you can think of where Wasserman played a role in that?
I'm lucky that I get to work with some of the brands I mentioned earlier, who are steadfast in who they are and understand how they do what they do and why. We're lucky in that respect. I'm honored every day that they choose us to work with them. We have had some interesting evolutions in some of the programs that we've done in the sports and entertainment space with our brands. I think back on something as simple as an initiative we did with AT&T in 2020. We're fortunate enough to work with AT&T. I love those guys there. They're some of the greatest clients to work with, innovative, and want to push the envelope. We were challenged with helping them launch a 5G initiative with the Dallas Cowboys.
Everybody's talking about 5G, but very few people understand its potential and impact. It's like, "Let's get down to the simplicity of what it does." It makes your experience. It brings you as a fan closer to the experience. It makes it more robust. It lets you interact with it in a way that you couldn't in a pre-5G world. Let's get down to the why. I could have done 160-second spots to talk about 5G, but we did a simple initiative called Pose with the Pros. We're using the power of the robustness of the 5G network. We were able to take that old-fashioned concept of standing in front of a green screen with a picture of a trophy or whatever. Let's modernize that.
We've picked an augmented reality. We built an augmented reality activation where as a fan, you could walk up to the screen, and you could pick the players that you preferred. They would walk onto the screen, and interact with you in this AR environment in a real-time robust way. You could then capture the content, send it to your friends and say, "Look at me, hanging out with this player." It's something simple but powerful, and it was a huge hit. It went everywhere. The most fun part was watching the players themselves come and interact with themselves on the screen, which is hilarious. It's something simple instead of this big heady concept, realizing why you're doing this big, heady, technical concept and making it real for the fans and improving their experience. That's finding your why and your purpose and help explain that to the fans. That was a lot of fun to do.
When you speak about those kinds of campaigns or those projects that you do with your clients, give us a little bit of an overview of the people that make up the brands and properties side of Wasserman? What kind of skillset and functions do you have within that division?
We talk about the end-to-end solution of what we provide, and then we build our teams around those services. For us, it's a simple acronym called SEAM. We talk about S for Strategy. These are the people who are experts in understanding consumer segmentation, audience understanding, deep analytics. Who should you partner with and why? What's the best for your brand? What market should you enter? What partners will move the needle for you? It's that very deep strategic thinking. We talk about E, which is the Execution against that strategy. By execution, I mean creative. How do you bring it to life creatively? How do we have these robust experiential opportunities? How do we share it with your consumers in a hospitality environment, a promotional environment, retail and sweepstakes? Anything that you can think of to bring that strategy to execution level awareness.
We talk about A, the Amplification of it from a digital and/or paid media perspective. How do we amplify that and get the message out? Last but not least is Measurement of a tree falls in the woods. You can have the greatest program in the world, but if you don't measure it and tell people about what its effectiveness is, so what? We want to have that end-to-end experience of the strategy, the execution of that creatively, amplification of it in a digital space, and the robust measurement that comes in the backend. We've built all of our services around those four buckets.
You're an expert in sports marketing. When you see and work with sports leagues, more specifically sports teams, what are some of the pieces of advice you give them or would give them? Perhaps they're making some blind spot mistakes or not capitalizing on certain things? If you were sitting around a conference room with a bunch of sports sponsorship executives who want to know, "Where are these blind spots? What are we missing?" What are some things that would come to the forefront of your mind?
I talk with these guys about the frontend and the backend all the time. On the frontend, audience segmentation, audience understanding, deep audience analytics. That's all our property clients and our brand clients. Remember, you are not your target demographic. Just because you think something doesn't mean the entirety of your consumer base does. Understanding them is important. Spend the time and effort it takes to understand where their fandom comes from, how they choose to spend against it, what they are prioritizing against it from not only a share of wallet but a share of voice or a share of time clock. What are they choosing to spend their time on? Understand that because understanding that from a deep level will help you make the proper decisions on how to market your team and keep loyalty among existing fans but recruit new ones. Going just to see season ticket holder base and talking to the people who have been PSLs for twenty years is not deep audience analytics. Let's spend some time understanding that on the frontend.
We speak to measurement on the backend. Making decisions in our space is a very emotionally based thing. This is a passion-based industry for a reason. As a result of that, there's a certain amount of art and interpreting how to invest and what the success of those investments looks like. We maintain their science too. For those who say you cannot measure the effectiveness of a sponsorship program, you're wrong. You can measure the effectiveness. I get a lot of grief from certain brands going, "I wish that there was a CPM measurement metric for sponsorship." I'm like, "Why? I don't need that." There are seven other methods that are going to measure it better. Let's understand what they are.
[bctt tweet="The biggest mistake people make is thinking that experiential marketing is only about live experiences." via="no"]
We spend a ton of time talking with our property clients about that frontend audience analytics and the backend return on investment modeling that they can then share with their sponsors. You need all of that. You need the right audience coming in. You need the sponsors making it effective, and you as a property are the gatekeeper to both of those pieces of information, own that. Those who own that and understand it are incredibly successful.
You were talking about knowing your brand, market and audience. You have spent a considerable amount of time and energy becoming a leader in making sure that our industry understands the role and the future of the women's voice both as a consumer. We know that women make the vast majority of consumer decisions. We know that wealth is largely gravitating towards the women dynamic or demographic. There are these ebb and flow, but it's also very clear where the tide is turning. You have created at Wasserman what's called The Collective. My audience would be very interested in knowing the genesis of that and how it relates to this that I'm introducing here.
I'm proud of The Collective. In 2020, it celebrated its one-year anniversary. What I'm most proud of about The Collective is it's been like a 15 or 20-year journey for us. It wasn't something that in 2019, we just went, "This would be cool." We've been at this for a while and representing one of the most robust portfolios of amazing female athletic talent and the work that we do in our company, but also focusing on deeply understanding brands and how they talk to women. What I'm very interested in is the growing number of CEOs and CMOs that I deal with that are women. Of our top twelve brands, we have 9 out of the top 12 brands we work with that their CMOs, senior leaders and CEOs are women.
You've got this brand perspective that we work with from a female perspective. You've got this athlete perspective that we are fortunate enough to have a ringside seat for it, and then inside our company, we've worked hard to curate diversity of thought. Diversity of thought comes from a diverse group of employees in our own company. I'm pleased to say we have almost complete gender parity in my division because it's important. Those voices are important. Understanding us as members of this industry, the athletes we work with, and the brands we work with, we stepped back and looked at it and went, "Let's put an ethos around that and push it out and say, 'This is important.'"
You are correct. Women control most of the financial decisions. If you want to see it even stronger, look at Gen Z women. Sit back and wait because what is around 85% is going to be like 95% when they hit their peak of how Gen Z women is controlling the financial decisions in this country, and most particularly women of color in that group. If it's an audience that you have not yet courting, you are woefully late to the table. Get on it because they're becoming more powerful. The women bring a unique sense of purpose to the decisions they make too. It's not just that they control the dollars. It's how and why they control the dollars and how they're going to hold you accountable as a brand or as a property in sports for delivering against their spending with a purpose. They want you to have a purpose and to who you are. They want you to understand who they are. If you don't, they don't have time for you. That's going to be a serious economic impact, given their control of the wealth.
The Collective was established to harness all that work we were already doing and put it in one place and say, "As an industry, we need to make things better for raising visibility and opportunities for women in and around the sport." That is the simple purpose of The Collective. It's fascinating to me how little work has been done in this space. When we launched it, I vividly remember being asked by the New York Times reporter, "You're raising all this awareness of how important this demographic is and how lucrative they will be economically. Are you worried that your competitors are going to copy you?" My answer was, "I hope so." Here I am many years later, "Where are you all at? Let's go. Come on. Join the party." I hope everybody sees the potential here because when women win, we all win in this industry. I welcome more people to that party.
Can you talk about the causes that you're finding as a very esteemed woman executive in our industry? If I was a marketer or an advertiser, and I wanted to appeal more to that audience, which maybe I've neglected or I don't realize their power, what are some things that perhaps I need to be keener to?
First, women don't want to be treated as different fans. They want to be treated as fans like, "We're fans." For the longest time, early in my career, there was a whole phenomenon of shrink and pink it. The way to court women was to take t-shirts and make them smaller and pinker for women, and we're going to market those, and they'll become fans. We used to always talk about shrink and pink are gone. People are at least past that a little bit, thinking that's the way to go after women. They are past the concept of Football 101 like, "We're going to host girls' night Football 101 classes, so you understand how to engage with your man." No, we're past that. We are fans on our own right. We understand the game. We like the game. We like it with as much passion. They might like it for different reasons.
Take the time to understand that and know my fandom is not in the context of someone else's. Too often, people market to women and their fandom in the context of or in service of someone else's. You're a fan because your husband watches, and you want to be there with him. You're a fan because your kid plays it. You're a fan because it was passed down by your dad. Our fandom is not a context of someone else's. Talk to me about the fan that I am why I engage, and what I like about the sport. The key is getting to understand that, doing the work. Do the work, do the analytics, do the deep insight work you need to do in understanding this segment of consumer, and it'll pay it out.
Can you help us also understand how you would term or define experiential marketing?
People make the mistake that experiential is live. I've got a ton of calls at the beginning of COVID, a lot of people are calling going, "Are you worried about your experiential business?" My experiential business was through the roof in2020. The reason behind that is something that we keyed in on pre-pandemic many years ago. All experiential is not live. Millennials and Gen Z, those audience experience life and their passions through this. That's what they care about. They want to look at the screen and are experiencing it in a different way. The biggest mistake people make is that experiential is live, and it is not. That doesn't mean that the minute the pandemic is over, we are never going to see an in-person activation again. We'll never have big concerts. We'll never have fanfests. We'll never get together in person again, which is also as much BS as the fact that experiential is all live.
There is something incredibly powerful about human connection, and we've all learned that the hard way in 2020. It is how much we miss that and exactly how endemic it is to our lives. It's essential in a way. I don't want you to co-op the word and associate it with first responders and healthcare workers who are way more essential. That concept of how we connect as humans over shared passions is a deeply essential, almost existential part of who we are. I'm reminded of that quote in Dead Poets Society that law and medicine are all necessary pursuits to sustain life, but art, music, passion, sports, and all these other things are what we stay alive for. I'm reminded of that comment a lot. It holds true, and we've learned it the hard way that we need a blend of both.
We were lucky from an experiential perspective that we began to migrate all of our products and our services many years ago to that hybrid model of in-person online, predominantly less because of the pandemic because it didn't exist, but more because that's where the audience was going. Follow the eyeballs, follow the audience, and you'll win. The audience was moving there, so we moved there. A lot of our activations from an experiential perspective are both. Even Pose with the Pros that I spoke to earlier, it's a perfect in-person experience right there at AT&T stadium with the Cowboys, but it also had many extensions for people to engage with and share in a virtual second-screen environment. It's a combination of both.
Some of the brands, properties and talents that Wasserman represents are major brands, big corporations and all-stars. Connectivity and being able to get up close and personal with them isn't something that I as a common fan would be afforded that opportunity. I remember getting started in sports many years ago. The idea of being able to associate with players then was beyond us. They are beyond our reach. They're not the everyman. They are many years ago when they lived among the community members during the off-season, and they'd be mowing their lawn next to you. It seems like more athletes and brands are almost not personalized. Now I know you're working against that. You're working to change that. Tell me how my perception is wrong or tell me how it should be evolving.
I think your perception misses one key thing, which is social media. Twitter happened, Instagram happened. As a result, I believe for those who do it right and authentically that it brings you closer to brands. It brings you closer to athletes and heroes that you work with. It gives you an opportunity to have that one-to-one voice, to be heard, to have a relationship in a way that going to Madison Square Garden and watching someone play is almost a voyeuristic way of interacting with the athlete. You're sitting back watching. In these in-depth arenas of social media, you have an opportunity to have a conversation. You have your voice be heard.
That's changing a little bit. There are some bad to that in people who don't use that responsibly and kindly. For those who do and the athletes, celebrities, musicians, brands, or whoever who interact in that arena in an authentic, respectful way, what you see as a closer relationship with their consumers or their fans. It's a good thing. It's a chance to understand them on a human level that you couldn't afford. You could buy a ticket, go to an arena and watch them from afar, and hope they made a highlight on the sports center. Now, you have a different way of interacting. Those who own it, respect it and use it responsibly are creating a closer bond between fan and sport.
If you don't mind me drilling down a little bit more on that, you've mentioned a couple of times using it respectfully and responsibly. The flip side is you have this new tool, which social media, to connect with your consumers and your fan base, and sometimes it's almost like you pulled down the curtain and we see too much. How do you advise your clients to create that happy medium where there is transparency and authenticity, but there's not so much exposure that the fan or the consumer decides, "I don't like this brand anymore. I don't like this athlete anymore. I know too much."
It goes back to what I said originally like how a brand survive a crisis, know who you are and stay true to that. That is the North Star. Where people get into a little bit of trouble is if you're a brand that is more serious and thoughtful, and you try to be flip or funny, it's a disconnect with who you are. If you are a brand that is about irreverence and you try to tackle serious issues, that's a disconnect. You've got to figure out who you are, and what your space and voice is there, and how to handle that as respectfully as possible. It all comes back in authenticity, which is something that I believe sports fans can smell from a mile away, more so than any consumer group I've ever worked with. It's all sports fans. They know how, and they will hold you accountable if you mess it up. You'll have some random fan from many years ago pull out some play from some obscure game that counteracts whatever you just said. It's like, "How does anybody remember that?" They did. We spend a ton of time focusing on that truism. Know who you are and stay true to that.
[bctt tweet="The concept of how we connect as humans over shared passions is a deeply essential and almost existential part of who we are." via="no"]
It's true that you work with big brands as opposed to small businesses. Game Face is a small business, for example. To use the old metaphor, it feels like when I need to make a pivot, I can do it with a speedboat but if I'm working with a large brand, a multinational brand like you work with, it's an aircraft carrier. How are they navigating these treacherous waters we've been in when things seem to be changing daily and certainly weekly? How are they able to transition a move as quickly as a small business does, or are they not? Is that where they're tripping up or where they're making mistakes?
It depends on the brand, and this is where I will reserve the right not to call them out by name. First of all, the ones that succeed, he who has the most information does well. The ones that I see most adaptive and able to adapt are the ones who spend the time and the research. Those were very deep in the analytics of understanding their consumer base, understanding their product, doing well with it, being honest about what works and what doesn't. There is a lot of hubris that goes on inside corporate boardrooms. The ones that I see that are the most effective are the ones who listened to the data and through the data of what their consumers and customers are saying.
We had a CEO once who used a phrase with me that says, "The problem with trusting the analytics is that the person in the room who gets paid the most isn't the one making the decisions." I always thought that was an incredibly insightful way of looking at it. You're the CEO, and you're the one in the room making the most money. In this case, you're going to listen to the data and what your consumers are telling you. You're not the one making the decision, your analyst is, and you've got to trust that. I thought that was a bang all the way to look at it.
The other one that I'll tell you is those who do well and able to move the fastest are those who do two things that I found best in class. Number one, act today, plan for tomorrow. We have one client that we work with that runs in a parallel path, and we've done this for them for a number of years. They are active in the middle of planning for this season, "What are we going to do with the NBA? What are we going to do with the NFL today?" At the same time that we're looking at the plan for today, we're doing what we call a 3, 5, 7 planning for them. Where are you going to be in 3, 5, 7 years? We run that every year for them. Today and 3, 5, 7. Understanding that, act for today, plan for tomorrow, has been the number one thing. People who do that succeed well and can move fast because you're acting in today and you're planning for tomorrow. Those are adapting as you're moving along.
The second best practice that I would share is to be willing to test, learn and fail. Test and learn. The brands that I know that have that in their mantra did well in terms of staying ahead of the game. "I don't know how that's going to work. Let me do a small pilot and test and learn." If I'm ever in a boardroom and I hear the phrase 'test and learn,' it's music to my ears. This brand is willing to move quickly. Let's put a pilot out there, let's put a program, let's do a small deal, let's do something tiny and learn from it, and then be okay if we fail. If we fail, we turn it off. If it succeeds, we turn it up. Those that can do both of those things are strong best practices.
Before you and I started this interview, we were talking about a brand that you and I have both worked with where we're already looking at 2022. 2021 is we hope for the best, but there are a lot of things even now that are out of our control, but we're doing our best with 2021. We're already laying down the groundwork for 2022. Your point is even 2022 is not far out enough, 3, 5, 7. I've got to imagine, there may be some cynics who are reading this and will say, "How can you plan for seven years out when everything is different from a year ago now? Aren't you wasting a lot of time, resources and energy trying to predict what's going to happen 5 or 7 years from now?"
What I would argue back is how do you win a race when you don't know where the finish line is, and you aren't pointing towards it? Are there things that I have done in 3, 5, 7 planning that didn't come to fruition? You bet. To me, knowing where I want to go, knowing where the finish line is, it's the best way to win the race. Worst-case scenario, you plan for something, it doesn't come to fruition. If you're constantly in the mode of doing this 3, 5, 7 planning, then the minute one thing doesn't work, the next thing does. You can't just parachute in and do it once in a blue moon. You've got to keep that commitment and continuity. If you do, there's as many win as to lose in that planning process.
What I love about what you're saying is that you develop the muscles of planning, innovation and vision going through that exercise, which is only going to make you and your team even better. I want to talk to you about Wasserman's vision. Before we go there, we've talked about your brands. I don't want to leave out the property side of what you do. Can you tell us a few of those properties that you work with or that you have worked with that we would all recognize, and perhaps give us an idea of the kind of work that you do for them?
The properties we work with, what we like to do is what I call commercialization or go-to-market strategy. What we don't do is sell. I don't sell on behalf of properties. I'll get you ready to sell. I'll tell you who to sell to, what you should price it for, how to resonate with them, how to package it to get the most money, how to attract the most sponsors, commercialization. I'll get you ready to sell. We don't sell for primarily two reasons. Number one, defensive. I find it a conflict of interest with the brand side of our business. I don't know how to be responsible for making an objective, agnostic decision and making recommendations to our brands, and still profiting off the flip side of selling into a property. Many of my competitors do that, and quite frankly, I don't know how they sleep at night. I don't do it.
We don't sell, but we'll get you as a property ready to sell. The other flip side of why outside of the defensive is offensive. I represent enough brands to know this firsthand. They want to have relationships with the properties they sponsor. They do not want to have relationships with some third-party salesperson who's going to sell them a package and then be gone five minutes later. They want to have her direct relationships with the properties they sponsor. Because of both that offensive and defensive reason, we put aside sales, we focus on that service element or that consultative element of getting you ready to go to market.
What that means is everything from a very robust valuation, portfolio or platform end-product, which is to help properties understand how to kick their assets to market, from naming rights to a jersey patch, from a kid sponsorship deal to a practice facility, naming rights. Any of those elements that you're going to take to market will help you understand what the value is of that on the open market. What are sponsors willing to buy that asset for? I tell properties all the time, "I will never tell you what to sell your assets for, but I'll sure tell you what people are willing to buy them for." That's more valuable information.
We have a whole suite of services that come after that, which is, "If this is a fair market value, then how do you get the most out of that? How do you monetize that in the most effective way as a property? What are the services you can put around it? How do you package it? What brands do you target to sell that to?" On the fan side, it's everything from understanding and helping them understand fan engagement platforms. It's bringing fans a lot in 2020 on online ways of figuring out how to make sure that they keep their fan community-engaged, how to attract new fans, how to understand new fan demographics, such as the work we do with The Collective, how to talk to them, how to pitch them, how to market to those segments? It's all about taking that brand to market and being accountable to the fans and the sponsors.
Are there some innovations that the pandemic has forced you to explore and even perfect?
Necessity is one hell of a mother of invention. When you get stuck in certain environments, you have to react to that. Those who react the most quickly win. I saw tons of people stick their heads in the sand and saying, "I'm going to wait until this is over." I'm like, "This is going to be a while." The ones who adapted and stepped up and said, "We're going to figure this out," will be leaps and bounds ahead of their competitors when we come out of this. I'll give you one small example. What to do with no fans in an arena? It's a big problem for the fans themselves. They want to be there. They want to engage with the content. It's a pretty big problem for the properties. What do you do? You've not only lost the revenue streams, but you've lost the ability to engage with your audience. How do you know the revenue streams are going to come back if the audiences don't back?
Last but not least, it's incredibly important to the athletes. The athletes don't like performing in front of empty stadiums. They don't perform up to their potential or their A-game. There are a lot of implications to what that looks like if you don't do it well. I got a call from one of our technicians in our experiential marketing team in London early on in the pandemic. He's like, "I have this idea. We have this little piece of tech that we hadn't used to bring crowd noise from an arena into off-premise locations. If you couldn't go to a game, but you were in a pub. We would capture the content of the fans in the arena and send it back out to the pub where the supporters were watching a football match." I'm like, "It was a way to keep those in the stadium and those out of the stadium together."
He said to me, "Why don't we reverse that? Let me re-engineer it and bring everybody from their homes into the stadium to engage in a way? It's the same piece of tech, I'm just going to flip it." I'm like, "It sounds awesome." That's a lovely little product called CrowdAmp that we built in the middle of the pandemic, and it was born. It was all about capturing these people watching at home on their phones, looking at a computer, capturing them, bringing those voices back into a stadium, but not just for the noise's sake, but also for the ability to engage and have opportunities to interact and feel like they're still part of the environment. We were proud of that. It's won some awards during the COVID time. It's something as simple as we get the noise, quiet all the gimmicks, and what you are trying to do and why. Making things a little bit better is our brand ethos. No matter how good you are, the next day, you can get up and try to be better. That's what we did with CrowdAmp. We made it better.
I don't use this term in a disparaging way. It's a compliment. Wasserman is a marketing group. Looking ahead now, help us get into the mind of Elizabeth Lindsey, what is your marketing group? What would your company look like 5 or 7 years from now? Don't give away any secrets. I know you won't but can you help us understand?
I could give away a secret or two, but then what this company would look like in five years would be without me. I feel like you never go wrong focusing on the core of the fan. What are people fans of, why, and how can you serve that fan-driven insights? If you were to ask me many years ago when I started my career whether or not something like eSports would fill an entire arena, I would laugh at you. Even back then, we were trying to get our heads wrapped around what we called at the time Extreme Sports of everybody on a surfboard or a skateboard being a "real sport." We try to follow our own advice.
[bctt tweet="Knowing where the finish line is located is the best way to win the race." via="no"]
Number one, I'm not my own demographic. I don't have a desire to sit in the arena and watch someone play Fortnite. Every one of my fifteen-year-old son's friends would. I don't, but they would. I'm not my demographic, they are. We try to get our own heads out of it and realize that we're serving that fan. We are not necessarily that fan. We have to serve all fans. You have to do your own version of 3, 5, 7. We spent a ton of time looking at the industry. Where do we think it's going to be 1, 3, 5, 7 years from now, and how do we get ahead of that?
That's what put us in the space of research and analytics way before anybody else paid attention to them in sports. That's what put us in the space of focusing on female fandom, and the division of The Collective before anybody else did. That's what put us in a position to survive the pandemic because we were already online and in-person as a hybrid long before other experiential companies were. It's that same ethos. What we teach our clients to do, we have to do for ourselves. Remember, you are not your own demographic, just stay ahead of the game, 3, 5, 7.
Let's finish with some personal thoughts. In the show, we like to hone in on the power of influence, persuasion and inspiration. Occasionally I like to ask my guests, and I'd like to do this with you. Who was either your biggest inspiration as you are growing your career? Who has persuaded you to think the way you think? Who's been the biggest influencer, either professionally or personally? If you wouldn't mind sharing a name and a little bit of background for us.
I have been asked this question before, and I answered it the same way every time for strange reasons. My mother was the biggest influence on me in terms of my worldview. My worldview informs my business view. My mom is not in the space. She's retired now, but at the time, she was an executive in the hospitality industry. She ran very high-end resorts and golf courses. I learned the power of relationships by watching my mom. It's not anything that she actively taught me. I just watched and paid attention.
There are stories you hear about trading a paperclip, and somehow you end up with a Ferrari. My mother is one of those people who could trade a paperclip for a Ferrari. Give her a couple of weeks and she'd figure it out. I watched her as a child being transparent and open with, "Here's what I know and here's what I don't know. For what I don't know, I know one who does," and that ability to call anybody for anything. There was nothing that people brought her that she either didn't know the answer to, or she would go, "Give me a minute. I'll figure it out. I'll find someone who can help me." What's beautiful about knowing who can help you, it only works is if you have spent a lifetime cultivating that relationship. When you do need them to help you, they're willing to help you. I'm willing to help anybody in this industry, but I keep a mental list of the ones who've helped me back, and they get my calls first.
That power of relationships, building network, understanding who to call, but also understanding how to cultivate a relationship in a way that it's a two-way street. When you do pick up the phone, someone's willing to answer that. It's very powerful in our industry. There was a phrase she used to say a lot when I was a kid, "To whom much is given, much is expected." It was her way of saying, "Yes, you do have to clean your room. Yes, you do have to eat your vegetables. Yes, you do have to do your homework." That phrase is in my head a lot, all the time in my day-to-day professional life because it conveys two very powerful things. One of which is gratitude, like stopping and acknowledging everything that you've been given.
Nobody, myself included, yourself included, got to be sitting in the seat without a ton of people who helped us. Stop at the moment and be grateful for that, but also obligation. People look at obligation like it's a nasty word, expectation, much is expected. It's not a nasty word. It's a powerful word. I feel obligated to those people who have helped me get where I am. I feel obligated to the generation of women who come behind me to make it much easier. It was not easy to grow up as a woman in this industry. I want to make it that much easier for those who come behind me. That is an obligation that I feel. That power of recognizing both ends of that equation, gratitude and obligation, both of those things, that power of relationships, the impact that comes with respecting, being grateful, and taking that obligation forward, I learned both of those from my mom.
It would be wise to end on that note. I hope your mom would be proud. I'm sure she would be.
She still doesn't understand exactly what I do for a living. She still asks everybody, "What is it that she does again?" She did influence it.
That's a wonderful note to end on because I'd like us to hang on to that thought. The power of obligation and responsibility that we have, and then the fantastic role that gratitude should play in our lives and in our careers. That's one of the reasons why I wanted to have you on the show because you demonstrate that, and you have that throughout your career. I admire the work you do, and I look forward to seeing great work in the future from you and your team. Thanks for joining us, and thanks for all the wise counsel.
Thank you for having me and let me ramble on. It's been an experience.
It was no ramble. Thank you so much.
—
Elizabeth and Wasserman have done the work. That's why their Talent Management Division represents more elite athletes than any agency in the world. That's why Elizabeth has risen quickly in the dog eat dog world of sports marketing. She explains fully in the rest of our episode how to act today, plan for tomorrow. Join us on YouTube, Apple, Spotify, or your favorite platform to learn more from the woman who is true to who she is.
Important Links:
About Elizabeth Lindsey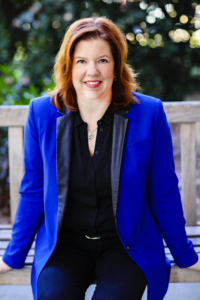 President, Brands and Properties
Liz leads the Marketing Division, and has been a central force in building out Wasserman's full end-to-end service offering.
Liz is ultimately responsible for overseeing the development, negotiation and execution of partnerships and activations on behalf of all brands and properties.
https://www.gamefaceinc.com/wp-content/uploads/2021/04/31GFEPsquare.jpg
600
600
Rob Cornilles
https://www.gamefaceinc.com/wp-content/uploads/2019/03/Game-Face-Logo-Full-Color-300x86.png
Rob Cornilles
2021-04-22 03:00:37
2021-04-22 07:53:37
Episode 31 | Elizabeth Lindsey | True To Who She Is… And "Wass"