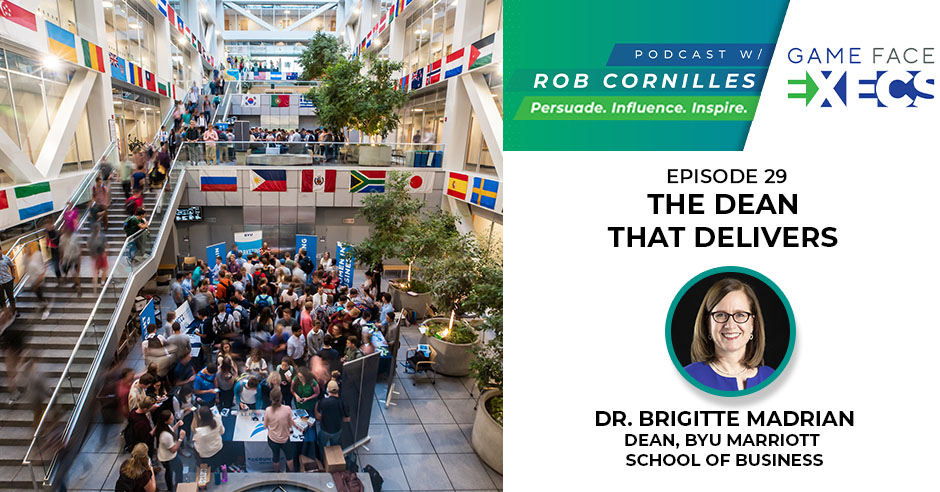 This pandemic period is changing the global economy. In this episode, Dr. Brigitte Madrian, a leading behavioral economics researcher from Harvard University who has since become the first female dean of Brigham Young University Marriott School of Business, joins Rob Cornilles in giving some advice on how businesses and households can adjust to the new economy during this coronavirus era.
Dr. Madrian tells how she advanced to the office of dean, her role leading one of the most prominent business schools in America, and how she manages BYU Marriott to adapt and thrive. She shares her vision and the programs she aspires to foster for students preparing to enter the workplace. As she says, "Our motto at BYU is: 'Enter to learn. Go forth to serve.'" Listen to their conversation and pick up some constants despite the changes outside our homes today.
—
Watch the episode here:
Dr. Brigitte Madrian | The Dean That Delivers
No one has higher expectations for higher education than this Game Face exec, Dr. Brigitte Madrian, the first female Dean of Brigham Young University's Marriott School of Business, now leading a program that Bloomberg Businessweek named as the best at producing trained MBA graduates. Brigitte leads a business school that also boasts top rankings in accounting, HR and entrepreneurship. Formerly a faculty member at such renowned institutions as Harvard, the University of Chicago and Wharton, how is this native Utahn helping to transform a school steeped in tradition?
—
It's a pleasure to welcome Dr. Brigitte Madrian, the Dean of the Marriott School at Brigham Young University in Provo, Utah. Dean Madrian, you know I've wanted to have you on this show for some time. Sometimes, we pass in the hallways at BYU. I don't know if you were avoiding my glance, but you finally succumbed and agreed to come onto my show. I know you're a busy woman, so thank you for joining me.
Rob, it's good to be here.
For those who aren't very familiar with the world of academia and some of my audience may not huddle around the halls of a campus like you do each and every day, I'd like to start from the beginning if we could and describe what the Dean of a business school does especially in nowadays world of academia, which I presume is constantly evolving. How would you describe your role, Dean Madrian?
That's a great question and not a question I get asked very often. My job is to make sure that the business school at Brigham Young University is doing what it's supposed to do. Our primary mission is to educate students. We hire faculty, we decide what classes they're going to teach and what kind of programs we're going to run. As the market evolves, we make changes to some of those things. I'm also involved in a lot of people development because the business school is an organization like any organization.
We have lots of employees and need to make decisions about what their jobs are going to look like, how well they're doing, hiring decisions and promotion decisions. You're always trying to get the best out of the people that you have. Inspire them to do the best that they can in their jobs, figure out what opportunities might lie ahead and how to prepare them. At a business school, that's exactly what you're also trying to teach your students to do. A business school is an interesting place to do all of this. You need to practice what you're preaching to your students and sometimes, you discover there's a little bit of a disconnect there.
It sounds like you described the role of a chief executive officer of a school. Is that a fair characterization?
That's a good characterization.
Approximately, how many employees are under the roof of the Tanner Building where the BYU Marriott School is located?
It depends on how you count them. We have about 140 full-time faculty members and 85-ish full-time staff. We have another 80 adjunct faculty who teach part-time and then we have a vast army of student employees. Over the course of a calendar year, we employ about 1,500 students doing various things in the business school. That's a different model than a lot of other academic institutions have. We rely heavily on students to do work that at other universities, you would hire full-time employees to do. It's a great learning opportunity for students on campus.
They get handed responsibilities that they wouldn't get if they were students anywhere else in the country. They get a lot of great experience but it also means that the model of how we operate is different. All of our full-time employees are doing a lot of management of student employees. Their jobs look different and then you have a lot of turnovers because the students don't come and stay for ten years. You're lucky if you get them for two years. Many of them, you might only get for a semester. You're doing a lot of training and retraining as you get a new crop of students. It's rewarding to work with these bright, energetic, talented students and help them learn how to be successful in the world of work, try to set them up to go out and do well.
This is one reason why I've wanted you to be on our show for so long. You are a model of success, Brigitte, and I don't say that just to flatter you. You have broken some glass ceilings in your career. One of those is you are the first female Dean of BYU Marriott School. I want to ask you a little bit about that process. You're going into the third year of your position. I'm sure that the interview process began about three years ago or so. Now that a little bit of time has passed, can you give us a little bit of peek into the history of how that process unfolded? You're a trendsetter. When you were announced as the Dean, there was terrific excitement on campus about it but we never got a peek as to how it all happened. Can you tell that story for us?
[bctt tweet="We stand for training leaders of faith, intellect, and character. " username=""]
At that time, I was a Professor at the Harvard Kennedy School of Government. I had a fantastic job and I had no plans of going anywhere. I wasn't looking for anything different, although I'd had this niggling feeling in my mind that change was going to happen. I thought it was going to be change at Harvard because I have this feeling. I was open to thinking about different things. I received an email from one of the faculty members here at the Marriott School saying, "We're looking for a new dean, would you be interested?" I read it and I thought, "I'm not sure I would be a good fit for that role because I was at a public policy school, not at a business school."
I have been at business schools in the past but at that time, I was in a public policy school. I didn't have a lot of strong connections with the business school here at BYU. I was an undergraduate here in the economics department. I have lots of good connections over there but the economics department isn't part of the business school. It had been a long time since I interviewed for a job. Going through the process would be a good experience for me.
There was an interview on Skype. The people who were on campus made them do it in the same way. Literally, everyone was having the same experience. They narrowed it down to four people and they invited us all out for a day or, in my case, it was more like a day and a half of visits on campus. I flew out, I had to do a presentation to the faculty and staff with Q&A and then I had a lot of meetings. Some one-on-one, some with groups of people, and meeting with the academic vice president who was in charge of hiring me. A few weeks later, they offered me the job. I had a tough decision to make.
At first, you weren't sure if you were a good fit and you had a tough decision to make. Would you mind giving us a bigger peek into that? Why wouldn't you be a good fit in your mind? You had a great position at Harvard. Was that part of the tough decision-making?
That was part of the decision-making. When I came out here and was doing my day and a half dog and pony show, for me, that was as much about me deciding whether I was interested in the job as it was about BYU deciding whether they were interested in me. In my background, I had spent significant time at two different business schools. I was on the faculty at the University of Chicago for eight years at their business school. I was on the faculty of the Wharton School of the University of Pennsylvania for three years. While I was at Harvard, I was doing a joint degree program between the Harvard Kennedy School which is the public policy school and the business school. I had a business school background.
In that sense, I didn't feel like it was crazy for them to be talking to me but I hadn't spent my whole career in a business school. My approach to the world is I think about things from a public policy standpoint, "How do we make the world a better place?" As it turns out, that's a great outlook and viewpoint to have for someone in this type of administrative position where I'm trying to help all of the students in the business schools succeed regardless of what they're majoring in. Trying to help the whole college, not one department versus another. In terms also of building connections and bridges and trying to help the university as a whole.
The background is relevant but it's definitely not the traditional path that you see for business school deans. There's been a learning curve, that's for sure but I've felt very supported. It's been a great opportunity for me to learn new things. I can see how the institution benefits from having someone come in from the outside but I've also had to learn when to bow to precedent, culture and things like that. When to maybe push on, "This is the way you've been doing things for a long time but would you be open to considering an alternative?"
What's been your biggest surprise since you've arrived on the campus, either a positive surprise or a disappointment that hasn't turned into a success yet? After being on the job for a couple of years, what's taken you by surprise?
The biggest positive surprise is realizing how many people are out there who want to help. I knew I would come in, we would have alumni who were supportive and there would be lots of people who would be interested in helping the institution succeed, but I completely underestimated how extensive that reservoir of goodwill is from many friends of this institution out there in the world. Not a week goes by without several people reaching out and saying, "What can I do to help?" For some of them it's, "How can I help financially?" For many of them it's, "What can I do to help mentor students? What can I do to help you as the Dean? What can I do to move your initiatives along? What can I do to be an ambassador?" It's heartwarming to realize that you're not in this alone. You have this whole army of people and only a few of them are on your formal payroll.
You talked a little bit about the background before joining BYU. You started your professional career at Harvard, you went to the University of Chicago business school then to Wharton then back to Harvard, now to BYU. Were you recruited for each of those moves? People would be surprised to learn that a recruitment process takes place in academia. The old stereotype is we have stayed professors who stay hunkered down in their office, come out and teach and then go back and do research. It sounds like in your case, there was a lot of movement professionally and a lot of opportunities being presented to you. Is that how it worked in your case? You were doing your thing and they found you.
There is recruiting that goes on in the academic world. I feel lucky to have had the professional trajectory that I've had. Over the years, I've worked at a lot of interesting places and learned a lot of important things from those different institutions. It's good to be able to compare and contrast what I like about this place that I want to bring going forward. What do I like about the experience that I had there? There are a lot of people in academia who haven't moved around but when I'm talking to students particularly graduate students who are going off, graduating and getting their first job, I tell them not to be afraid of moving. You're not interviewing for the job you're going to keep for the next 30 years of your life. You're interviewing for something you're going to do for the next few years.
I tell that to the students here at BYU Marriott. A lot of them are graduating and they're focused on that first job coming out of school. It's the only job they're ever going to have and they better get that decision right because they're going to be living with it for 30 or 40 years. I find myself doing a lot of recalibrating. You're taking a job for 2, 3, maybe 5 years if you're lucky. Find a job that's going to give you good experience for a few years, get all that you can out of it and think about what you want to do next.
I like how you are encouraging people. You are pushing them out of the nest. One of BYU's themes or slogan is, 'Enter to serve and go.' Repeat it for me, Brigitte.
"Enter to learn, go forth to serve." There's another motto. That's at one entrance of the campus and then on the other campus entrance is, "The world is our campus." I refer to those mottos a lot. We want our students to go out into the world and learn what they can. There are certain things you can learn on campus but if the world is our campus, we're not just learning about the world on campus. We need to go out into the world and make the world our campus, go forth and serve other places as well. I spent most of my growing up years here in Utah County. My father was a sociology professor here on campus when I was growing up. I literally grew up on this campus. I went to the pre-school program.
I started here when I was four. I wouldn't trade the experiences that we had living in Boston, Chicago and Philadelphia for anything. I learned many valuable things living in those other places. When I was fourteen, when I was in high school, my father led a six-month study abroad program in Europe. He took the family and with a group of 30 college students, we spent six months traveling around Europe and that was eye-opening. I definitely would encourage our students to go out and live someplace different, learn something, make new friends, learn about the people in a different part of the country or a different part of the world. Eventually, you'll come back to Utah if that's what you love or go back someplace else. We've got students from all 50 states and dozens of foreign countries. Don't be afraid of living someplace different and going a little bit outside your comfort zone. That's how you learn.
Speaking of learning, you could share with us 1 or 2 examples. What did you learn while on the campus at Harvard or Wharton that you are trying to bring into the BYU culture and within the Tanner Building? What are some lessons or some things that you saw or were a part of there that we should expect to see as part of the culture here at BYU Marriott?
One of the most important things I learned from moving around different places is the culture. The corporate culture is different. It can be dramatically different but you can shape it. You can have an influence on it. My first job in the Harvard Economics Department, this is when I was in my mid-twenties, straight out of graduate school. It was a very isolating culture. It was an environment where people were kings unto themselves. They put the junior faculty down in a little hallway on the first floor. We were all off by ourselves and didn't have a lot of interaction with other people. I learned that physical geography influences who you talk to. I went to the University of Chicago, the business school there and the culture was completely different.
They had a culture where everyone got together for lunch. You'd have twenty people eating lunch together either in the faculty common room which had seating for a whole bunch of people. People would show up there for lunch or there was a faculty club. Big groups of people would go over there for lunch. I learned so much over the eight years I was there from having lunch with colleagues who were in different disciplines. I loved that ability to meet people who thought about things differently, learn from them and get to know them. When I went to the University of Pennsylvania at the Wharton School, it was halfway between Harvard and Chicago. I went in and the department I was in, we moved floors in the building shortly after I got there.
I said, "Before we bake everything in stone, what if we set up a lounge area where people can come together and hang out?" They didn't have that. I had seen how influential that was at the University of Chicago. I was able to shape that with my department at the University of Pennsylvania. Since I've been the Dean at the Marriott School, having these different experiences with what the culture is like and what kind of an impact that has on how people feel about their job, whether or not they're excited to come to work and things like that. That's been on my mind and I've been thinking about that both in terms of the students, the faculty and the staff.
When I first came in, I didn't know any of the students because I came in from the outside. I was thinking, "How am I going to get to know the students?" We did some work early on after I got here, trying to come up with what our strategic objectives were going to be. We did some interviewing and discovered that a lot of students across campus were afraid of the Tanner Building where the business school is housed. They viewed this as a big, intimidating place. Students in that building wore suits to class sometimes.
I thought, "How am I going to get people to major in business if they're afraid to walk in the building? That's not any good." We spent a lot of time trying to think about how we can make the physical space feel more open, welcoming and less intimidating. As it turned out, it didn't take a lot of work. We decided to start doing things that were fun and get the deans out to meet the students so we're not scary. We handout donuts, candy on Halloween, decorate the building for different holidays, try and make it seem more fun.
I've received dozens of emails, handwritten notes and LinkedIn messages from students saying things like, "I used to be afraid to walk in the Tanner Building. Now, I'm telling my friends to come over here and hang out with me because it feels so different." Not quite a year ago, when COVID hits and the world changed, we had to send all the students home. Faculty and staff are now working from home. I felt like we need to do something to still help people feel connected because we're not running into the hallways anymore.
I don't know how well I've done with this but it was something that I was thinking about and decided we needed to be proactive. We started doing town halls and we did them every two weeks because we had a lot of information we had to convey. It wasn't just about conveying information. It was also around trying to help people feel connected. For several months, I was sending out an email every week trying to create a sense of community. Picking 1 or 2 people to spotlight. Those were all intentional responses to the experiences that I had had over my previous places of employment with cultures that I thought helped people feel they were part of a community and cultures that didn't do that. It wasn't necessarily pulling specific pieces in but more pulling in this general idea that you can impact the culture and it makes a difference.
[bctt tweet="We should be setting a program that's true to the values we believe." username=""]
It does make a difference. I've noticed a difference. You may not want me to tell the world but I am an adjunct at the BYU Marriott School. You maybe don't know that, Brigitte. That's why I still have my job and I'm still teaching. I teach one class but I've noticed because you've included adjuncts as well as the full-time faculty in those town halls. It's been a world of difference. You were hired at the right time in the right position because you've been able to create that connection and that sense of community even enhanced communication channels.
I thank you for that. Let me ask you a little bit more about culture. If someone were to ask me what difference has Dean Madrian made so far in her tenure, I would have to say, the first thing that comes to my mind is culture. Because of your breaking through the glass ceiling of the Tanner Building as the first woman Dean, you have sensitivities that perhaps some of us don't. One of those sensitivities that you've brought, which has been front and center, as far as your town hall discussions have been, we need to be very intentional about diversity and inclusion. Can you share with us a little bit of your thinking on that and where does that come from? Does it come from top-down and you're the messenger? Is it part of your makeup and part of your background, and you see that as a gap we need to fill?
I don't think those are mutually exclusive. It's a little bit of both. One of the decisions I had to make when I came here was what are my priorities going to be. I realized that as the first female Dean, there were going to be people looking at me and watching to see how I approached this job through the lens of diversity and inclusion. I could decide that I wanted to embrace that or wanted to focus on more traditional things that a dean might focus on. What's the point of coming in and being the first female dean if you can't use that as a platform to create a more inclusive culture? From my background, that would be with respect to gender but we need to be inclusive more broadly. That's the piece that I have felt personally.
Through my career, I've also seen how inclusion benefits organizations and how different people have been impacted when they felt more or less included. My experience at the Harvard Kennedy School was influential there. In the Harvard Kennedy School, about 40% of the students were international. We had students from all over the world and it was a joy. It was wonderful to teach them and learn from them. I learned so much from these students who came from all over but because we had students from many different backgrounds, there were a lot of discussions around diversity and inclusion on the basis of all sorts of different metrics. I also saw some of the challenges that Harvard was having with diversity and inclusion and their public policy school.
You have a lot of students who are interested in changing the world. I spent thirteen years with these students who came in because they wanted to change the world and we accept them because we thought they had the potential to do that. That culture is not quite as ingrained in most business schools. It helped me realize that you can't effect change if you have a strong leader who believes in something. You can effect change. When I came in, I decided that was going to be one of the things that we were going to focus on. I started talking about it from day one. I started talking about it before I even arrived.
Things for me took on a new sense of urgency last June 2020 with the Black Lives Matter protest after the death of George Floyd. I had this moment where I realized that I had been talking about it. Talking about it in a way that was different than it had been in the past, but it wasn't enough and we needed to do more. That's where I decided we needed to talk about it more often, talk about it in concrete and specific ways and make everyone feel a sense of accountability for this. You see a lot of organizations, they'll bring in a chief diversity officer or diversity and inclusion manager, and that person becomes responsible for diversity and inclusion in the organization. You've got one person who's thinking about it but if you want to effect change, you need everyone to be thinking about what they can do and how they can do things differently.
That's the culture change that I've been trying to affect. It's not just me in the Dean's office thinking about it. It's not the Diversity and Inclusion Manager that we did hire last March 2020, and she's got specific things that are part of her job. I need everyone to be thinking about it and we need to create a sense of accountability around it. Here at the university, January, February, beginning of March is performance evaluation season. This 2021 in the business school, we're trying to make a discussion around diversity and inclusion part of every single performance evaluation interview that happens. We've sent all of the full-time employees who were part of this process, diversity inclusion, accountability checklist.
It's four pages long and it's lists of things, "Here are things you could be doing as an individual, as a department, as a program, as an administrative unit and what are you doing. What are you going to try and do better this next year so that people feel some accountability?" We're also giving them some ideas. They don't have to figure it out on their own, "Here are 50 things you could do," and then we're creating conversations around it. Everyone is involved, not just one person or a handful of people. We've started to see change and change happens slowly. It's not going to happen overnight but we've started to see a meaningful change in how people are thinking about things and what they're doing. That's been rewarding because it's the right thing to do, it's what we need to do and it's happening. I feel lucky to be a part of it.
I would note too, you indicated that you hired the Diversity and Inclusion manager in March 2020, where socially speaking, it wasn't front and center in American dialogue until the summer. You were obviously ahead of it, if you will. Let me ask you this though, in a private institution such as BYU, we have something that we call The Honor Code. The Honor Code requires both staff and students to make commitments that they will live a certain type of life. When I say that, I mean standards, that they will maintain certain standards. I know you find it a plus because it elevates the quality of individuals that we find on campus but it's also got to be a challenge because in order for diversity and inclusion to work someone coming to BYU, considering BYU, also has to make the commitment that they will raise their own standards. How does that fit into your overall plan or the vision that you've got to improve in this area?
When a lot of people think about The Honor Code at BYU, they focus on what I would call the visible aspects of The Honor Code. For example, men can't wear a beard here on this campus. We have certain standards about the dress. We expect people to dress nicely. There's no smoking. People are very focused on those visible things. I do think they're important and they make a difference. I've seen things like that even outside of the context of BYU. For example, my oldest daughter spent pre-school, kindergarten and first grade at a Catholic school and they had to wear a uniform.
There were lots of good things about that. There are lots of reasons that organizations put in an honor code, a dress code or things like that. The most important part of the Honor Code at BYU is there's a phrase in there about respect for others. We need to have respect for others. That's how it ties into diversity and inclusion. Not just with respect to things that are typically part of the diversity and inclusion, gender or race. In 2020, we've seen a lot of political divisions in this country and a lot of not respect for others when it comes to people who have differences of opinion. If you want an organization to function well and you want to get the most out of all of your people, they need to feel like they can come to work, express their opinions and be respected for that.
They also have to be able to come and express their opinions in a respectful way that doesn't demean others. That's a skill. That's not something that most of us are born with. That's a skill that you learn from being empathetic, being secure from having a strong sense of self-esteem and how you feel about yourself. You don't have to elevate yourself over someone else even if they disagree with you from being willing to listen, having self-control and self-restraint if you don't agree. All of that is part of respecting others.
Giving place for someone else to come in and have a difference of opinion. That's much more important than, "Did you shave this morning or not?" I wish that would be a bigger focus on campus. It's not that it isn't a focus. There are lots of people on campus who are focused on that. That's what we need to be striving for. It's making us better people. Isn't that what we want? It's to become better people to grow, develop and become better people. Part of that is learning how to interact with others, respect them and love them even if they're completely different from us.
I really admire the way you positioned and teach that. Going back to the motto, "Enter to learn." When people enter the campus to learn, it's not just from the textbook but from their classmates, instructors and events that we have on campus and so forth. I also appreciate what you are building and what you're still working to build within the Marriott School. Maybe these are anecdotal but unfortunately, we're hearing too much around academia or college campuses, specifically increasingly this notion that if you don't have the right opinion, then your opinion doesn't matter. It might even need to be snuffed out. What you're suggesting and demonstrating through your tenure thus far is that all opinions, all styles, all personalities, all belief systems are welcome here as long as we're all willing to live a certain standard because that will make a better learning environment. Is that a fair way of saying it?
That's absolutely a fair way of saying it.
Not so much the students you have now on campus but the students of tomorrow. Those who are considering BYU may want to transfer or begin their college career at BYU. You're an educator before you're an administrator. I have to ask you from your vantage point, is there anything that concerns you about nowadays incoming students? Anything that you would either ask them or caution them to watch out against, stop doing or start doing that will make college a better experience for them that can turn into the life and career that they envision?
One of the trends that is true on this campus and almost every other college campus in this country is a dramatic increase in the fraction of students with behavioral and mental health problems. Part of that is driven by universities being better set up to serve students who have those challenges, to begin with. More of those students are coming to campus and succeeding, whereas in the past, they might have never come to college or would have dropped out early on. That's good, but a lot of it is an overall trend in behavioral and mental health problems among young adults across the country. I see those challenges upfront. I see them in the students we have. I hear about them when I talk to employers. The employers that hire our students are talking about the challenges they're having with the recent college graduates from schools from across the country and their challenges in the transition from school to work related to behavioral and mental health.
It's part of the broader ecosystem. I see a lot of students focused on achievement rather than on learning. When they're focused on achievement and then they don't measure up, that's where they start getting into trouble. A concrete example would be they're graduating and looking for a job. They feel like there's a pecking order out there. If you don't get a job at this particular company, then something is wrong with you and you failed. That's not a healthy attitude to have because there are lots of ways to be successful in the world. Hardly anyone is going to stay at the first job they get out of school for more than a few years. I would much rather have my students focused on, "What can I learn? What skills am I trying to acquire? What technical skills can I learn that is going to make me valuable as an employee? What interpersonal skills can I learn that will help me be more effective, both in the workplace and in my personal relationships? How can I become a better person?"
Use school as an opportunity for personal development and growth, rather than as a yardstick to try and assess how I measure up. The former like, "What can I learn? How can I grow?" There are lots of good research from psychology saying that's a healthy attitude. You'll be happier and you'll be more productive. That's the goal we all want. It's not the name on the top of your resume. It's not the size of your paycheck. It's how happy are you. How fulfilled are you? Are you finding meaning in your work, personal relationships and with your family? That's what success is. We need to do a better job of helping our students understand what success is and what success isn't.
I'm no sociologist but it makes me think that the social media culture we're growing up in where your social media post is your daily grade as to how you're doing socially and socioeconomically. Perhaps, that's feeding that tendency. You can see if someone is having a good day based on their social media posts. If they're popular that day or they want a big something at school or at work. That's a contributing factor. I appreciate what you're suggesting here. We have to take the long view and what the purpose of university education.
Forgive me if this is contrary to what you teach. I say to some people who ask me, "Which degree should I get?" With all apologies to the business school, I'd say, "It doesn't matter. As long as you get a degree that demonstrates that you are in the process of learning, you know how to learn because you'll never stop learning throughout your life." You may get a degree in Engineering tomorrow but in two years, you could be working in sales. I hope that's aligned with your thinking as well and your advice.
If someone were to ask me that question, I'd say, "Get a degree in something that gets you excited to get out of bed in the morning."
You spoke about how we, as individuals, have a pecking order that sometimes we get caught up in. Not to turn your words against you but at BYU, we are always very concerned about rankings and accreditation. It's our measuring stick as to how well we're doing compared to our peers out in the world of academia. From an administrative point of view, can you give us some insight into how BYU and the Marriott School, in particular, look at rankings? I know in many categories, we ranked high and something that we're all proud of, but we can't get complacent about it. How do rankings work into your setting goals for the institution? What are some of the differentiators that BYU has that makes us highly ranked in certain categories?
Shortly before I started my job, I had a meeting with my boss, the Academic Vice President, and I'd been talking to deans from a lot of other business schools from across the country. The common story was that they had been hired either to move their school up in the rankings typically the MBA program, or they had been hired to go out and raise money. After having all these conversations, I thought, "I'd better find out my boss, this man who's hired me. What does he expect me to do? What is success going to look like in his books?" I went and explained this all to him. I said, "How are you going to decide whether or not I'm succeeding? What does doing my job well look like?"
[bctt tweet="Your first job is not where you're going to get your gold watch." username=""]
It was clear that no one had ever asked him that question in that way before. He hemmed and hawed for a few minutes. He finally said, "It's not all about rankings. I don't want you to chase the rankings. I want the school to do well but it's not about rankings and fundraising. I want you to deal with the problems over in the business school and do the best that you can." That was great to hear from him that that's not what he was concerned about. There are a lot of different rankings that are out there and they're constructed in different ways. Some of the things that go into the rankings, honestly, I don't care about and I don't think we should be focused on. There are other things that don't show up in the rankings that we should be focused on.
For example, some of the rankings factor in things like the starting salary of your graduates. The starting salary is not an irrelevant metric. Certainly, our students are going out and getting jobs and we'd like them to be paid well for what they're doing. If someone is taking a job in New York City and getting paid 25% more than someone who's taking a job in Dallas because the cost of living is lower in Dallas, do I care about that difference? No. I don't, personally. If someone would rather live in Dallas because it's got a lower cost of living, they can buy a house, start raising a family earlier and it's going to bring them more joy and happiness, then I'd rather have them move to Dallas. There are things like that that I don't care much about.
There are other things that I care a lot about that don't explicitly show up in the ranking. For example, Bloomberg Businessweek does a ranking of MBA Programs. In doing these rankings, they do surveys of graduates. In 2018, they asked some additional questions that didn't go into the rankings, but they asked them and put out rankings just on those questions based on the student responses. One of the questions was my MBA program has inspired me to pursue an ethical career. It was something like that. That wasn't the exact wording but close enough. The answer to that question was not used in the rankings that they put together for MBA programs.
If you were to ask me how much do I care about the answer to that question relative to starting salaries, I care a lot more about knowing that our students have come out with a desire to be moral and ethical leaders in business than their starting salary. One of those gets included in the rankings and one of those doesn't. Where did BYU end up in inspiring students to pursue an ethical career? We were number one in the country on that one. You have to take the rankings with a grain of salt and you have to decide what we stand for.
Here at BYU Marriott, we stand for training leaders of faith, intellect and character. Part of the character piece is we want our students to act with integrity. We want them to work hard, be good examples, be grateful and be humble. Those aren't all things that the rest of the world values the same way we do. I feel like we should be setting a program that's true to the values we believe in. If we do that, we'll do okay in the rankings. The rankings will follow.
That's encouraging as a member of your staff. I appreciate that explanation and that point of view. Speaking of point of view, you have an extensive library of research and papers that you've written. Your core area of expertise long before you became the Dean at BYU Marriott, you're an expert in behavioral economics and household finance. I hope I'm describing it correctly. I would encourage my audience to do a little research into your writings because they are vast and extensive. I don't know how much you're able to do that anymore. I suspect not much in your current role. Are you able to teach even now as a Dean at the Marriott school?
I am not teaching any classes but I do take advantage of every opportunity I can to interact with students. I get a lot of those opportunities and that brings me the same joy that I got out of being in the classroom but I don't have to write exams and grade papers.
As we begin to wrap up here, I want to tap into that expertise that you've got because it could be helpful to this audience and frankly, anyone. In this unusual economy we're going through, hopefully we're starting to see some semblance of normalcy returning. Who knows? What is some advice or even an observation from your vantage point that you can give us as it relates to how a business or a household can adjust to this new economy and the changing world that the pandemic is creating for us?
When people ask me what I do research on, my little tagline is I do research on all the ways that individuals and households screw up in managing their money and how institutions like employers and the government can help facilitate better outcomes. We've seen a lot of interesting things going on in the country lately in financial markets and the decisions that households and families are making. A couple of lessons that come out of my research and the research of others who work in this area is a lot of times, we overreact to changes that happen. A lot of times, we don't benefit from overreaction in the long run. A good example would be what was happening with GameStop in the stock market. Prices were changing and people were overreacting.
Some of them were overreacting by buying into the stock. Some of them were shorting the stock. There was a lot of psychology fueling investment-decisions that weren't based on what the underlying economic prospects of this company were in the long-term. You saw some people making millions of dollars and hedge funds losing billions of dollars. Those are the types of things that people who were in this behavioral economics and household finance space are studying. There are very few decisions that you need to make on the spur of the moment when it comes to managing your money. We're almost always better off by taking stepping back, not making rash, quick decisions and taking the long view.
When people ask me about investment advice, the vast body of literature suggests that most people are lousy investors. They buy-in at the wrong point and they sell at the wrong point. Instead of buying low and selling high, they buy high and they sell low. We're not very good at timing the market. You're much better off with investing a little bit, continuously buy and hold, long-term strategy. You'll do well enough. If you're not greedy and not trying to be at the top of the totem pole, that strategy will save you a lot of stress and grief, and you'll do well by it at the end of the day. I do a lot of research on saving. A lot of stuff that has come out of that is many households are not saving enough.
We've seen some interesting disparities when it comes to saving over the last little while. On the one hand, we've had households who have good white-collar jobs where it's easy to work from home and they've been relatively unaffected in terms of their income by the recession, but the pandemic means that they haven't been able to travel. They're eating from home instead of going out to restaurants and things like that. They were working in jobs where they had a retirement savings plan to begin with and their savings rates have gone way up. They're saving a lot more as a result of the pandemic.
On the flip side, we have households in more blue-collar jobs much more impacted by the pandemic. More likely to be subject to layoffs. They didn't have access to a retirement savings plan at work, didn't have other savings and they've been hit hard by the pandemic induced recession. The economy has laid bare the fact that we have winners and losers in society, and even widened the gaps between those two groups. I highlighted the need to come up with better institutions that facilitate savings throughout the income distribution, not just for higher educated white-collar workers that benefit everyone.
It's obvious we could do a whole new episode on your expertise in this one topic. I really appreciate that. I encourage people to do a little poking into the writings that you have done over the many years that you've been in academia. Thank you for those insights. I know some of these questions have been a little bit surprise and a curveball here and there. I'm not trying to fool you or anything like that, but I want to end on two questions if we could. The show is centered around how individuals persuade, influence and inspire, also how they are persuaded, influenced and inspired. I'd like to start by asking you, Brigitte, if you could. In your career, life now or in the past, can you share with us one example of someone or something that has inspired you?
I feel I've been lucky. I've had a lot of good people that I've looked to for inspiration. I had an amazing advisor in graduate school named Jim Poterba. He was very generous with his time, encouraging and supportive, and he has a whole army of former graduate students who are now working as academics or professional economists throughout the country. He's now the Head of the National Bureau of Economic Research, which is the largest economic think tank in the country. He puts out lots of influential research and runs dozens of conferences.
He has done an exceptional job at creating an environment where economic research can flourish and inspiring people to do high-quality research that has an impact on the world by mentoring junior scholars and giving them the training and the support that they need. I certainly felt that from him. He's influenced how I do research, but he's also influenced my leadership and how I interact with other people. He's been someone that I've had the good fortune to interact with for over many years now. That's been a meaningful relationship in my life.

Thank you for that. Also, thank you for the lead. We're going to have to reach out to Jim and make sure he becomes an audience of this show. My last question for you. I don't wish this upon you but let's say that someday, we have to write something on the inscription of your tombstone or headstone and it's going to say, "Brigitte influenced…" How would you finish that sentence for us?
I would change the 'influenced.' I would hope it would say, "Brigitte inspired people to be better."
I really appreciate everything you've shared with us. Congratulations on the position that you have now, the influence that you have on the BYU campus and in the Marriott School specifically. Thank you for all your work in scholarship, and thank you for your work as a leader. I appreciate you taking the time to be with us. We'll see you on campus. I hope that when we cross paths in the hallway, you won't avoid me next time.
Thank you, Rob. I would never avoid you.
I'm teasing you. Thanks, Brigitte Madrian. It's been a pleasure to have you.
Thanks.
—
With that unique distinction, should the development of such qualities as character, work ethic, gratitude and humility be a part of one's formal education? We get into that with Dean Madrian in the full episode as well as the inspiring story of how her impressive academic background eventually led to interviewing for this job she wasn't sure she wanted. I asked her how BYU's unique Honor Code differentiates and disrupts the way the school is perceived. Brigitte discloses what most concerns are about students now, not just at BYU but around the country. Come join us on YouTube, Apple, Spotify or wherever you get your podcasts.
Important Links:
About Brigitte Madrian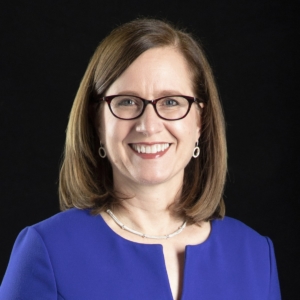 Brigitte C. Madrian is the Dean and Marriott Distinguished Professor in the Brigham Young University Marriott School of Business where she has a joint appointment in the Department of Finance and the George W. Romney Institute of Public Service and Ethics. Before coming to BYU, she was on the faculty at the Harvard Kennedy School (2006-2018), the University of Pennsylvania Wharton School (2003-2006), the University of Chicago Graduate School of Business (1995-2003) and the Harvard University Economics Department (1993-1995). She is also a research associate at the National Bureau of Economic Research and served as co-director of the NBER Household Finance working group from 2010-2018.
Dr. Madrian's current research focuses on behavioral economics and household finance, with a particular focus on household saving and investment behavior. Her work in this area has impacted the design of employer-sponsored savings plans in the U.S. and has influenced pension reform legislation both in the U.S. and abroad. She also uses the lens of behavioral economics to understand health behaviors and improve health outcomes.
Dr. Madrian received her Ph.D. in economics from the Massachusetts Institute of Technology and studied economics as an undergraduate at Brigham Young University. She is a recipient of the Skandia Research Prize for outstanding research on "Long-Term Savings" with relevance for banking, insurance, and financial services (2019), the Retirement Income Industry Association Achievement in Applied Retirement Research Award (2015), and a three-time recipient of the TIAA Paul A. Samuelson Award for Scholarly Research on Lifelong Financial Security (2002, 2011 and 2017).
https://www.gamefaceinc.com/wp-content/uploads/2021/02/29GFEPsquare-1.jpg
600
600
Rob Cornilles
https://www.gamefaceinc.com/wp-content/uploads/2019/03/Game-Face-Logo-Full-Color-300x86.png
Rob Cornilles
2021-02-12 03:00:06
2021-02-15 04:50:36
Episode 29 | Dr. Brigitte Madrian | The Dean That Delivers