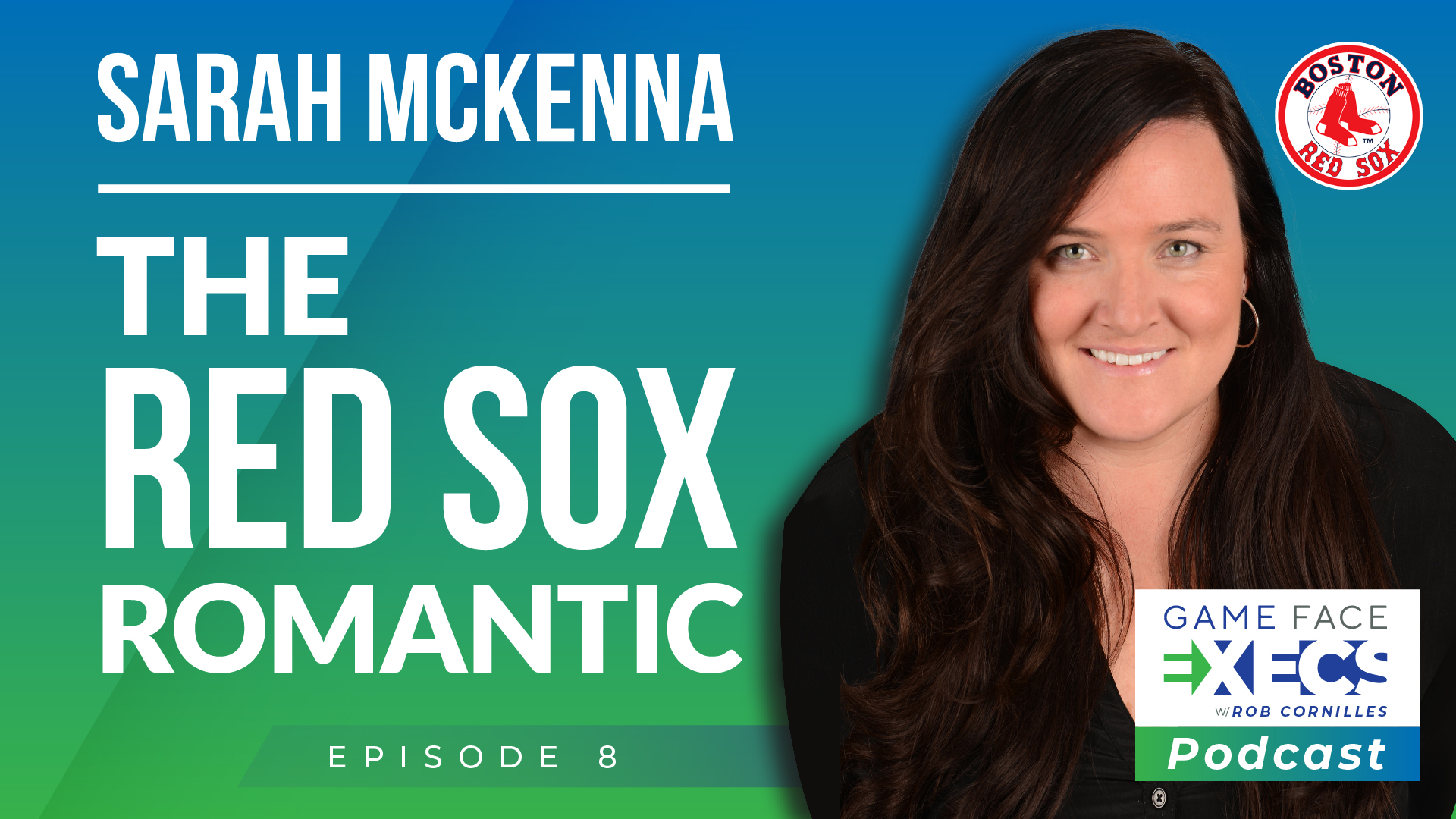 Being the senior vice president of fan services and entertainment at the renowned Boston Red Sox has its perks. But the owner of that title, Sarah McKenna, explains how none of it matters if you lose sight of what your role means. Fan Services: everything is for the fans who are here to be served. Entertainment: fans have to be pleased night after night, good team or bad, rain or shine, happy times (player retirements and military family reunions) or bad times (the 2013 Boston bombings or national unrest). Meet Sarah McKenna – the game face exec who loves her fans as much as they love her team – as she graces the show with Rob Cornilles.
—
Watch the episode here:
Sarah McKenna | Red Sox Romantic
If you've ever been to Boston's Fenway Park, you've seen baseball players swinging for the fences. What you also probably experience but didn't realize was the Red Sox's Sarah McKenna, Senior Vice President of Fan Services Entertainment swinging for the senses. Read on my conversation with Sarah about how she's built the reputation using sights, sounds, smells, touch and taste to influence the second sale.
—
I'm here with Sarah McKenna, the Senior Vice President of the Boston Red Sox. I hate to use this term, but an old friend in the sports business. First of all, Sarah, you are from Springfield, Mass originally, correct?
Yes, I am from Springfield, Massachusetts. Out here, we call it the 413. That's our area code.
You end up for almost twenty years working the Boston Red Sox. Being a Massachusetts girl, you have got to have the dream job to be able to work in your hometown for your beloved team. Few people in sports ever get that. Do you have the perfect world now?
Yes, except we're doing this via Zoom. It would be good to be at work and be with my teammates and seeing large crowds, hearing people and smelling Fenway franks and doing all that stuff. I don't even think I'd mind now if someone spilled a beer on me.
All your friends from back growing up days, your family, they look at you and go, "Did you luck out or what?" It wasn't luck. We'll talk about what got you there, but I hope you're pinching yourself a lot.
I'm thankful and the team is fantastic. Our ownership is fantastic, but to go to work at that ballpark every day, it's just gorgeous and perfect. It is imperfectly perfect. It's once in a lifetime.
I've been very blessed in my career to be able to visit a lot of stadiums and arenas around the world. One of the cool experiences that most fans never get to have is walking into an empty stadium or arena. It could be early in the morning, the morning after a big game or the date of a big game. You get to do that every day at Fenway Park and you get to see the Green Monster. Does that still give you a rush?
I prefer it when it's empty. I love it when it's full, but there is something uniquely special about it. It's unique to baseball too. You use the word stadium and arena when you're thinking about all the different ballparks. I have many ballparks that I love. You love Petco Park, Seattle ballpark, Camden Yards and I've been there is a lot of ballparks when it's empty for batting practice before the gates open or when you get there earlier before someone else. I have been at Fenway Park also when you're completely alone, light towers off and we have what we refer to as the sweeper lights. They're the stadium lights at the back of the grandstands, but they're far back because their overhang is not big and we have those field box seats. The way those lights illuminate into the grandstands and are pushed down onto the field and you see whether it's a sickle sign or the Prudential Center or the Hancock building. You can see that skyline, it's cool. Whether it's at 5:00 in the morning because you're getting ready for opening day or it's at 1:00 in the morning because you stayed late and you have to get work done after everybody left.
It's romantic, isn't it? 
Yes. Incredibly. It's special.
Sports has an obligation now to be a healing agent. It is a unique responsibility and opportunity.
Click To Tweet
It's the field of dreams every day, go to work like that. That's a perk of working in sports and any entertainment business, whether it's a stage, a theater, or a concert hall, to be able to walk in there when no one else is there is a unique experience. It's like a temple for sports. What's also cool about your job and we'll talk about your job. You get to provide unique experiences to people that they have probably looked forward to all their lives or they get to give that experience to their kids or their grandkids. You're the catalyst. You're the provider of that experience.
I am in on the secret before the secret is unveiled, shall we say.
Does that ever get old? 
No, but do at times miss the element of surprise. I remember one time it was the 4th of July and we were doing something and one of my friends which happened to be in particularly close seats on the third-base side. I was walking in from the left-field after there was a great flyover after the anthem, but we were doing a military reunion before they were a big deal. It was the early 2000s. For some reason, I was able to get a woman from South Boston from the Navy off her carrier, things that I shouldn't have had the right to do. From the Persian Gulf and then via Bahrain to come to a surprise for her family. She got in late at night, her family thought that they were doing an early version of a FaceTime, what we're doing now. The guy says to me and it was in his total Boston accent and he's like, "That was sick." I'm like, "Wait for it." He's like, "What? No, that was it." I was like, "No, it's not it." He shoots me a text message later and he's like, "That was awesome." I love being able to do that, but I also love seeing how other people do it when I look at my peers in other sports and other teams. It's cool to see what they do.
You can't put a price on being able to bring people those experiences and memories. It's better sometimes than a paycheck. I know that sounds idealistic, but it is because those memories will go on forever and you're the person that produced that memory for them or you provided it. That's one of the great perks of working in sports. You do it well. You do it for a story to the franchise at a ballpark that is you could argue it's the mecca of baseball. 
It's a real place within the city too. We've been here in this region it's a unique period of time because when you think about Boston, it's hard not to think about its particular place in history. You think about things like the revolution or whatever, but people aren't going anymore to certain places and gathering as a group. For a lot of years, it was ballparks, stadiums, and arenas. When we think back to the bombings in 2013 and other times in history, we have been a place where people can come together and whether it's heal, cheer, express joy, whatever it is, it's been cool to be part of that.
You're going to be a part of that. I've shared with my clients something they already know, but I like to remind them as an outsider to their organization that they are about to be a part of the healing of a community. It's almost like a cathartic experience when after the pent up energy of COVID-19 and the fact that we were staying in our homes, with some unrest going on in our country, cities being used for demonstrations, protests, and sometimes worse than that. Sports has such an obligation and a responsibility now to be a healing agent. How you do that?
I view it as a unique responsibility and opportunity. I had one viewpoint of this saying, "When baseball comes back, what are we going to do?" We're going to have to acknowledge the lives lost. We've learned a lot about this and the types of impacts that it's had on different communities versus other communities. We've learned about how it has impacted certain age groups rather than other age groups. There are all these things that you learn from what you're seeing in the news, what you're reading, and what you're hearing from your friends and your family.
In addition to that, there's this other layer of social justice, equality, inclusion, and all things that, in some ways, connect closely to what we were learning from the pandemic. The way certain communities have been impacted and the way that individuals have access to healthcare or rights, whatever it is, there are these unique synergies. I hate to use the word synergies because it doesn't feel right. It doesn't feel almost human. It feels like a business-speak and this is a human thing. When I approach these things, I never approach them from the who, what, when, where, how.
I approach it from the five senses. What did you hear? What did you see? It's going to be hard to give our fans what did you smell and did you get to touch anything? I have a lot of great coworkers that I've worked with for a long time. We use the phrase sometimes, and I have one guy that I work with, and he'll always say to me, "Sarah, I haven't cried yet." That's an important thing that when you bring to whatever it is you're doing, it's that in order to get through it, you have to feel all the emotions before you can begin. When I think about what we did after the bombings and how we approached that particular day on our return to baseball because it wouldn't be right to return to baseball and have this joyous thing without recognizing what has happened.
It would be deaf, wrong, all the words that make you seem ignorant. Baseball is uniquely positioned for these things. It's also a real challenge because football plays once a week, baseball plays a couple of times a month at home, hockey will play a couple of times a month. Baseball, you can be in the middle of a ten-game homestand, and you can go through, think about what our last ten days have been like. What the ten days before that were like? Imagine if we were having baseball games and all the things that we would have had to do as far as recognition, awareness, healing, and providing all of those resources before you even get to the baseball game. It's the daily element of it that uniquely positions us to be connected to society in a different way if you choose to go at it proactively. It also is a large responsibility and it requires you to be incredibly nimble, in my opinion.
May I use the word stewardship too? 
Yes.
You have a stewardship to a brand, to a community, to a fan that pays good money to come into your games, to those that you work with, the players, your coworkers, etc. I'm thinking about other industries, businesses that don't have to have all of these considerations that you outlined. They can come to work. For the most part, the outside world doesn't see how they need to deal with the changing conditions. They need to be nimble for their business, but it's not out there for the public to see. Everything you do is magnified. When I come to Fenway Park for my first game, amidst all of this stuff, I expect you guys to put on a perfect show for me. I expect to entertain me to heal me, to make me laugh and cry. I expect to be well-fed. I don't want any problems as far as customer service. I want to get the parking that I want. I want transportation in and out. What an obligation you have.
On top of that, you're a big baseball fan because you're a Red Sox fan and you know your baseball and you're super smart about it. There better not be one digit wrong in your stats either. There are all the things, but that's cool. It's good to wake up every day and have someone hold you accountable. It's incredibly motivating. The stewardship, it's interesting because there are many places that have the burden of trying out a lot of new tricks, and lots of times I find myself saying, "That's not what Fenway is." That works fantastic in Tampa and Kansas City. That works well in Las Vegas.
I agree with you. It's 100% cool and it's awesome. We are Fenway and it's a little like preserving a national park. When you go to Yosemite Valley, you want your children to see what you saw in Yosemite Valley. When you take them to the geysers in Prismatic Spring, and Yellowstone, you don't want that ruined. You want that to be exactly as it was, that connection and that thread of the generations. That's what Fenway is. That's what people expect and want. That doesn't mean that we can't change for the better in a lot of ways and we always will strive towards that. The phrase, "The ballpark is the star" when they're referring to Fenway. There's that phrase, "It's the economy, stupid." It's the baseball, stupid. Don't mess with that. No one came to see me or hear from me. They came to gather as a group collectively in a unified way, enjoy this open space, the fresh air, all under the city lights while cheering for the same team.
You're bringing up such an interesting point that I have been thinking about it, scratching my head over and you're putting your finger on it. Let's talk about Major League Baseball. I've been wondering a lot about the edicts that come from a league office and I'm not here to bash on league offices. Whether it's responding to a pandemic or social injustices, when the league office says, "This is the way we're going to do it. Every one of our franchises needs to do it that same way." I understand that if that's McDonald's saying that this is the way you're going to make hamburgers.
You talked about the personality of your community and the historic nature of your ballpark, which is different than the personality in Tampa. It's different than the personality in San Diego or in Kansas City. How do you reconcile that? You're a good citizen of Major League Baseball. You're a leader in the business of Major League Baseball, but you also have to be respectful and mindful of your own local community and pulse. How do you play good citizen at a league level, but also be responsive and responsible to your local fan-base?
The league allows a lot of freedom in that way. The reason I say that is because when we think of guidelines, I often think of it in terms of access as part of an agreement or a security regulation or something like that. Ballpark to ballpark, we have a lot of freedoms to define our brand and say who we are, so long as that fits within the expectations, I would say of baseball amongst all the owners and the commissioner. We have the ability to have our own identity. They're not saying you have to do this, or you have to do that, but they make suggestions a lot of times to all of us. We're like, "That probably wouldn't play here." There's not this huge animosity. It's, "You're different."
When you take that into a million different avenues when you think about what we're going through now, should we be fortunate to play? We're going to get guidelines. The guidelines that work when you're in a ballpark that's four times the size of ours and has actual real service elevators. Fenway doesn't have service elevators. It's something as simple as that, people are like, "That's in the lower concourse," and we're like, "We only have one concourse." We don't have that separate one where you can do the things you need to do. There's going to have to be, and there will be, a lot of not freedom, but the ability to tailor things to how it works within your own ballpark.
A lot of places are blessed with space, even the new Yankee Stadium. Their visitor's clubhouses, it has to be four times the size of our ballpark. There's space and it's not something that we have in our area. When we look at what we're about to tackle here and you think about it from a distance, can it be done? Absolutely. It can be done. Does it take a lot of creativity? Yes, it takes a lot of creativity.
Speaking of the clubhouse. I have been inside the Red Sox clubhouse there at Fenway and it would surprise a lot of people. Maybe since I was last there, some improvements have been made. I'm sure that's the case, but the last time I was there, it was shocking. You would think that the Boston Red Sox players would get the best. I guess they understand that when you come to play at Fenway Park, there are some trade-offs. 
We are all in the business of sales.
Click To Tweet
If you're coming to play at Fenway Park, you're not coming for the clubhouse. It's for the locker setup. It has gotten a lot better and it doubled in size but not what you would define as the clubhouse, which is the room where all their lockers are. That is still roughly the same size. Some things have been moved around a little bit to free up some space and additional coaches' offices to alleviate coaches being in there. We are bringing in twenty temporary lockers during September call ups or whatever the number is. Keep in mind that's there, you're walking down to go to the dugout is the same stair that was walked down in the '30s.
There used to be one tunnel when the clubhouses were a little bit closer and I believe the story is there was a fight between the two teams in the tunnel. That's when they separated tunnels for all of baseball. I can't say it was the same one as it was in 1912, but I don't think it was that far off. It's interesting, but if you're coming to play for us, of course, do you want to make sure it's comfortable and all those things? I don't think it's your number one priority. You prefer that you're most likely to play to a sell-out crowd. Keep in mind, David Ortiz at every single game he ever played in front of Fenway Park was a sell-out or almost every game.
Let's talk about those sellouts. There's a reputation that Northeast area teams have for having some of the hardest to please fans, whether you mentioned the Yankees, maybe the Red Sox. I would say the fans in Philadelphia can be hard at times. How is that impacting the daily decisions and choices you're making? Certainly, there's a love affair between the fan-base and the brand, but there are also such high expectations between that fan-base and the brand. You're the one granted they want to see winning teams on the field, but when the team is not winning, we're not winning to their satisfaction. You're the backstop. You're providing that overall experience at the ballpark. How does that play into your thinking and was it working in a market like that?
I'm super lucky because we've won four World Series since I've gotten here. Fortunately, I haven't had to think about that for too many years, but you do have that year where you look at it, it's September and you're like, "It's not happening," or even earlier sometimes. That's when you start going back to, for lack of a better phrase, your bag of tricks. The experiences of whether or not it's the on-field photo days and the kids run the bases and those things that are tried and true things that you come back to when you think about it. I think you are the first person that opened my eyes to these things when I took a course with you back in Portland. Thinking about what is that added value that you can provide and trying to do those things. What I've learned through the years is that it's harder to do those things. It's easier to do them at the start of the season, but it's not a good vibe when a team is out of it in the clubhouse. Guys are great and they're willing to do things or whatever, but you feel worse asking like, "You're not winning. I don't want to ask you to do something." That's where that one comes.
Children learn about mom and dad.
This is not the moment that we should be asking this, but I got to do it, anyway. I've told someone I'm like, "I'm sure the worst thing in the world is asking you to do this during this time."
You have to use some of your sales skills, Sarah.
I sell it constantly. Here's the thing, Rob. I sell nothing. We had an interesting conversation once I remember being in a senior staff meeting and everybody had to go around and talk about their sales goals and their recent sales, something to that theme or whatever. I was like, "I only spend money. I don't sell anything," but I do. I acknowledge, I do. We use the phrase, we used it when we were with the Padres, we're all salespeople. When you think about marketing, I always feel when young people say like, "I want to be in marketing." I'm like, "No, you don't want to be in advertising." If you understand what marketing is, that's like an exhausting look at numbers, dialing into zip codes, and the tendencies of buyers. What you're thinking of in the romantic phrase of marketing is you're thinking of more experiential and creativity. There are few people that say, "I want to figure out when moms are buying whether it's Tuesdays or Wednesdays so that I can send them that targeted message."
I have a son who you know, Sarah. My oldest son works for Facebook. He works in the ads department of Facebook. He's not interested in trends. He's interested in behaviors. That's what he studies and that's what he tries to predict. In the analytics that you referenced, he tries to predict behaviors. Why would someone want to buy through this Facebook Ad? How can we approve it so that we are capitalizing on the anticipated behaviors of people? You have to admit you are a salesperson.
I should have followed it up with what I learned early that was not the type of sales I wanted to do. Shortly after I left Portland, I briefly worked for American golf in San Diego. I was selling tournaments before I worked for the Padres. It was a couple of months and I was like, "I don't want to sell anything like this ever again," but I will say, I love the opportunity to sell you an emotion. I love the opportunity to sell you a feeling and sell is not the right word, but it's to give it and to give it to you once so that you understand that if you come back here, you might be likely to get it again.
I'm not in the business of the initial sale, but I am in the business of the repeat customer, which is just as important as a sale. The 2nd, 3rd sale, the, "I want to upgrade. I had such a good time, I want to make it a ten-game package now," that is my job. The people in the men and women that work in all a ton of different ways that I've worked with over the years that are picking up that phone and making that first call of getting someone to the ballpark, whether it's been in Portland or San Diego, or even in Boston. We do make calls. Contrary to popular opinion, the phone is not constantly ringing off the hook, but we do our outbound sales and I respect that because that's a hard job to make that first impression in that manner.
I am able to do it with a myriad of senses. I can show you something on the video board. I can make sure that hot dog is delivered nice and toasty, warm, or make sure that all season long as you're coming in the gate, maybe that sausage vendor is right there and you're smelling those things. The sound was good. You may have heard your favorite song in a timely way. That opportunity to sell that repeat customer, it's all part of it. I'm not in the business and I'm classified under the operation side, but as a whole, from our chief operating officer, it is a clear mandate. We are in repeat customer business. That is what we are in. It's safety, security, repeat customers.
You're in the renewal business. As you well-articulated, customer service is a sales function. It's on the back end. Taking the baton from the front end salesperson and saying, "I'll take it from here. I will ensure the repeat business." The sales staffs work, they integrate with well service staff, or sometimes we call them client success teams. The fact that they're working together in concert to produce the original sale and then to ensure the repeat sale, it's integrated, those two functions.
I love it when say the group salesperson. I've had the opportunity to work with a lot of great people over the years. When you think about it and they're saying like, "I've got this group coming in." In 2019 they bought 1,000 tickets, but this year they bought 3,000 and I want to do a little something more for them. What can we do? Let's step it up a notch. This is my idea. This is their expectation. If you tell me that in advance like, "I'm in," and I have staff that's all in. "Let's do this." You want to have a much more orchestrated conversation about making sure this happens and that happens. That's awesome and we're still doing that.
We mowed a pattern into our field for recognizing nurses. Nurses are one of our biggest group sales. As our group salespeople reaching out to us saying like, "We're coming up on a month of a whole bunch of appreciations, EMS workers, nurse's workers." There are one of our best groups. All our groups are great, but specific they're like, "They're going through so much that there's this there's that, what can we do for them?" Our groundskeeper says, "What about a pattern? Fly the drone, the news copters will pick it up and tip them off." That is a clear collaboration during a pandemic from a group sales leader to a groundskeeper. It was fantastic.
It's a great illustration of how a team works together to get the sale and get the repeat sale.
The nurses feel loved. There's no loss there.
There's also baseball. You mentioned Portland and I wanted to bring that up because for the audience, that's where new and I first met. You graduated from Providence College with a Healthcare degree, correct? 
Yes. Healthcare Policy and Management. It's helping me now, for the record, having taken a few epidemiology classes, essentially.
I'm a West Coast guy originally. You're an East Coast girl. I got to ask you, how did you get from Providence to the Portland Rocky Single-A short-season baseball team and affiliate of the Colorado Rockies? If I'm not mistaken, you were an intern there, weren't you Sarah, at first?
The repeat customer business is the business of selling emotions. It is as important as making the initial sale itself.
Click To Tweet
Yes. After college, it's the thing back here, you go to New York, you go to Boston, that's what you do and I wasn't feeling it. I had a couple of friends and we weren't feeling it. We said, "Why don't we hop in a car and go West?" My dad had told me, "I will give you enough money to get there and I'll give you enough money to get back, but however long you stay, best of luck." I had a few odd jobs over the years and I ended up calling Jack Cain and asking him for an interview. He's like, "Yes, come on in." Jack is a great guy.
He was the owner of the Portland Rockies.
I came in, I met with him and he said, "It's middle of the season." It was. I graduated. We all know how long, short-season Single-A baseball is. It's not very long. For me, we did in the middle, I'm pretty late to the party. He said, "My jobs are all filled now." They were, in his defense. He's like, "You seem like a nice kid. I'll give you a job selling programs." I said, "I don't think programs are going to pay my rent now. I'm going to have to pass, but thank you." I wrote him a thank you note and kept in touch a little bit, but it was the course of 2 to 3 weeks. A couple of days before, I had ridden out there in one of my friend's car, so I didn't have a car.
We were living in Lake Oswego at a friend's house, which is not that close to Portland if you don't have a car. Some guy that had a shop in the town of Lake Oswego saw me at a grocery store trying to strap groceries to my bike at one point. He's like, "What are you doing? Do you want to come? I need some help in my warehouse. I'll give you a job and if you get a new job, you just have to finish out the rest of the week. If you need to go on interviews, you can have half a day off to go on interviews but it looks like you need a few bucks and you might need some help."
This stranger out of the kindness of his heart. I rode my bike over and every day I worked in his warehouse, making sure the shelves were stocked for his construction company. I ended up being there for a couple of weeks. One day, I get a call. It was Katie Reader if you remember and she told me that Jack wanted me to come to a game. He asked me to come to a game and I sat with him. We know Jack, he's a huge personality. He was like, "Are you digging ditches and working in a warehouse?" I said, "Yes." He's like, "I can't stop thinking if you'll do that for that person. What will you do here?"
I was like, "I don't know, do you want to figure it out?" He was like, "Yes." He gave me a job. He made a job for me. I'm eternally grateful to him for that. You did a little bit of everything. You pulled the tarp because it was Portland. I did the slingshot, played the music sometimes, I sold billboards, sold groups, answered the phone and it was great. I learned a ton. Everybody should spend at some point in their life and if they are in sports, have the opportunity to spend it working in my own baseball. When I'm done working in baseball, I would like my final years to be in my early baseball because it's a lot of fun. It's great you get to do everything.
I got a couple of things I want to say. First of all, when you worked for the Rockies, I was consulting with Jack and his wife, Mary, when they first moved to the franchise from Bend, Oregon, and Central, Oregon to Portland. I would come in regularly because GameFace was a new company. We were trying to get up on our feet as well and we needed a good client or two, a bunch of success stories. The Rockies became that. I always have in my mind, this vision of you when I'd walk into their office, which was in the bowels of the stadium and you'd be the first person I would see.
You would be sitting there at that first desk and to everyone reading this, I got to say, Sarah, no matter what she was asked to do, did it with a smile. I'll always remember that, Sarah. You always had that great attitude. As I see all those people that went through the Rockies organization at which later became a triple-A franchise, renamed. There's quite a legacy that Jack started. I don't think anyone could argue that you have gone the farthest in your sports career.
There have been some people.
I can't think of them. You deserve a tremendous amount of respect and accolades for how you took that minuscule opportunity. You worked hard, you had a great attitude. You were a team player and look where you are now, working for one of the most storied brands in all those sports and in a senior position. It's wonderful. I'm proud of you.
Thank you. It's interesting because you never know what it's going to be because my whole connection to San Diego when I ended up working for the Padres is because I was answering the phones. It was my job to answer the phones in Portland. It was a connection made through because I helped someone. That was it. A gentleman from the commissioner's office of Major League Baseball, his daughter had gone to live in Portland. He's calling from New York and there was some issue. I think she needed a doctor of some sort. He said, "Who is your team doctor?"
He wanted to know because that's what you do in baseball. My daughter's off to college in California and she's doing sports and they're like, "She'll need a doctor." I'm like, "No. This team will take care of her." I'm going to call that team. I'm not going to lie. If there's a real problem, you call the other team because we're interconnected in many different ways. It's the greatest part about working in sports is access to things like that. He asked me to tell him something. I figured it out for his daughter and then he called up again maybe a month later.
He said, "We're coming to Portland because we're going to visit our daughter. What is your team hotel?" He's like, "Something happened and we needed to get there quicker." His assistant had gone on vacation. He's like, "Can you help me book my flight?" I was like, "Yes, of course. I don't even know you, but I'll help you book a flight." We did this and whatever. I remember calling him up because I couldn't get him on the phone. In those days, it was a little harder with the credit card payments and everything.
I had put his flights on my credit card. I called him up and I said, "It's great that you're coming to visit but when you come here, can you drop off a check? I put all your flights on my card." He's like, "I can't believe that. I'm embarrassed. I didn't think about that." I was like, "No, it's fine." When I left Portland because whenever this gentleman needed something, he would call and he would ask me. It turns out he was high up at the commissioner's office. I learned that over the years and I said, "I've met someone and he's taking a job in San Diego and I'm going to go with him. We're engaged and this is what's going to happen."
He said, "I have then to call the San Diego Padres for you." He called the San Diego Padres. I get a phone call and I'm supposed to call this person once I finally arrive in San Diego. I call this gentleman. He sets a meeting up with me for Larry Lucchino because of this person that set up this interview. Larry Lucchino says, "I don't have anything now, but you can have an internship." I said, "Thank you but my internship days are over." What I meant was I don't think I want to work in baseball anymore.
All I do is dress up as a mascot, pull the tarp, and answer phones. I don't want to pull the tarp anymore. Not realizing that in Major League Baseball, you don't pull the tarp. Sure enough, I send a thank you note. I go out of my own and I go to work for a golf company. I'm not loving it. I get a call from the same guy that set up the meeting before with Larry. He says, "Larry would like you to come in for another meeting." I said, "Okay." He said, "I noticed you had worked on Capitol Hill as one of your internships. I liked that you turned me down. We have a three-month job working on the campaign to build the ballpark in San Diego and in doing our stuff here at the ballpark at Qualcomm and integrating the politics with the baseball, do you think you can do that?" I said, "Yes, I can do that." I've never applied for another job since because of that and a lot of thank you notes too.
The little things that you're talking about, quite frankly, I've seen a lot of people who aspire to work in sports who refuse to do those little things because they're too busy or because they think that's old school like, "I don't need to do that. I don't need to write personal notes anymore. I'll send them an email maybe or I'll send them a LinkedIn message," and that's good enough. Those little touches, they stand out in this world. You stood out and you continue to stand out. I got to also point out when Larry Lucchino, who is the President of the San Diego Padres, the CEO, when he hired you, you were a manager of a government relations job if I'm not mistaken.
We have a campaign. I was a campaign worker to start. At the end of the campaign and there were twenty people. They kept two of us from the campaign and I was one of them.
When he was eventually hired by the Red Sox to take the same position there, you followed right behind him, didn't you?
Right behind him. Now, with a one-year-old in tow at that point and a husband. We got engaged in San Diego, but yes. We're all back in Boston. My husband's from Boston too, which is nice. I met him in a bar in Portland and he was wearing a Red Sox hat.
The other thing that's interesting about this course that you were on, this journey that you're on professionally is that one might think you got a degree in Healthcare Management. You went out to Portland. You didn't know anybody in Portland, except the friends you went with. Everything seems disjointed. People may think, "Don't I have to get a Sports Management degree or a Sports Administration degree? Don't I have to follow that tried and true course to get a Sarah job someday?" You're a living proof that more than the degree, what would you say it takes?
The people that you choose to be around in your life are going to be the ones that have the greatest impact on your career.
Click To Tweet
It's sports so you got to outwork your competition on some level. That's what you do, you have to be flexible and you have to be open-minded. You got to take your lumps when you get them and you got to get back up. You can't take things too personally. You have to know your course. In some of those things of what I did, I do think there are a lot of ways in which Jack and Larry are similar. I would say that they know their value well. One of the things is when I told both of them like, "That's not going to work for me." I turned both of them down to start, but they were both being kind.
Deep down, they're kind people, but I do think there was part of them that appreciated, "She knows her worth but is not being obnoxious about it." When I called her back and said, "This is what I need you to do." Let's curtail that to me so that I can make it work for me. You need me to do a job, I'm going to get my foot in that door. I'm going to take that job and then once I've earned your trust, respect, admiration, whatever the word is, then let's define what it gets to be. That's what I was able to do at both places.
When I left the Padres and then came to the Red Sox, everybody went to spring training. I myself and Janet Marie Smith, the architect, came to Boston and it was my job to get ready for opening day. She was doing all the infrastructure work for the ballpark and the construction. She has an amazing career and she'll be in the Hall of Fame someday and should be in the Hall of Fame someday, such a smart person. I remember saying, there's a sale, there's this weird transition and someone was like, "What do we need? What's your title?" I was like, "I don't even know what my pay is going to be yet. I don't even know if I've agreed to this, but I'm here because I'm part of the team because opening day is less than 30 days away now, and a lot has to get done. I need a laptop and a cell phone. By the way, could I have some healthcare? Can we get me on that quick?"
That's where the healthcare major comes in. You figure it out. What my career has evolved to be rather than what I could have designed it to be is so much better. I would've pigeon-holed myself if I knew too much. I would have limited myself if I knew too much. I haven't been afraid, for lack of a better phrase, to pick up the scraps and when I'm in a room and it's like, "Who wants to take this on?" I'm always like, "I'll do it."
Sarah, in all of that, though, with all those successes, small or big successes, has there been a project, an assignment, or responsibility that between us scared the heck out of you like you're wondering, "I don't know if I can do this. I don't know if this is going to blow up and I'm going to be the scapegoat or I'm going to look bad?" 
A lot of them and more so mostly at Fenway. It's because as you get further along in your career, and you've earned that where people say, "We trust that you'll handle this," because there's not a ton of oversight. I'm not living in a work environment where I'm running every single detail by someone, but yet you're responsible for a public forward-facing position in being the look, feel of the ballpark. What's happening at certain times? How will David Ortiz's retirement be? What does Derek Jeter's final game ever look like? I will never understand that for the record why the Yankees didn't call us and ask us to flip flop a series.
That was 2014. I was like, "I went through the bombings and now I have to do Darren Jeter's final game?" That's a lot of responsibility, especially when you don't even know Derek Jeter. Those are the things that get you. The question is, am I good enough? Am I right? Am I this? That's where it becomes collaborative and you can bounce it off people. I go back to my professional friends and they say, "Sarah, I haven't cried yet. That isn't this and that is that." This is why it's not a chart and it's not a path and leave yourself enough leeway so that if you have a great idea at the eleventh hour, you should still do that. You should work later at night. You should commit to staying later and doing that because then it makes it the best that it can be. Everybody says that was awesome. We don't have to worry about you and we trust you to do these things. You then get more projects and then you get more worried about it. "I hope everybody likes this. I hope this doesn't flop."
The other thing that we talked about is that in the sports and entertainment world, you're always on. The spotlight is always on your work. No offense to those who may work in other industries, but what they do in their cubicle or what they do in their conference room is maybe only known by a few select people, customers, workers. What you do, good, bad or ugly, it's magnified. 
I don't envy them. I have it easier because in a lot of ways, I don't want to say that you have a knee jerk reaction or anything like that, but we are not given the gift of time to overthink a lot of things. We're also not only given the gift of time to dwell on it long. There's this ability to be like, "That happened. Moving on. Didn't make that person happy." At the same time, you know if you got it right. It was largely because you didn't have time to run metrics on it or do this or do that. You had a conversation with a couple of people and you went with your gut and you're guided by what is right and what is wrong. If you can live a life like that, that's a gift. You don't get caught up in the burdens of the gray areas. We don't have time for that.
Can I ask you a question about women in sports? 
Sure. I am one.
A senior vice president of a Major League team. There are certainly a lot of successful women in sports. You've mentioned that already. I have to ask you though in a historically male-dominated industry, have you found that to be a difficult obstacle, offense too high, or is it something that for you has not been an issue or an obstacle?
I don't want to say it's been an issue or an obstacle, but it can be part of my navigation. It's a consideration, but I don't think it's necessarily been an obstacle. In one of my pregnancies, I had a hospitalized bedrest that started in September and ended in January. You miss a lot and people, they naturally so and rightfully so wonder, "Is she okay? What's it going to be like?" Do things like that slow down your career path? If you were in the right place, no, and I don't think it has for me, but I do think when you're running neck and neck races with people, when you're young, that can be a thing.
What I also say is that the people that you choose to be around in your life and the support system that you choose to have are going to be the ones that have the greatest impact. The moment that my daughter was born, I worked at a place where I was like, "I have been in a hospital for months. I need to get out of my house. I don't want maternity leave, but I don't want to leave her either." They're like, "Bring her." For the first few months, I was going to work a couple of days a week and my daughter was sitting with me in my office. They all do is sleep at that age anyway. What's the big deal?
On top of that, when you start saying to yourself like, "I'm working in this and we talk about the ten days straight and I'm going to be gone ten nights in a row in this." The kids have to have bath time, be fed, making sure the homework's done, and then good night stories. The partner you choose in your life plays an enormous role in that. I'm fortunate because my husband believes in me so much and encourages me. When we came back here, we came for my career and I'm sure if we had something great, he would say, "Let's do that." He has a successful company of his own, which I'm in full support of.
There are windows in your life where you do have to put some things on pause as a woman in a different way I think, than men. However, I would not be looking back. I would not change any bit of that because being a parent, being a part of a family is such a great thing. I also acknowledge that's not for everybody. I had my daughter at 26, 27. When you're that age, you're thinking about the things you're missing sometimes because you haven't been around the block enough times to know that this isn't the be-all-end-all of the world and you're working in an industry that's a lifestyle.
Those are the things that I would say. I don't think I've been held back because I'm a woman, but I do think the road, because of those pauses, does naturally take a little bit longer. What I do feel though is an immense obligation to speak up for others. I can be a little outspoken and in my East Coast way be blunt. I will remind people when there aren't enough women in the room or there isn't enough diversity in the room, or there isn't something else that we should be doing. What I feel like is I have a good bunch of counterparts.
There was a joke being made and someone was talking about someone being fragile or whatever, and it was in regards to a woman. It was during the pandemic and she has asthma. It's like, "Are you going to be able to come back because you have asthma?" I worked with a male counterpart. That's like, "You have to stop saying that she's not fragile. She's anything but fragile." I was proud of that counterpart for speaking in that way, or when someone says, "That's a great idea," and the male counterpart says, "Don't be shocked." Stop acting like you're shocked. It's those little things that remind you that you're in the right place and you're part of a great team. Those are the things I look for in the environment. I don't think I would be at a place that didn't provide that environment.
We're learning maybe anew in 2020 that words matter. A few comments that you referenced, the person who gave those comments may not have had an ill will?
None whatsoever.
Would you agree that all of us need to learn how to balance the intent of our words? On the receiving end, we need to learn how to balance that person may not have any ill will. The person who talked about someone's fragility, they're trying to be sensitive to a colleague. To think can also be misinterpreted as maybe putting down a colleague like that colleague's not tough enough.
Work in a place with enough conversation or be the type of person that is willing to engage in enough conversation, because you're smart enough to know that not every single thing you say ever in your life is going to come out 100% as you intended. Imagine if we had a pitcher that's through every single pitch exactly where he intended to go. That may be only Pedro Martinez and it's hard.
Why would you speed up the most fun years of your life? It's not a race. No one wins.
Click To Tweet
In the world of what they do, and yet they still throw balls. 
That's what it is. Everyone wants to throw strikes and hit the home run or whatever it is, but you don't make contact 100% of the time. Knowing that and knowing you're going to mess up, whether as a human or as a company, but as you said, the intent, relationship, and conversation are there. That's the meat of it of what gets you through the times and makes you believable for me.
Sarah, I appreciate your insights on that. As we begin to close, I want to ask you hypothetically. Let's imagine that you're teaching a course on how to break into sports. You're writing the syllabus now. What are the three must-have lectures that you're going to put into that syllabus? Three topics, three things you say, "I've got to convey to these students before they can pass this course." If you can't think of three, one's great.
It would be the senses. There would be a weird conversation and syllabus about the senses and diving a little bit into energy and what you feel when you're in a space and when you're in a building or things like that. It goes to those basic human elements. On top of that, there's a lot about it. There's a lot of what we do that is building excitement, building tension, or recognizing tension. It goes into everything. It's a combination, I would say, of the senses and energy and talking about that.
I would also have there be a requirement on listening and diving into what it means to truly listen. Whether that's to listen to the individual, group, and community. Ramped in listening, I would bring in awareness and pop culture. What is happening in the times and getting out of your bubble? I always tell during the offseason, you can have that slow time where your team is not all that motivated, but they're still coming into work. I'm like, "Guys, this is the time for the internet. If you want to screw around on the internet, this is the time."
The internet is awesome and you can stumble onto things and you can find many things. When you're wasting time, don't waste that time. Sometimes getting out of your own, having that space to breathe, and doing that is listening. Reading is listening. It's not always what am I hearing someone say. My third one would be the thought of a thing of kindness. What does that mean? What does that look like in a lot of different ways? How does that together go with bravery and other things and boldness? That's what I would do.
You got to teach that course, Sarah. Those are a lot of soft skills. I'm going to let the readers settle on what you said because there is so much there that we typically don't think about and don't consider. A lot of that is wrapped up in sports, but there's a lot of wisdom in what you said. I want to thank you for that. Here's my last question. You have a couple of kids, your daughter's in college now. Sarah, someday you may be a grandmother.
I might be. It's not a race. That's what I also tell the young people, Rob. In the Northeast, we're blessed with this wealth of college students, whether they're part-time employees, interns, or getting into the game in there. I hear these people and they're like, "I want to finish college in three years, so I can do this and I want to do that." I'm like, "It's not a race." You don't get to heaven and someone's like, "You won. You did it better than everybody else." That's not my version of how it works. Why would you speed up the most fun ever years of your life? It's not a race. No one wins.
In that same vein, I like to encourage people to exercise professional patience. You don't have to be the SVP of the Red Sox by the time you're 30. There were a few Epsteins.
I also didn't exercise a ton of professional patients. At some point, I moved beyond that.
A lot of it was people recognized that you were focused on the task at hand and then they accelerated you.
There's nothing better than a to-do list. The greatest feeling in the world, checking things off the to-do list.
I'll come back to you someday of being a grandma. If your granddaughter or your grandson asks you, and perhaps now you're retired, "What was the greatest thing about working for the Red Sox," whether it was a memory, an outcome, or a feeling? You're taking them to a game and they're asking you, as they're sitting there with you eating that hot dog, what would you tell them from your perspective now so far?
There's the internal and the external. I think more of what it's given to me. I have felt unbelievably supported where I work when times have been bad, which is such a phenomenal thing, I think, to say about where you work. Back when you have a health scare or something with a kid and when you feel support during those times, you don't forget that. When I went on bed rest in San Diego from September to January, I was working for Larry at that time and it was like nothing ever happened.
It was like, "You need to do what you need to do and you need to come back healthy." When it was like, "I don't know what I'm going to pay you. I don't know what your job is going to be, but I need you to in Boston." It was like, "How fast do I get there because you need me and when I needed you, you were there." I would say that, and then one would be the opportunity to play a role whether it's joy or experience for someone else. That's incredibly cool.
I have been so fortunate and I don't take this for granted to be at the Red Sox in a unique time. The last time the Red Sox had it this good, it was like 1908 but on top of that, there's been so much else that goes on. To figure out a way to live your life and impact society through the prism of baseball and sports is such a unique opportunity. What's been great and what I truly appreciate is more of what it's given me and that goes forward. I have gotten to do cool things for fans, good things for family and friends. It's all good and it's all been through the principle of baseball.
I said it once and I'll say it again, Sarah. I'm proud of you. You've done a tremendous thing in your career and what's cool is you're still young enough to do a lot more. Thank you for joining us on the show. 
Thank you for having me.
We're going to watch you continue to be successful and enjoy things at Fenway. Hopefully, it goes back to the ballpark soon.
I hope so.
Thanks, Sarah. 
Thanks. Bye.
Important Links:
https://www.gamefaceinc.com/wp-content/uploads/2020/09/8GFEP-EA-ANCHOR.jpg
600
600
Rob Cornilles
https://www.gamefaceinc.com/wp-content/uploads/2019/03/Game-Face-Logo-Full-Color-300x86.png
Rob Cornilles
2020-09-04 03:00:46
2021-02-09 07:21:12
Episode 8 | Sarah McKenna | Red Sox Romantic