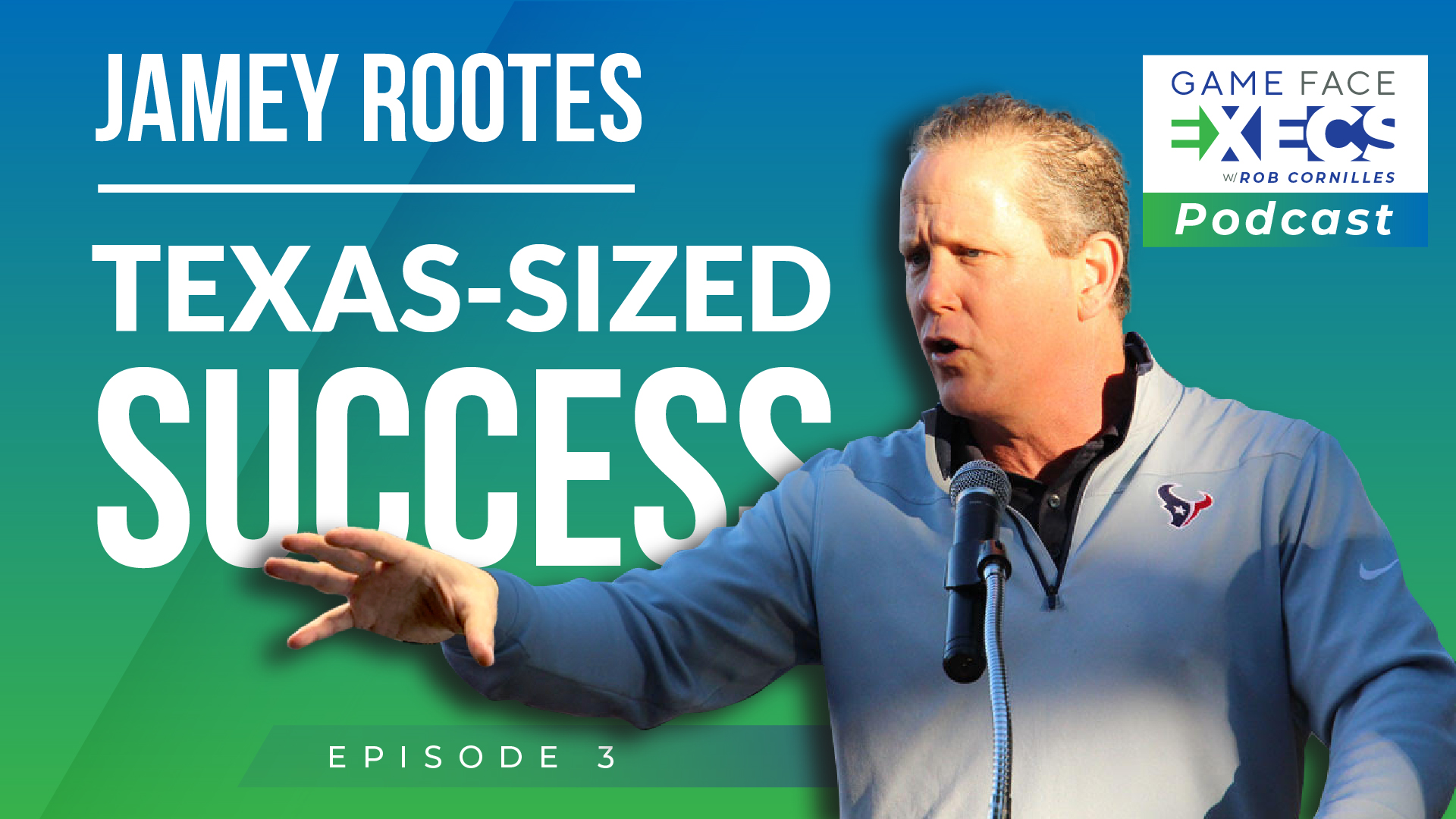 Are you ready for some football? Teams of the National Football League, the "granddaddy of all sports," opened training camps this week in preparation for Opening Night on Thursday, September 10. And the Houston Texans, led by President Jamey Rootes, are up first as they kick off the NFL with the Kansas City Chiefs. In the middle of all this hustle, Jamey takes a timeout to chat with Rob Cornilles about the unprecedented challenges facing the NFL, the impact one player (J.J. Watt) has had on a sport and a city, and the leadership lessons learned from working for two of the most iconic families in sports history. They say everything is bigger in Texas and Jamey and his team prove that they can handle Texas-sized success pretty darn well.
—
Watch the episode here:
Jamey Rootes | Texas-Sized Success
They say everything is bigger in Texas. It's true for barbecue, live music, and football. If you're Jamey Rootes, the President of the Houston Texans of the National Football League, the job of leading a team that hasn't yet won a Super Bowl in a demanding market with many social, safety, and sales issues staring you in the face, you better come ready to play. That's why Jamey Rootes is this episode's of the show.
—
We're with Jamey Rootes, President of the NFL's Houston Texans. I can't say this about a lot of people, but a long time friend of mine in the industry, which means Jamey is as old as I am. Jamey, I appreciate you joining us on the show. This is a busy, hectic time for people in the NFL, especially you in your position, but thanks a lot for spending a little bit of time with us and talking about what it means to be a game face executive.
Over the past years, I haven't told you, "No," and I wasn't going to start now.
That's true. Thanks, Jamey. I want to point some things out. I'm wearing the brand of the Houston Texans. We have known each other for a long time, but I got this shirt from you several years ago because you're a good guy. We've worked together over the years and we're going to talk about that, but I want to take the readers back to the beginning of your career. Before we go there, we're in the midst of a lot of uncertainty in every market in the country and I got a big question mark on the economy. We're going through a pandemic. Hopefully, we're starting to see not the end of that but at least the tail end of it.
We are talking at a particular time when there has been a lot of protests, even some civil unrest. I know these are issues that are important to you personally and also to the McNair family for whom you work and the Texans organization as a whole. I'm wondering if you could allow us to open the door a little bit to the boardroom of the Texans and talk to us a little bit about the conversations that you're having during this unusual and prickly time. How does an organization with as much prominence in a community as the Texans has, and even in the state, not to mention the league as a whole? Give us some insight into the principles that guide those conversations and those decisions you're making now.
I'll try to give you a clear response on that. Broadly, someone told me one time that challenge is the crucible of leadership. It's a stick. If you pick up a stick, you can't just get one in. You can't be a leader and not address challenges. This is natural. Life is hard. Once you accept that it's hard, that doesn't matter anymore. What are those challenges that we're dealing with and what do we need to do about it? As an organization, we've had to deal with a number of crisis situations. A lot of it has been around hurricanes because we're here on the Gulf Coast. This is like a hurricane, but a hurricane is like a sprint. This is more like a marathon. While it's similar to what we've done before, we've had to do it for a much more prolonged time. The most important thing is the attitude that people bring to the table. One of the principles that we established as we were approaching the NFL lockout, which was about six months of complete uncertainty is positively focused. You have to discipline yourself to balance the negativity that you're seeing and embrace that it's not all negative. There are positives.
You have to look hard for them, but you've got to balance out. Also, you have to focus squarely on the things that you can control. The easy part is focused on what I control. What can I do to make a difference? The hard part is having the discipline to reject things that you can't control because the things that you can't control are a complete distraction. You have to put up a stop sign and set it aside. Occasionally, in an environment like this, you're going to have a little bit of self-indulgence and a little bit of complaining like, "Why is it hard? We worked so hard to put this together and we have to take it down again?" Get yourself back to what can we do about it. If you do that consistently and get everybody within the organization thinking about what are the priorities? What can we do about it? It's amazing what a group of individuals coming together can accomplish.
The things that you were talking about are all the details, the decisions, and all of that falls into place if you have this positively focused mindset. You also have to pull your time horizon. In great times, we can dream about the beautiful future. In challenging times, you can only look about 1 or 2 weeks in advance. Those are the only certain things. It's amazing that once you do one thing, it opens up the next thing, but if you look five steps down the chain, it completely falls apart. It's all part of controlling what you can control, but your time horizon needs to be pulled in, make the next logical move, and keep going forward.
[bctt tweet="Challenge is the crucible of leadership. " username=""]
Jamey, first and foremost, you work for an entertainment company as well, but your primary property is the NFL football team. In today's world, can you remain a football team or do you have to become something bigger and larger? Are the expectations greater now than they were many years ago for a sports team to be more than a Sunday product?
That's a good point. The expectations of our sports teams have increased exponentially since I've been in the industry. Fortunately, during the time that I was in Columbus, which was a long time ago, but the last several years with the Texans, our philosophy has always been that we were bigger than an athletic organization. We talk about the Texans and this has been the same from the beginning. We have what I term the three imperatives win championships. At the core, we are a competitive organization that is trying to win a championship annually for our community and for our fans. Second is we create memorable experiences. People are investing in coming to our games to be part of something bigger than themselves, to engage with their family and their friends in a way that they can't Monday to Saturday.
On Sunday, we come together as one. We are Texans, the most diverse city in America, and nothing brings us together like the game of football. Number three is to do great things for Houston. Certainly, that we contribute $35 million that we've given to important organizations across this community. We're the number one per capita contributor to the United Way in the City of Houston and always have been since we've been here. The way that we conduct ourselves does great things for Houston. When you see the Houston Texans on Sunday Night Football against the Green Bay Packers, that's being across the planet. People may not know anything about Houston, Texas, other than what they see with those fans coming in their battle red shirts to tell the Packers, "You're not playing 53 now. You're playing 71,000, all of us together."
All of the other events that we've brought to Houston, in 2002, when we had played our first season, Houston was not even on the radar as a soccer market. We brought the first international game here in the USA and Mexico in 2003. Now, Houston is one of the leading soccer markets in America, a viable competitor to host the World Cup when it comes to America. We've hosted the greatest brands whether it's Manchester United, Manchester City, Barcelona Real Madrid, and all of these great teams, we resurrected the college football bowl game in Houston. In the last several years, we have taken it from obscurity to one of the leading bowl games in America, 1 of the 5 best-attended bowl games in America. Those are the things, not just dollars, but how we conduct ourselves and the breadth of entertainment offerings. We don't have to do that. Football teams wouldn't normally do that, but we step out of our comfort zone in order to be something bigger for the city.
You're the most diverse community in America. I wasn't aware of that, but it makes sense to me. The times that I've been in Houston and we've worked together, a lot of people don't realize that Houston is the fourth largest city in the country. You got New York, LA, Chicago, and then Houston, unless that's changed.
That's right. We're fourth and we're right on the tail of Chicago. There are over 100 language languages spoken in this community and we embrace diversity. We see diversity as our greatest strength going forward as a community. We look like America will look many years from now.
There's one player on your team when you talk about being more than just a player. We all know J.J. Watt. He's a transformational player, not just on the field, but what he does in the community. Can you talk a little bit about that? I don't know if what came first, J.J.'s attitude towards the community and giving back or the Texans culture, or if they were a perfect blend. Tell us a little bit about that player that we read about, and we see on SportsCenter, but he's more than a player. He's an active participant in the community. You can tell he cares. He's not just lip service. Share with us some insights about working with such a transformational player.
It is one of the greatest blessings of my career to have the opportunity to work with JJ Watt. You asked the question, "Was it him? Was it our environment? Was it both?" It started with him, that I think him coming into our environment, which embraces completely community service, you feel it in the walls of the organization that we're about the city. We want to do great things for Houston. It started with him and we helped him to elevate even higher. When he first started with us, we had drafted him. It was a controversial draft pick. Our coaches thought he had a great motor and had huge potential.
I will tell you a funny story that one of our coaches said about it, but it was during the NFL lockout. One of the rules of the lockout is teams could not communicate with their players until it was resolved. It didn't get resolved until July. I got a call that there was a horrible accident, a family here in Bel-Air that was coming back from Colorado. They were in a tragic car accident that the parents' perished. The daughter wound up being okay, but the boys were paralyzed. A friend called and said, "Can you send some players over to comfort these kids?" I said, "I'm sorry, I can't call the players because of the lockout." That night, I turned my TV on, who was over at the hospital with those kids? JJ Watt.
I knew from that point we had something special. I talk about JJ as being the triple threat. He's the only triple-threat athlete that I've seen. He has tremendous God-given talent. He's a great athlete, but not only that, he adds to it that magic of work ethic. He has a tremendous work ethic. I have a saying that is posted on the back of my computer that, "Success isn't owned. It's leased and rent is due every day." That was from JJ Watt. We have it in one of our conference rooms as well. The third is understanding that as an athlete, you have a shelf life to be able to make a difference. You're in a privileged position, the same way that we feel about the Texans.
We're in a privileged position. For better or worse, people look to us for leadership. How should I act? J.J. understands that. When he says something, people will listen. When he does something, it will make a difference for people. He has maximized every bit of the opportunity that a professional athlete has by taking his God-given talent, working his tail off, and recognizing that he can be bigger than the sport. The interesting story is Wade Phillips, who was our defensive coordinator at the time and was integral in our selection of JJ. He was asked right before training camp, "What do you think about JJ?" He said, "I think he's got a great sense of humor. JJ is going to be a bust in Canton."
He was quite prophetic. Wasn't he?
He saw the talent, the work ethic, the character, the integrity, the love for the game of football that JJ had and all those things came together. We're fortunate that he's in our community.
You probably can't see it, but right there at the top is Dom Capers' signature. Explain who Dom Capers was.
I remember Dom Capers. He was the first head coach of the Houston Texans.
That's right. I was in your office the day that you announced this logo. I know you don't remember that, but I've spent many days in your office. On that particular day, I got one of these autographed helmets from the coach. It's a beautiful logo. I know you guys wrestled over which logo to use back in those days. What year was that?
We announced the logo in 2001.
[bctt tweet="Success isn't owned. It's leased and rent is due every day." username=""]
You joined the Texans in 2000. I was curious because you left Major League Soccer.
Before we go there, I've got a comment on the logo. We were in the process of the design and you're right. It is a beautiful classy identity for the team and screams Texans. We wanted the name Texans, but we couldn't find an identity to go with it. Nobody liked anything in the focus groups that we're doing. We showed them all kinds of artwork and colors and nothing resonated. I told Bob McNair, "Bob, I think we're going to have to scratch the logo launch." He said, "Why?" I said, "We haven't found anything that anybody likes." He said, "Where are you testing this?" I said, "We do it at focus groups." He said, "Why don't you invite me to your next focus group?" I said, "Okay, I'll bring in so you can see the challenges we're dealing with." That was the first focus group. It wasn't exactly the logo that you see, but it was generally a bull and the star. We showed it to the fans and they were pounding on the table. "That is perfect. That's exactly what you need." I looked at Bobby, he looks at me and he said, "This marketing stuff's not that hard."
Timing is everything. I want to talk about Bob McNair. For those who don't know, he passed away a few years ago as the owner of the Texans. He was the one that brought the club into Houston. He is an institution within the state. He was a successful businessman, a wonderful philanthropist. His family has continued his legacy. I want to ask how the whole love affair began between you and Bob. Tell us a little bit about what you learned from the man.
Let me start with the love affair because I've been blessed to only work for two ownership families in sports, Bob McNair and the Hunt family, Lamar Hunt. Both of them are sports royalty and amazing people. Leaving Lamar and his family was difficult, but the first time I sat down in Bob's office when I visited Houston, they speak differently, but there's so much similarity between these two families and these two people. Bob had me at hello. That's how that went, but in terms of what I learned from Bob, I've got an MBA from Indiana, but I feel like I got a second MBA working from Bob.
There were a lot of holes in my skillset and my experiences that Bob was able to fill through the conversations that we had regularly over almost twenty years. Of all the business experiences I had with them and the insights that I gained, what's more important is how he developed me as a person. I had married. When we got to Houston, we had our first child. He helped me to understand how to be a good husband, a good father, and a good community citizen. It wouldn't like lectures or advice. It was the more the way he was. He modeled the behavior. He walked the talk. He modeled the way for me. His integrity, his character is focused on honesty and on fairness in all things.
Even if you occasionally get taken advantage of, you always have to have a spirit of fairness and the importance of relationships. He did a wonderful job building and trusting relationships with people. That's why he was successful. He was positive and optimistic. He was interviewed by one of our media personalities and they asked him, "Bob, you're always positive and optimistic. Why is that?" He said, "I've never seen a successful person who wasn't." He was a spectacular man, a great role model for me like a father figure and treated me as part of his family. He has inspired me to be my best and for our organization to be our best.
When he recruited you away from the Columbus Crew of Major League Soccer, which you had led for five years at that time, how was he successful doing that? You worked for Lamar Hunt and the Hunt family who is an institution, not only they were pioneers in soccer, but they were pioneers in the NFL. Ironically, you left the pioneering family that started and helped to start Major League Soccer. You went to the league that they helped start, which is the NFL. How was Bob McNair successful in getting you away from that? Was it simply the lure of the NFL of working for the King of sports?
Having a comfort level with Bob and his family was important. This would be a winning organization. I felt that from the first time I visited with him. I felt like over five years in Columbus that I had done what I had come there to do. I had established a professional sports franchise that was successful. I had a great season ticket base. I had a great business that was on an awesome trajectory. We had built the first soccer-specific stadium in America, built the first training facility specifically for an MLS franchise. I was like, "I could probably stay here in my mid-30s until I retire, but I don't feel like I'm done." As I reflected on that, I was like, "What do I think is missing?" This has been a great success in a sport. That is the primary sport that I grew up playing and coached like, "I can do it in that environment."
Columbus is one of the smallest professional sports markets in America. I wanted to prove to myself that it wasn't about the comfort level with soccer. It wasn't because it was a small market why I go to the NFL, which is the elite of sports properties. In a market that supports the fourth largest market in America, I wanted to prove to myself that I could be successful there as well and it worked out. Buffy Filippell of TeamWork Consulting is the one who was doing the recruiting. She called me when I was at my house in Columbus.
We'd built something special there. She asked me if I'd be interested in working in the NFL. I said, "What? This is a great call. I've been having those thoughts." She said, "What about in Houston?" I said, "That would be great, but Houston doesn't have an NFL team." She said, "They're going to have. This guy, Bob McNair is about to pay more than anybody's ever paid to relaunch the NFL in Houston." She gave me the opportunity to come down and visit with McNair and it went from there.
When you were at Major League Soccer, you were Executive of the Year, the first year of the league existed. You were recognized immediately as not only a talent but as a mover and a shaker. Someone who could have a great influence on the sport. You mentioned the opening of Columbus Crew Stadium in 1999. I don't expect you to remember this, Jamey, but Game Face, our company was working with Major League Soccer quite extensively in those first few years. We were traveling to each of the clubs. Mark Abbott, who is the President of the League now is one of the people who wrote the original business plan for Major League Soccer, didn't he?
He transitioned from the World Cup in '94.
Mark has been with Major League Soccer longer than anybody since its inception. He called us and invited us to participate. We were the official sales coach for Major League Soccer for the first 3 or 4 years. One of my highlights in that relationship was being invited by you and by Mark to come to Columbus Crew Stadium opening night. What an event that was. It was a milestone for soccer in America because it was the opening of the first soccer-specific stadium. They've since renovated the stadium. Do you remember what happened at the end of that wonderful evening with traffic and parking?
Yes, I do. It's amazing that you bring that up because I was sitting after the game in our post-game party area and I could see the traffic. I had a report that the traffic was ridiculous. I was sitting with the mayor, Greg Lashutka who has been a dear friend and remains a great friend. Greg said, "It looks like you got some traffic out there." I said, "I don't know what's going on." He said, "I think you need to hire the city of Columbus Police to provide your traffic direction because we are using the state troopers because we were on their property." They had directed the traffic from a downtown festival right in front of the stadium and nobody could get out. The next game we adjusted our call for police and had much better traffic flow.
These are little details, things that you don't anticipate. That was a very momentous evening. You mentioned your background is in soccer. You started as a college soccer player at Clemson University. You won two NCAA titles with them. You were also the student body president at the time if I'm not mistaken.
That's correct.
You have leadership skills from day one. Were you the captain of the team as well?
I wasn't. The captain was selected by the coach. My dear friend, Paul Rutenis was the captain in my senior year when we won the championship. My dear friend, Charlie Morgan was the captain in my freshman year.
[bctt tweet="You can't be working on the business if you're working in the business." username=""]
You should be the captain if you're also the student body president.
I didn't have time for it.
Straight out, you've got leadership skills and talent. Where does that come from?
I've always had a desire to lead. I've always wanted to organize and be the one to help everyone else be successful. I do think it starts there because you can have some of the traits, but if you don't want it, it's not going to happen. You're not going to spend the time. You're not going to have the JJ Watt work ethic addict. I've always treated leadership as a craft. When I was in college, was I a good leader? I am not, but I had an interest. I built and built and had new opportunities to lead. When I came to Columbus the entry-level president, I had to learn on the fly. I made lots of mistakes, but I would always break those down. I'm a pretty self-aware person and reflective of what I'm doing. Is it getting me the results that I want? If not, what do I need to do differently? I'm fortunate that I'm okay with failure, that I'm willing to take risks and have a creative mind.
Most people would hate to be in a startup environment. You have a blank sheet of paper, for me, it's a dream. The Columbus part was easy, starting with nothing, putting it together and building it. In Houston, I was doing the same. My transition was around 2006 or 2007 when I was still treating the organization like a startup. It was proven to me that I am being a micromanager. In that startup environment, you've got to be. You've got to have your hands on to ensure that all the plants are growing the way that they should in perfect parallel. Everybody understands who we are, how we operate, what matters most, but eventually an ongoing business. You can't be working on the business if you're working in the business. That was a transition for me, going from this micromanager meddling person to a leader of leaders. I was leading followers. I had to elevate the leading leaders. I liked it much better where I am now. I manage people by remote control. I get great people. I give them a clear direction. We have a solid understanding of how we operate.
We have tremendous trust in each other. They trust that I have their back and I trust that they have my back. I don't have to watch over them to set clear expectations and then hold them accountable for those results. I can spend my time on the things that matter most, the who, how, and why, the people, the talent, and the organizational environment that we provide them to give their best every day. The how, the culture, the habits that we want from our people and ensuring that culture remains strong and create ways to reinforce culture. The why and what's the purpose? We are keeping everybody sites, not on now. We were talking about crisis situations, we've got to deal with the crisis, but when championships create memorable experiences, do great things for Houston. All of us want that. That makes the hard work worthwhile reminding that there's a reason.
Like in sports, there's a reason why you're doing sprints at the end of practice. It was Tom Landry who said, "Leadership is getting people to do what they don't want to do in order to get what they do want to get." You can't be doing those things if you're meddling and having your eyes over people's shoulders. You've got to trust that they're professionals. They have a great desire to win. Sit with them and help them understand what winning looks like. Let them go out and do it. When they have problems, they can come to you. When they need resources, they can come to you, but otherwise go get your job done.
Jamey, in all of those years of leading teams, when I say teams, I should go back even longer than that because you lead teams in university. In those years, there's got to be times when you have chosen the wrong people or you've inherited the wrong people. How does a leader deal with that? What do you do about that?
What you have to avoid is what I term in the sports business when a GM selects a player in the draft, you want them to succeed. Sometimes you'll work hard that you keep the wrong people around for too long. In general, we're way too quick to hire and we're way too slow to fire. What I've had to do within our organization because it's not me, I've got my leadership team and I'll deal with them. Down the line, I'm going to make sure that on a regular basis, we're getting the people that don't fit. It's not around performance. It's around cultural fit. We talk about the attitudes that we're looking for from our people.
The talents that we want are a great work ethic and a winning attitude, a positive, optimistic, team-oriented and a demonstrated commitment to operate consistent with our values, which are being innovative, memorable, passionate, accountable, courageous, and working as a team. Those are where people get off track that they don't fit. Several times a year, we go through every employee and the manager reports out who are the tails. Think about a bell curve in any population. Usually, almost everybody's right in the middle. There are some people that are stars and there are some people that are problems. I asked them anybody in the middle, don't worry about it. Let's talk about your stars and your problems. As a team, they get 360 feedback on everybody, within their department.
When we have problems, once they're out there, sunlight is the greatest disinfectant. Once it's known that we have a problem, then it's on them. They know the clock is ticking. You got to work with them. You got to do a performance plan. If it doesn't work out, it's time to part ways. It's better for the employee and it's better for us. Our chair coordinator at one time said to me when she came in, "I've got this one cheerleader that I need to kick off the team." I knew her, her family, and her story. I said, "Shouldn't we reconsider? She got a great background." She said, "Jamey, let me stop you there. Keeping the wrong people on the bus is unfair to all the right people. We think there's not a cost to keeping somebody around as not a fit. There is a cost. It does frustrate people. As a leader, you have to nip those problems in the bud. It's like a garden. Gardeners will tell you if you're to go out and weed is better to weed too much than to weed too little. If the weeds remain, they're going to take over the good stuff. You got to be a great gardener in order to maintain a talented base."
Do you mind if I ask, how does your boss measure you and your performance?
Fortunately, at the head of the organization, he's got a lot of great metrics to look at. There's the subjective component and it's always been a conversation coming over to the house. I will say that it's incumbent upon me to tell my story. Regularly, I am summarizing the victories that we have. At the end of the year, it's not difficult to evaluate me, and all those things that I have communicated, in addition to the financial results are there. We sit down and have a conversation about it, and then move forward. I do my own personal evaluation and that's my test. That test is then graded by our ownership and they reward me how they see fit.
In all those years both at The Crew and at The Texans, has there been one decision that you can go back to? I'm not going to ask you a decision you regret. I, personally, don't like looking backward. I tried to learn from it, but I don't try to dwell on it. Can you identify a decision that perhaps was the most difficult that you had to make? I know there have been many in the positions that you've held and the prominent positions that you've held. Has there been one that you can share with us that was particularly difficult and you wrestled with?
The most difficult decisions are people-related decisions. I always agonize those because you're dealing with people's lives, their livelihoods, and their careers. There's a book called The Dichotomy of Leadership. It's by two Navy SEALs and they talk about all the dichotomies that it consists. For a military leader, the most difficult dichotomy, and I will talk about an investment sense, is having to love your people and know that for the good of the unit, you may have to put them in harm's way. It's the same way in business too. To be able to manage that dichotomy, they say, "Genius is being able to keep to opposing thoughts in your mind at the same time and not going crazy. To be able to know that you have to operate on both of those planes as a leader is something you have to accept."
Challenge is the crucible of leadership, but the one decision that I will mention to you is several years ago, we had built this amazing tailgate experience for our fans. They loved it from day one. It was like the barbecue cook-off ten times a year in our parking lots. There are 30,000 people are having a meal before the game. There are bands out there, big-screen TVs, and inflatables. It's not hot dogs and hamburgers. It was gourmet food. Across the freeway, there was an empty lot from the Astroworld coming down. They had leased that lot to a ticket broker in town. He went on the TV before our season started and said, "Tailgating is amazing at NRG Stadium, but you don't have to have a ticket. Come here and you can walk across and you can go and tailgate." We didn't think much of it to begin with. In the first few games, we had a few 1,000 people that did it. We then had a game, we played the Cowboys. I think we had 20,000 people without tickets in our parking lots squatting on the parking spaces. There weren't parking spaces for the people who had bought them. They rolled their coolers in there and there were fights before and after the game.
The decision that we had to make was, "Do we go take what was turned into the draconian measure and try to make NRG park a ticket in the environment?" Nobody had ever ticketed the parking lots before, but that's the decision we took. There was tremendous media backlash of how awful the experience was going to be. On the game day, we set a post-game, press availability to be able to answer the media's questions because they are all out of the parking lots. None of them showed up. It went back to normal. It was a wonderful, magical family-friendly experience. They don't always work out that way, but the important part was the time that we spent evaluating and had to ask ourselves at the end of the day. As Bob McNair likes to say, "You can never go wrong by doing what's right." We had to tell ourselves, "This is the hard thing. This is full of risk. We could completely blow up what was important with our experience, but we knew it was the right thing to do and we went ahead." Sam Houston had a saying, "Courage is doing what's right. Accept the consequences and once you figure out what's right, it doesn't matter what the consequences are."
[bctt tweet="'For every ten players that can handle adversity, there's only one that can handle success.' – Dom Capers" username=""]
You talk about the unusual position of an NFL franchise especially in a football-crazy state like Texas has. As far as the attention and the scrutiny that you get, not only from a rabid fan base, which every team hopes for, you want a fan base that's invested, not apathetic. You also have a media that is constantly looking over your shoulder, second-guessing every move you make. Every CEO, every president of a large organization, a multimillion-dollar organization like you run has that scrutiny. Could you share with us a little bit about the peculiarities of running a franchise or any organization like you do? You have networks devoted 24/7 to doing nothing but talking about you, your failures, or your missteps. You have sections of newspapers that are dedicated to nothing but your industry. It's an unusual place in sports that you have. What's that like? How do you finally get used to that or do you ever?
You accepted as a fact of life about the stick. You pick up the stick, you get both ends. You want to be at the pinnacle, you're going to have tremendous attention. I guess I come at it with a perspective that helps because of where I came from to be spent five years in a fledgling soccer league and franchise desperate for attention. It's a great blessing. The exposure is a tremendous blessing. We serve the media. We want the media to be engaged in what we're doing because we know how important a conduit they are to our fans. I believe that the way you treat the media is how the fans think you treat them.
We've won the Rozelle Award a number of times as the number one media service organization in the National Football League because we do know how important they are. It comes with the territory. Everything's a mixed bag. When I was in Columbus, I wanted the attention here. In Columbus, you could do all crazy stuff and it didn't work. Not all that many people saw it anyway. You tried something else. When you come to the NFL, there's much more. It's got to be much more deliberate and intentional because whatever we do, everybody's going to see it. The expectation is we win at everything that we choose to do.
I want to ask you two more questions and they both relate to the future. Let's talk about the future of the NFL. How do you see it from your vantage point? From where you sit, what does the future of the NFL look like?
I'll preface this with a phrase from Yogi Bear. I never make predictions especially about the future. The NFL is at the top and importantly, there's this mentality in a locker room. I call it the get better mentality and in our sport, it's simple, but it's powerful. Every game gets broken down completely and the coaches and the players think about how do we do this better? The military after-action review and the league approach it that way from game-to-game. From season-to-season, what's better? How do we get better? As a team, we're the same way. The future is incredibly bright for the National Football League.
I can't tell you exactly what it's going to be, but as long as we do not get complacent and we handle success, you mentioned Dom Capers earlier. Dom has a great line. He says, "For every ten players that can handle adversity, there's only one that can handle success." We have to be that one that can handle success. If we ever start drinking our own Kool-Aid, that's when you start going over the crest. We have to constantly be reinventing ourselves. That's what where we're committed to doing.
You reminded me of another question. I'm writing a book about sales game-changers. It's about methodology. It's also about the people who are game-changers. When it comes to that industry, you've been a game-changer. You went into Major League Soccer as a young professional. You were given the title of a general manager. I think you are worthy of it. Some people may have thought, "Who's this guy coming out of the collegiate ranks, who has got a fancy MBA and he's running an expansion franchise?" You are a game-changer in Columbus. You helped to innovate for that league. You're doing the same thing with the NFL. What role do sales play in your success, the ability to persuade and influence other people?
I was fortunate that my first experience was with IBM. I spent nine months to a year in sales training. It was a sales MBA from one of the great sales companies of all time. When I went to Procter & Gamble, it's a different level, but it was still sales it was brand management. You're trying to influence consumer behavior remotely, whereas sales are that one-on-one. I had the advertising and promotion component and I had the direct sales and sales management experience. I still rely upon those principles because at the end of the day, as you go up in an organization, it's less and less about the things, and it's more and more about the people. All-day long, you are looking to influence people to get the outcomes that you're trying to get.
It's not fairness. There's nothing wrong with it. It's not like you're trying to coerce people because people do things of their free will. What you do have to do is get into the shoes of somebody else. I want to get here. How do I motivate them to help me to get where I want to go? How can we do this together? What's going to be a win-win? A lot of my job is around negotiation. All sales principles trying to get to yes and figuring out a place that everybody feels good about it. I would say sales and sales principles have a role in my life every day, my work life every day, and always have. I'm blessed that I started with such a solid foundation.
IBM revolutionizes the way companies sell and you were part of that training. Let's talk about your future. I've known you for many years. It's been a pleasure to be a friend of yours and to be able to work with you and your franchises over those years. Where does Jamey Rootes want to be or see himself being from 10, 20 years from now? What do you still need to do in your career for you to be fulfilled and say that, "I've made the difference and the impact I wanted to have?"
As my career has progressed, my family has become a much bigger component. They would laugh and they'd say, "Dad, we know how much you work." My family is important to me. I am ensuring that my kids get off to a great start in their life. My daughter is a rising junior in high school. My son is a rising freshman in college. He'll be headed to TCU. My wife, Melissa, is finding some great things that fulfill her and things that we do together. That's all good, but professionally, I am focused on trying to be great, where my feet are. I love what I'm doing, but I do see on the horizon you're writing a book, I would like to put it down on paper these principles that have helped to guide these two successful franchises. The things that I've learned and some of the stories along the way, not that anybody would want to read it, but it would be good to get it down.
Maybe at least my children could have a much better idea of what their father was doing while they were growing up and going to school. That would be something on the horizon. I want to win a championship. I want to be part of a Super Bowl-winning franchise. I felt for the last few years that I got to get that done. Before, I look beyond the organization that I'm a part of. I'm blessed to be part of McNair's organization. They give me such latitude and such an opportunity to do that for our team, to do amazing things for us to live out our best life right here in Houston. I can't complain about anything, but a book would be as far as I'm looking. Hopefully, someday that will be a reality. As you open your question, it's been a great blessing to be a friend of yours and have huge respect and look forward to reading your book.
You are a true professional. That's one reason why I wanted you to join me on the show because a lot of us can continue to learn from you, watching you, and interfacing with you. I congratulate you on all that you have done and all that you are doing, sincerely.
Thanks for your friendship.
Thanks, Jamey. We know you're busy. Let you get back to running one of the best franchises in the NFL.
Thanks, Rob. It is good to be with you.
Important Links:
About Jamey Rootes
Jamey Rootes serves as President of the Houston Texans and is responsible for all business functions of the club. Since joining the Texans, Rootes has overseen the team's efforts to secure stadium naming rights and sponsorship, coordinated radio and TV broadcasting relationships, engineered the club's successful ticket and suite sales campaigns, led the creation and launch of the team's identity and developed the team's highly-acclaimed customer service strategy.
Rootes also serves as President of Lone Star Sports & Entertainment (LSSE), a sports management agency associated with the Texans. LSSE has been a catalyst for some of Houston's most significant sporting events.
Rootes maintains an active role in the community by serving on a number of boards, including the Greater Houston Partnership and the United Way.
https://www.gamefaceinc.com/wp-content/uploads/2020/07/3GFEPEAANCHOR.jpg
600
600
Rob Cornilles
https://www.gamefaceinc.com/wp-content/uploads/2019/03/Game-Face-Logo-Full-Color-300x86.png
Rob Cornilles
2020-07-31 03:00:18
2021-02-04 08:32:38
Episode 3 | Jamey Rootes | Texas-Sized Success