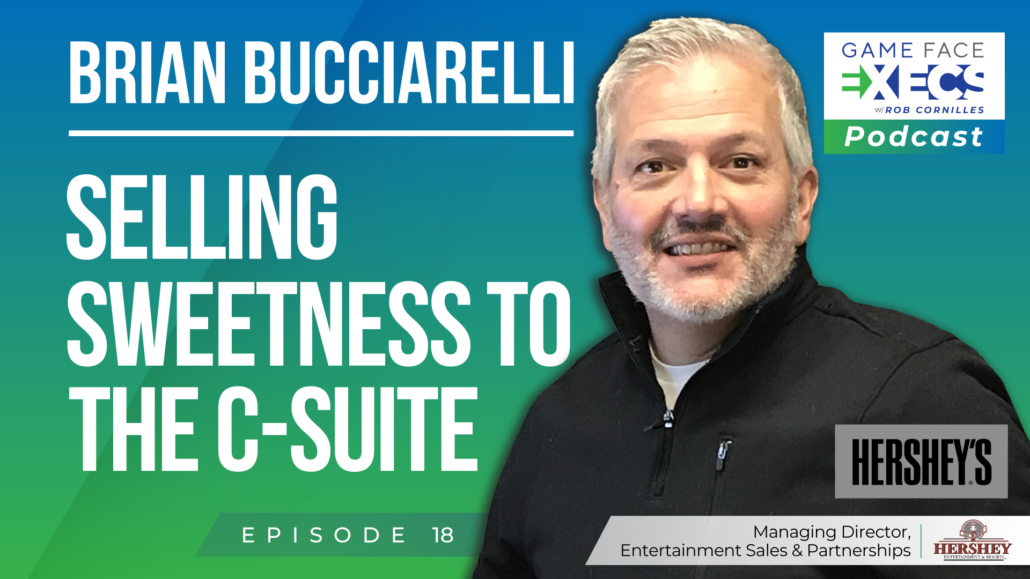 Hershey, Pennsylvania is known as "the sweetest place on earth." In this episode, Rob Cornilles introduces you to Brian Bucciarelli, managing director of entertainment partnerships at Hershey Entertainment Resorts, the sweetest salesperson you would ever meet. A homegrown product of Central PA, Brian went from intern to running the sales division of the country's most delicious entertainment company, managing Hersheypark, the Hershey Chocolate World Attraction, the Hershey Bears Hockey Club of the AHL,  and as many concerts and shows as there are candies in The Hershey Store Museum. Get a load of his sweetness and a sugar rush of valuable information as he joins in as this episode's Game Face Exec. Enjoy!
—
Watch the episode here:
Brian Bucciarelli | Selling Sweetness To The C-Suite
I can think of worse things than selling chocolate for a living. That's why in this episode, it's a treat to interview Brian Bucciarelli, a sweet salesperson, if there ever was one. Not just because Brian works for Hershey Entertainment & Resorts in Hershey, Pennsylvania, the sweetest place on earth, but because of the way he tends to the rich history of Milton S. Hershey. The man who raised the chocolate bar to create a company, build a town and grow philanthropy that is a part of Americana as well as the Reese's Peanut Butter Cups and the Chocolate Kiss.
—
I'm here with Brian Bucciarelli, who is a critical part of Hershey Entertainment & Resorts. Brian, you have been with the organization for years. Who does that anymore? Most of the people reading this are probably either in between jobs or they've jumped from one job to the next. That's not a criticism, it's just an observation of the market and how people go within their career. You're very unusual. You started with the company straight out of school, you're still with them, and you have a major role to play. Tell us that story.
Rob, you've been here. The easiest thing for me to say why I'm here for so long is the story itself, and that's the story of Milton Hershey and Hershey. Everything about the past and what he did to create the town and our company, the park, and the chocolate company. That's the easy answer to why I stayed there. The other part of that answer is the people in the industry. I started out in the sponsorship world. I fell in love with the sponsorship industry and then sales itself. It transpired into premium seating, season tickets and groups, and being able to do it in my hometown is another benefit. All of that combined was what kept me here for so long. You are right, especially in the sports world, you don't see much of this at all and that's not a bad thing. People go for jumped for different opportunities. I was lucky enough to have those opportunities right here at Hershey.
Are there many people like you within the company?
Yes. More so, we have the traditional form of people that have been here. We have some people who are 50 or so years and we have some new blood. In the past, when I first started, it was a lot of people that have been here a while and you get that thinking of we've always done it this way. That's not always a bad thing, but I think having that mixed blood of people who are new and coming to us from other organizations with new ideas has allowed us to go where we are now.
Brian, let's peel back. Let's unwrap the chocolate a little bit about Hershey. Those who have not been to the market and to the park, who haven't been to a Hershey Bears hockey game, the Hershey Bears are with the American Hockey League, a longstanding franchise. It's been there for decades. For those who haven't enjoyed or experienced a visit to Hershey, describe for us a little bit about this community, the culture, and what it means to the people who live there and work there such as yourself.
It's called the sweetest place on earth. That is trademarked for a reason. As they say, the town was built on chocolate and that was Milton Hershey being a persistent man. He went bankrupt a couple of times before he found his niche in chocolate in Hershey in Derry Township as it was called. His claim to fame was when he added milk to chocolate and how he got successful, believe it or not. He's the one that started milk chocolate, which is why you see a lot of dairy farms around here now. From that came Hershey Entertainment & Resorts, where I work. I call it the fun part of it, which is the amusement park.
[bctt tweet="Whether you're in sports or entertainment, you're not selling tickets. You're selling an experience." via="no"]
We have two resort destinations. We have a country club. We have a camping resort. We have an outdoor stadium that has concerts. We have an indoor facility where the Hershey Bears play. He started that as a recreation place for his employees. That's how he built the park. It was for employees only. It then turned into some great amusement park. We are owned by the Hershey Trust, which owns the chocolate company, as well as overseas, the known Milton Hershey School, which is the other great story of Milton Hershey and found this. Originally, it was a school for orphans, just boys, and it turned into underprivileged children.
That's what this town is built on, but what this town does and what this town offers is amazing. The summer concerts, YouTube, Rolling Stones, we've hosted. It's a major market for Live Nation. The giant center seats 10,500 people. We do your typical indoor shows, but we have the Hershey Bear, which had been around for 85 seasons. It's the oldest continuously operating franchise in the American Hockey League. As Gordie Howe's once said, "Everybody who is anybody in hockey has played in Hershey." It was an area where all these modern hockey league people came through to get to the NHL. We have Hersheypark Arena, as we all know, not only the Hershey Bears and not only Milton Hershey built that in 1936, but the claim to fame there is that's where Wilt Chamberlain scored 100 points.
The unfortunate part about this news now, it's also where Kobe Bryant won the state championship in high school basketball, which a lot of people don't know. Why that's significant now is a sad story, but it is another place that made Hersheypark Arena so great. For those who haven't been there, I ask everybody please to come to Hershey and visit. Rob has been there a couple of times and it is a great area and a great story.
I've not only been there a couple of times, Brian, but after my first visit, I was convinced that if I was coming back, I had to bring my wife. You and your staff are hospitable and that's the Hershey way. You ensure that when I did bring my wife and I don't bring her on every trip that I take. She doesn't want to go on every trip that I take, but I chatted with her about the magic found in Hershey and the mood that's there and the culture. We celebrated her birthday in Hershey, Pennsylvania. Thanks again to you, it was a fantastic trip. There was more to do than we had time.
That's what people don't realize too. Some people think of as cow pastures, farms, and fields, and don't understand. There's a reason for all that, but it's much more.
Besides that, what are some of the misconceptions people have had about the company that you work for over the years?
The biggest misconception is that our company produces chocolate, which we don't. We are the entertainment side of things. We are a private company. The Hershey company, which produces chocolate, is a public company. We are two separate companies owned by the same ownership group, the Trust Company. However, in saying that, our branding is chocolate. If you come to our resort properties, it's chocolate. Our park is a theme park, but it's chocolate-themed. We much live off of that, but we are two separate companies. The biggest misconception is that we are the ones that make the chocolate.
One of the things I also learned, for those chocolate fans reading now, is that you also own Reese's, which is an interesting story because the founder of Reese's, the Reese family, came from Hershey. He was employed by Mr. Hershey and then he broke away and started his own thing. Years and years later, they became part of the Hershey family.
The factories in Hershey, it's a weird twist on all of us that you think it was part of the Milton Hershey to begin with, because of where it is, but it wasn't. It's probably my favorite candy, the Reese's Peanut Butter Cups, truth be told.
By the way, the Hershey Chocolate Store at the Hershey Museum, I've never seen anything like it. You see variations and sizes of Hershey candies I didn't know existed.
You'll certainly get your fill of chocolate if you come here.
You're an entertainment company. You attract people regionally, nationally, and globally. When I think of international entertainment companies, I think of Disney and Universal. From a sales and marketing and promotion standpoint, how do you compete in that space?
To back up a bit, we have had people from all around the globe. I know one summer, we had a representation in our amusement park, a zip code from every state in the country. We do nationally. Globally, we do get people from out of the country every now and then. I go back to think, you always say, "You experienced the service, but people have to get here first experience the service." How do we get people? I think it's a story of Milton Hershey and what he did and what do he created. When you get here and you bring a family and you're immersed in chocolate. I don't know that you got to see them. Maybe you did.
I'm not sure if they were at the resorts or not, but we have chocolate characters that roam around. You can hang out with Mr. Twizzler or those types of things. I think it's the story. Once you get people here, we have thousands of correspondence and letters from people who come here every year with their families. They've been coming for 30 to 40 years to come to Hershey and the experience is fantastic. The level of service that we have is second to none. One of our biggest markets is in New York and we can constantly get people from there. We have local amusement parks that we compete with.
If you go to the stadium side, concerts, there are some venues. We compete with the Giant Center as well. Some indoor venues we compete with, but I think the area we're in also helps us, Central Pennsylvania, 1.5 hours from Philly, 1.5 hours from Baltimore. We are 3.5 hours from New York, two hours from Washington, DC, six hours from Boston. It's called central Pennsylvania for a reason. Where it's located, there's easy access to Hershey from all of these different areas. We also have an airport as well where people can fly in and we're twelve miles from the airport. At the end of the day, I think people were just intrigued by Milton Hershey's story and what he created.
We can't take time on this show to talk about that story, but it's found everywhere within the community. If you go to the museum and stay at the hotels, his story is on video. It's on plaques. It's truly inspiring. One of the small things that people don't know about Mr. Hershey and his wife is that they were never able to have children. Their children became the orphans of the community and the surrounding communities and for him to fund their education, that's a legacy. I think from an outsider's point of view, that's probably the thing that I was most impressed about. Not that it was impressive to me, but how you and your staff, you and your team seemed to be the thing you are most proud of is that legacy of taking underprivileged kids from all over the country and giving them a quality education.
The first question you asked me was why am I here so long. The HE&R, Hershey Entertainment & Resorts, it goes to our core purpose, which is to add value to the Milton Hershey School. Our core purpose, what we do, and what the Hershey company does is support the Milton Hershey School and all that they offer these kids. Mr. and Mrs. Hershey didn't have kids and they started this school. It's turned out to be incredible. They are athletics. They are competing at a high level and all the athletic leagues that they're in and the kids' graduation rate. It's a remarkable story.
The house parents, that's a whole other story. That's where these kids live with volunteers. For the most part, these house parents lived with 6 to 8 of these kids in each grade. They get to and from school and they're taken care of. They're fed. They have clothes. I've been here a long time, but I don't do the story justice. We have people in our company who know the history much better than me, but you asked why people have been here that long, and then why the new people that come and want to stay, it truly is our core purpose.
I would add that, as I understand it, every time I purchase a Hershey chocolate bar or Reese's Peanut Butter Cup, I'm contributing to that school.
You are. That's when we have a dividend that goes to that school every year, based on the revenue that we bring into our company.
[bctt tweet="Chase the relationship and the money will follow." via="no"]
Do you know what the enrollment is of the school?
I might get this wrong and if anybody from the company sees it, I'm going to say 2,300 or 2,100 in that area and they're expanding. With everything that's going now, they're still expanding.
With all the goodness, all the sweetness around Hershey, you're a sales person. You have to sell on behalf of the entertainment side of the company, the resort side, and the hockey team. Despite all that, there's got to be some challenges. There's got to be reasons why people don't buy from you. What are some of the top tier challenges or obstacles you have to complete a sale?
It varies depending on what part of the park, Giant Center Stadium that you're talking about. It's no different than any, but anybody else in the sales world. There is competition around here for number one, disposable income, not just competing team to team. There's disposable income. There are many things to do. Where are we going to spend our money is one of the things I like to say, and in anything we do, we're selling fun. Whether it's the park, a concert, or a hockey game, you're selling that experience as you taught us all to. You're not selling a ticket, you're selling that experience. We are in Central Pennsylvania and what's all around us, we have many Minor League teams around us. There are a couple of museum and parks around us. There are some of the other things that are going on. That disposable income and capturing that, where am I going to spend my money mindset is probably the biggest thing for us.
We have talked in your office about the challenges that we're seeing in 2020. I know that this is a fluid dynamic situation and we're adjusting on a day-to-day, week-to-week basis. Can you give us a glimpse down the horizon as far as how you're reacting to this and how it might be changing the way you go about doing business, either on the hockey side or the parkside?
Both of them, especially the park, that would have opened in April for springtime. We're extending season tickets originally through June of 2021, but every other day, we're closed. We're going to extend season tickets by the day. Unprecedented things that we have to do and the right things to do. Don't get me wrong. I'll be honest with you, on the Hershey Bear side, it is remarkable to me. We lost the last six home games because of the American Hockey League was canceled and we lost six home games. We're going through the process now of this whole credit thing with the season ticket holders. Do they want credit towards 2021? Do they want to refund? It's exciting and promising. We have many people that have paid in full for 2021 already. They want to get back to hockey and I'm excited about that. We don't know what's going to happen. We talked a bit about what's going to happen with the HE&R, but the fact that these people want hockey back and they missed out. Unfortunately, the Bears aren't having a great season. We were number one and who knows where they could have gone, but I think things like that are exciting for us.
It shows that people are ready to get out. Even with the park, we are mailing out tickets now. We're hoping for a July 2021 opening sometime. The people want to get out and who knows what the park would look like. This could look like limited capacity in the park. We don't know. We're still trying to figure that out, but it's a balance of taking care of the customer as best we can and taking care of our company. It is more about the future with these clients too. You don't want to lose them for making a dumb decision and to lose them in the future. What have you done? You've saved money now, but you're having to go out and find new business, which we all know the heart of it's their renewal business and any of these things. Definitely, we have had to do things differently. We're doing it in the right way. I haven't had many complaints about how we're doing things, but just unprecedented times. We all have contingency plans, but this wasn't in the book.
You also have some unique challenges as the Minor League organization because you don't get national exposure. We're not talking about you on Sports Center.
Just for the Teddy Bear Toss, we have. I did talk about that some in Sports Center.
Can you talk to us a little bit about the unique challenges about working in Minor League sports and how that forces you to develop skills? Not to say that Major League executives don't have to develop skills or challenges. What unique challenges or skills you have to develop if you're going to be successful in this space?
Let's take the COVID-19 out of it and say it's a regular year. The biggest thing is we don't have the superstar. We don't have Sidney Crosby that were selling tickets. We don't have the big-ticket strategy that came out years ago like some of these pump teams that we're drawing and you sold against the visiting team superstar coming in. We don't have that. Before they changed them some rules, we had some journeymen people that played many AHL games that were sent down to the Minor Leagues. We have veteran rules now. You can't even have as many of them because of this developmentally. They want to develop the youngsters. You can't sell based on your superstars.
From a renewal standpoint, we have several years here. People know the brand. They know Hershey Bears Hockey and that's a big selling point for us. Other than that, it truly is what we talked about for selling the experience. That's what it is selling, the Giant Center itself, selling the end game entertainment, selling the history of the Hershey Bears, the 11 Calder Cups. That's what we have to sell. With COVID-19, we don't have TV money. We're not coming back unless we can have tickets and sponsorship sales. That is the only way American Hockey League can come back. The next thing here is deciding when the AHL can come back and when we can safely have fans in the arena and making sure that they feel safe and want to come back. As I said before, the signs are pointing to people who want to get back. It's a matter of when we can do that.
Brian, I don't want to misinterpret what you're saying or put words in your mouth. It sounds like you have a lot of challenges in Minor League sports. Why would someone getting into the sports industry want to work in the Minors?
It's like an athlete that wants to get into the Major Leagues, they have to start in the Minors. That's where you learn the basic skills. If you can sell successfully in the minors, when you go to the big leagues, you're going to sell. If you can sell successfully without a superstar, and you told us your story when you first broke in, it wasn't in the Minors, but it was with the team that wasn't good. I'm going to assume you didn't have many superstars if you weren't good. That's how you sold and you sold on the experience and fun, yet, you sold all those things.
If you can do that, you're going to be a successful salesperson, wherever you go. I also like to go back to this story all the time. I talked to a lot of my friends who were in the radio business who grew up selling without a base salary. They sold on commission and they were successful selling on commission. You know how many phone calls you need to make to get an appointment, to do a proposal, and to make a sale because that's what you live off of. I think in the Minor Leagues, you need to start somewhere and that's where you got to sharpen your skills, is in the Minors.
In your case, you not only started in the Minors. You stayed in the Minors. There's a career there. It's not just a launchpad.
There is a career but it's not likely like we've talked about. However, the other thing I didn't mention is what our company offers too. I've overseen Hersheypark sales as well. There's a lot more than the Minor League angle to this. There are other things I'm doing. I did have an opportunity to go elsewhere and things didn't work out. I came back here and thankfully, the company accepted me back. There's a lot of stuff going on here in this company, which makes it an easy place to stay.
Isn't it also interesting over the years that we have been in the industry, how Minor League ownership groups recognize that they can't own a Minor League hockey team, baseball team, or lacrosse team? In order to be a more attractive asset and also a more attractive place for people to come to work, they probably need to have their hands in some other things as well. Whether it's the venue that they manage, operate, etc. Maybe they have another team that they're working in the off-seasons. They're pairing up with other franchises. If I've got hockey in the winter, I've got baseball in the summer type of thing. There are many models of that.
[bctt tweet="There are going to be great changes in both the sports and entertainment industry down the road. We need to be ready to innovate." via="no"]
Revenue coming in all times of the year. Also, that allows them to package things too. Maybe they're packaging season tickets or sponsorships. It allows them to do a lot of those things as well. You did touch on something interesting. That's something I should point out, which makes the job here easier. We do own the building and the team. There are some nightmare situations that people are in where that's not the case. I feel for them and I've heard a lot of horror stories there, but yes, we do own both. It makes it easy and we do our own concessions, which is the third part of it.
It was a huge revenue source for you in that regard. Since you are a professional salesperson and you're a leader in sales, when you started your career, when you went to school, did you anticipate that sales would be your primary function and the way you'd make a living?
No. I got a marketing degree and honestly, I was a non-traditional student. I went back late in life. I came out of college and majored in ping pong and foosball when I first went and didn't do so well. Unfortunately, Penn State doesn't give degrees in that. I say this not jokingly, but I realized that I wasn't going to make a living with my hands. I couldn't build things. I couldn't do that time that I needed to get a degree. My dad always said to me, a degree is one thing that nobody can ever take away from you. Once you get your degree, you always have it.
I went back late in life and graduated late. An opportunity for an internship came up with the Bears, which growing up, I knew the Bears and I happened to be in the sales department. I fell in love with that. I think a lot of it was my personality, getting along with people and relationship-driven. That's what helped me through my sales career. It's one of those things. I know you've talked about it before, but throughout my career, I've been to client's weddings, birthday parties, and so many things. That's when you truly know that you've done well. It's not talking to them during renewal time. You're spending time at their house or going on vacation with them. They're coming to your house. That's when you truly know that, "This is truly what sales is all about."
That's interesting, Brian, because you're bringing to my mind this idea. First of all, there's an old saying, "If you're honest, you can't have a very short memory," because if you're honest, you don't have to think back, "What did I tell them?" If you're honest in sales, you can't have a short memory because you always know. "I'm telling you like it is, or I'm being genuine and authentic." The other thing you're bringing to my mind though, is if you want to have a long-term career, let's say with one organization, those people that you're selling this year, you're going to see next year, and you're going to see five years from now. The things that you're representing to them, they better be truthful. You better be able to deliver what you're promising. You've been doing that for many years.
There are still people here that I've met on day one and they're still involved with that company. I am not so much involved in the day-to-day sales of a lot of things anymore. A couple of things I have my hands in, but not as much, and there are still people that are still there. My phrase that I always use with people is, "Chase the relationship and the money will follow." We all know sales is commission-based for the most part, but people that are going after or chasing the money won't last long. Why they won't last long? It's because you're selling people things that they shouldn't be sold. That's not going to last into a long-term relationship and the success of your career is based on your renewals and your relationships.
I truly believe that. I started in this industry making $20,000 a year with no commission. I was never motivated by money. I was motivated, number one, about the company saying, "He's doing a fantastic job." To this day, I live by that motivation. I'm making a good living, but I've earned that. I didn't start out that way, but my motivation still is a great job, a handwritten note from the CEO that says, "What a remarkable job you and your team did on this." That's my motivation, not the paycheck.
I would want to say, you're my client. We've done work together and we'll do work together in the future. I would tell you the same is true. I love to say that that's a client I enjoy not only securing, but renewing because the client is friendly, reasonable and agreeable. I don't know if you and I have ever had any disagreements or differences of thought, but when we do, they don't stand out in my mind because we resolve them quickly. We keep moving forward and keep progressing together. You're not only a good salesperson, but you're also a good client as well. That personality permeates all both sides of your work. I appreciate that.
I'm not trying to sell Rob and Game Face, but we've certainly enjoyed the two times you came in. You're the only professional sales teacher that we've ever brought back. That says a lot about you and your organization. Our sales staff got a heck of a lot out of it and they're still using that. We certainly appreciate it.
Thank you. Brian, as we wrap up, I would love to get an idea from you as to whether it's industry-related or Hershey-related. How will the industry be different five years from now in your mind than it is now? Do you see something around the corner that we need to be paying attention to, that we need to be diligent about? Do you see innovation or creativity that maybe we need to stretch a little bit more in a particular area, whether it's within your local properties or it's the industry as a whole?
During these times, how will things change with COVID-19? It is limited seating and you're in a concession stand line. You have to be six feet apart. Is everybody going to be wearing a mask? Until we get through this and get back to some sense of normal to see what's going to happen five years down the road, I don't know. Are we going to go back to normal? That's another big question. Will we ever go back to the normal way of doing things? Will we shake hands anymore? Will we hug? If I don't get the hug Rob, when I see him, I don't know what I'm going to do when the next time I see him.
It's looking now when we get back to operating, there's going to be great changes there in both the sports industry, as well as, music, parks, theme parks and even in our resorts. Down the road, I think we're always having to innovate. We're always going to have to do the next biggest and best thing out there for Hershey. We built a brand new coaster that, thankfully, is about done and ready to go. The amusement parks always have to innovate. What are we going to do? What's the next big attraction? What's the next big food offering? I'm always looking at those things. Probably the biggest thing, Rob, is this cashless thing. We're seeing it now. You go up there and swipe that. We have a Pepsi station now that you go up there and fill up your Pepsi cup by yourself. There's a barcode on it.
How big is that going to be with this social distancing? How much bigger does that become that you go in there by yourself and scan and do everything yourself? Our grocery stores had that for the last 4 to 6 years. We didn't know that that's the biggest thing now going for them. You go in there, you can scan things yourself and not have to deal with people. I think this cashless thing is going to be big. It was becoming big now, but it's going to be even bigger with what's happening in our society.
You mentioned the coaster at the amusement park. I want to say for those of you who've not been to Hersheypark, they got awesome roller coasters there, more than you might imagine. They take great pride in their coasters.
This is our tallest, fastest and longest coaster yet. It's called Candymonium.
I have one more question. I should have asked this, but if I wanted to work for you, what would I need to do, say, and show in an interview if I'm sincere to be the candidate you choose?
I know what I look for in team members. I look for self-motivated individuals. I look with people with great attitudes. I think people will come to the office every day. You're in control of your attitude. Nothing else. Nobody else can control your attitude. I look for team players. Do you get this out of an interview? It's a tough thing to say. I'm probably giving away a secret in case, God forbid, Rob, something happens that you have to come to me to interview to get a job. There are many that within our organization now that I hired, and it's the question that I ask. Everybody asks that standard interview question. Where do you see yourself in five years?
When you're talking to me, everybody thinks the proper answer is, "I see myself in your role." This person gave me the answer I looked for every time, "I see myself making more money for this department." I love that answer. There's nothing wrong with wanting to get ahead. Don't get me wrong, but I've had many people that have gone on into bigger and better things. I thought that was the type of answer I was looking for. Somebody that's going to come in here and get motivated, wanting to do a good job and want to make more money for the department revenue.
[bctt tweet="No one else but you can control your own attitude." via="no"]
Self-motivation, to me, I'm not a micromanager and people that want to come in here and do a good job. It's tough from the interview process, but I do also look for somebody that's not motivated by the dollar, but somebody who wants to do a good job. Somebody that their motivation is me reaching out of a handwritten note or calling them or their boss or somebody else within the company to say, "You did a fantastic job." It makes me motivated by that. I guarantee you the money will come.
That's great advice born from years of experience. That works for you. It's worked for you and your career.
It's easy for me to say, "I just landed in this role, making a good living, and had to start and make those comments." I started where I told you what I made, no commission when I first came up and that got me through. I was motivated by doing a great job and that led to this and to this.
It very much mirrors something that I tried to share with job seekers or people young in their career. That is to do the best you can where you are now and the world will find you. Success cannot hide. People will find success wherever it is.
This is great, especially in the sales world. I've had people who have been recruited by our clients because the deal with day-to-day dealings with them. They see how they operate, how they are relationship-driven. They have great relationships with them. They care about the client, not the dollar. I've had people recruit. The client came to us first. I had no problem with it. It's gone on to bigger and better things. That says a lot and it makes you feel good that this person grew up. Your department has gone onto something else and they're happy.
Brian, I want to reiterate to everybody, get to Hershey. Join all the great things that Hershey, Pennsylvania has to offer. You can look up Brian. I'm sure that he'll take good care of you. If not him, his great staff.
Get to Hershey. If you out there that haven't worked with Rob or his group, please look into it. Honestly, it wasn't paid and this wasn't scripted. He is the best trainer, the best sales training we've had, so thank you.
It's great to visit with you. Thanks for all your great wisdom, Brian, and good luck.
You too. Stay safe.
Thank you.
Important Links:
About Brian Bucciarelli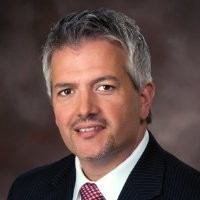 Managing Director Entertainment Sales & Partnerships at Hershey Entertainment & Resorts. And all-around great guy!!
https://www.gamefaceinc.com/wp-content/uploads/2020/11/18GFEP-EA-ANCHOR.jpg
600
600
Rob Cornilles
https://www.gamefaceinc.com/wp-content/uploads/2019/03/Game-Face-Logo-Full-Color-300x86.png
Rob Cornilles
2020-11-12 03:00:54
2021-02-04 08:56:29
Episode 18 | Brian Bucciarelli | Selling Sweetness to the C-Suite